In the mood for a little Halloween fun?  This week, I put together a cute group of Witchy-Poo Luminaries.  This craft project is not only fun, but a great use of recycled jars and soda cans.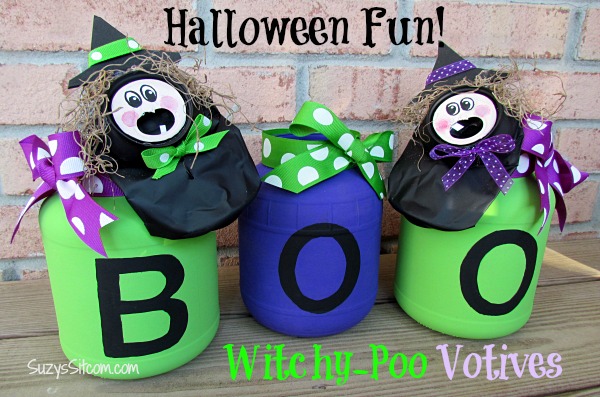 Add a battery operated tea light to each luminary and these little witches make a great Halloween decoration for your window sill.
Or…add a magnet to the back of each Witchy-poo, and you have very cute Halloween refrigerator magnets!  A win-win.  Recycled cans and jars and a Halloween decoration that will make everyone smile.  Want to know how to make them?
How to make Halloween Witchy-Poo Luminaries
You will need:
Empty soda cans (be sure that they are cleaned out)
3 empty jars (I used pickle jars)
Black spray paint
Acrylic paints
Letter Stencil
Clear Acrylic Sealant spray
Ribbon (purple and green in varied widths)
E6000 glue
Hot glue
Black craft foam
Spaghnum moss (small amount)
Magnets (optional)
Crush each can so that the top of the can faces the front. Take off the tab and spray paint the whole thing black.
While the paint is drying, prepare your glass jars.  I used large pickle jars, but any large jar will work for this project.  Be sure that they are clean and dry.
Paint two of the jars a vibrant green and one of them purple with acrylic paint.  You will need to do several coats of paint, allowing the paint to dry in between coats.
Paint the top of each can (the face), a peach color with acrylic paint.  While the paint is still wet, add a dot of pink for each cheek and blend into the peach.
Use acrylic paint in black and white to add the eyes.
When the jars are fully dry, it is time to add the letters B-O-O.
You can certainly freestyle this step, but I used a 3″ stencil to draw my letters onto the painted jar, tracing with a pencil.  Fill in the letters with black acrylic paint.
When all paint is dry, spray the jars and the cans with clear acrylic sealant to protect the paint.
I stole a handful of spaghnum moss out of one of my silk flower arrangements and using the hot glue, glued small amounts onto each witch for hair. This is an incredibly messy step. I ended up with moss all over me and my worktable. But is makes great witch hair.
Cut out witch hats from your black craft foam and glue them onto the top of each witchy head.  Then add bright ribbons to the hat and under each witchy chin.  For a cute touch, add a "tooth" cut from a tiny piece of white cardstock.
If you are wanting to make refrigerator magnets, simply glue a magnet to the back with E6000 glue.  You now have a super cute refrigerator magnet!
Or… you can add a bit of ribbon to your jars and using E6000 glue, add your witchy-poo cans to the jars!  Your little coven of witches can now greet your visitors.
See- not so scary. Just a bunch of old witchy-poos with poor dental hygiene. Awesome.
Love Cute Halloween Crafts?
You can find many more fun Halloween crafts from SuzysSitcom HERE!
Are you new to the Sitcom?  Be sure to check out my Frequently Asked Questions Page!
For hundreds of crafty tutorials for all ages, visit my Tutorial Page!