I love to peruse my vintage craft books and bring back ideas that seem new to some.  And I stumbled upon an idea to create faux stained glass using only acrylic paint and glue.  What is great about this project is that you can make it as simple or as complicated as you like.
The project is relatively child friendly and a page from a coloring book can be used for your pattern along with an 8×10 photo frame.  Or, you can go all complicated like I tend to do and use a huge sheet of glass and draw out a ridiculously detailed pattern.
Your choice.
For this project I used:
One 32 x 24 thrift store framed picture covered with glass
One bottle of white glue
One bottle of clear glue
Acrylic paints
Black Sharpie pen
Craft Blade
Super Glue
Peacock pattern (or page from a coloring book)
Clear acrylic spray sealant
I started by drawing out my pattern in the same size as my sheet of glass.  I love the color blue and lately, I have been drawing peacocks.  Why?  I have no idea, but they are being incorporated in several projects this month.  I checked the Chinese calendar to see if maybe this was the year of the peacock, and it turned out to be the year of the rabbit.  So apparently, I'm just kinda weird.  But peacock it is.
I then took my thrift store find apart, and set aside the frame for later.  I then sprayed the glass with clear acrylic spray.  This is important as it gives the paint and glue something to adhere to.   I then laid the sheet of glass over my pattern.
I took my bottle of white glue and dumped just a small bit out so that I would have room to add color to it.  I then added about a teaspoon of black acrylic paint and stirred it up with a wooden dowel.  Add enough black paint to make a solid color.  You will be surprised, but it doesn't take a ton of paint to change your white glue to black.  Then put the nozzle back on.  Your glue is now ready for the next step.
Carefully squeeze the glue onto the glass, following the lines of your pattern.  Try not to have shakey hand syndrome like I do, but even if you do, it can be fixed.  Once all your lines have been drawn in, allow it to sit overnight to dry completely.
Once it is dry, you can go over it with a craft blade and correct any shakey lines or errors.
For the next step, I used a small muffin tin to mix up my colors.  I used about a tablespoon of clear glue to one or two drops of acrylic paint.  You will be surprised at how easy it is to add pigment to clear glue.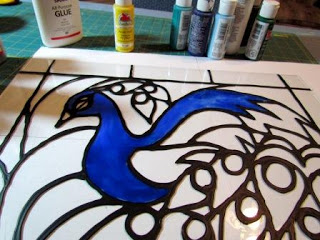 Use a blunt paintbrush and add your colors where you want them.  Put it on thickly and be sure to get your colored glue all the way up to the edges of the black lines.  Take your time and if you see any air bubbles in the glue, use a toothpick to pop them.
For a variegated marbled look, add a color to each side of a section and push them together with your brush, mixing them in the middle.  Allow this to dry overnight.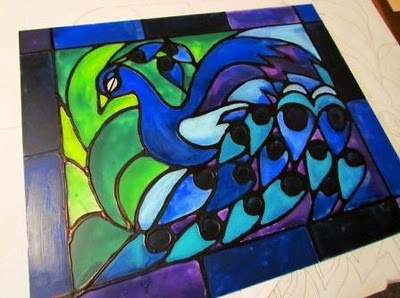 My final step was to do some touch-up with my sharpie pen on the leading where I overlapped with paint in places.  If you are neat to begin with, you might be able to skip this step.  I'm not neat.  So my friend, the sharpie, was put to use.
I painted the frame a deep blue and then used super glue to glue the glass back into the frame.  This can sit in a windowsill where the sunlight can shine through, or you can hang it on a wall.  Either way, it turns out pretty decent and costs just pennies.  And looks just as good as those expensive stained glass paints that you can buy at the craft store.
Edited: One suggestion for this project is to finish it with a coat of clear acrylic spray sealant in order to protect it.
I am now offering this Majestic Peacock Pattern or kit and pattern in my on-line store!  Please stop by and check out my collection of kits and eBook patterns!
If you enjoyed this tutorial, stop by and check out my Faux Marble Ceiling Tutorial.  This is another way of taking inexpensive materials and creating a look that is unique and expensive looking.
Also, you might enjoy my Quilled Monogram Tutorial.  Paper quilling can be a very inexpensive art.  This project looks complicated, but the simplicity will surprise you.  And all done for pennies…
A different technique was used to create this beautiful luminary on Crafts by Amanda!  You can find her tutorial for this project here: Faux Stained Glass Mosaic Luminary.
Are you new to the Sitcom?  Be sure to check out my Frequently Asked Questions Page!
For over 200 crafty tutorials for all ages, visit my Tutorial Page!