Summer is finally here and with that, the kids are out of school and looking for something to occupy their time!  So lets combine the sun and some fun crafts!  Here are 7 fun DIY suncatchers that are perfect for that sunny day!
If you are familiar at all with the Sitcom, you know that I love color.  And what better way to show off color than to have it streaming through your window? Let's take a look at five fun craft ideas that are great for children and adults alike.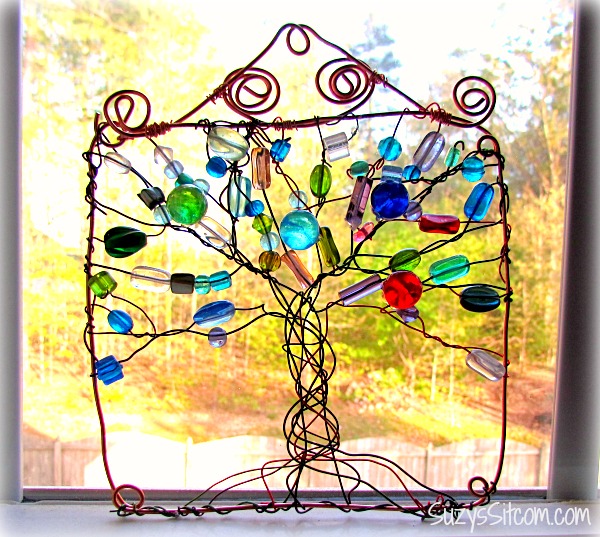 Wire Wrapped Tree Suncatcher from Suzys Sitcom
This suncatcher utilizes pretty glass and plastic beads and wire.  This particular craft is easy, but meant more for the older children and adults as the use of pliers and tiny objects can be difficult for small hands…
Need something fun for the kids to make on spring break?  This project not only is a fun project, but a great way to recycle plastic lids.  This pretty Flower Power Sun catcher adds a ton of color to a room and it is easy enough to keep little hands busy!
Melted Plastic Bead Suncatcher from Clever Catastrophe
Here we have a beautiful suncatcher made from melted plastic beads!  The process is simple!  Check out the full tutorial and create some sunshine!
 Peacock Faux Stained Glass from Suzys Sitcom
Faux stained glass fun in the form of acrylic paints and school glue!  This tutorial breaks it down step by step.  The smaller set can join in on this, creating stained glass  from coloring book pages!
This unusual butterfly sun catcher is made from strips of disposable aluminum pans!  A fun project with beautiful results!
DIY Faux Stained Glass with Tiles from Holly's Art Corner
Here we have another stained glass effect using small glass tiles and glue!  Fun tutorial meant for the kids of all ages!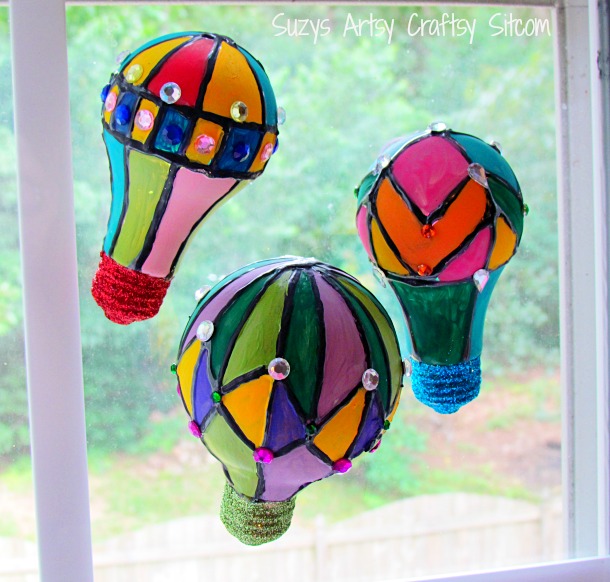 Hot Air Balloon Suncatchers from Suzys Sitcom
Have some lightbulbs laying about that could use some repurposing?  Well, I have the solution for you!  This project uses puff paint and acrylic paint to create the beautiful patterns!
See something you love?  Go grab some supplies and create your own personal sunshine!
For more recycled craft ideas, please check out my Recycled Crafts Page!
Are you new to the Sitcom?  Be sure to check out my Frequently Asked Questions Page!
For over 200 crafty tutorials for all ages, visit my Tutorial Page!