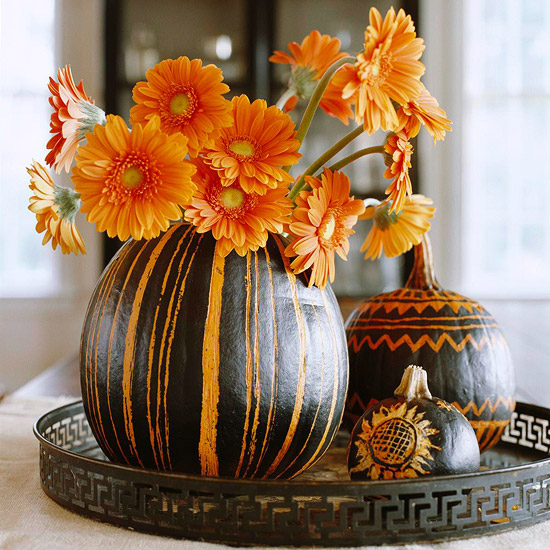 A beautiful fall centerpiece, this group of pumpkins was painted black and then the designs scratched into them.  You can find this simple tutorial at Cafe Mom.
This is a fabulous look!  Created by Shannon at Madigan Made, these bright metallic pumpkins are the result of the time consuming process of thumbtacking the daylights out of them.  Shannon lost count of how many boxes, but everything came from the dollar store, so this beautiful group of golden pumpkins was created on the cheap side.  And they are definitely a conversation piece!
These sweet Bat-O-Lanterns can be found on the Disney Family Fun website.  A simple project with incredibly cute outcome!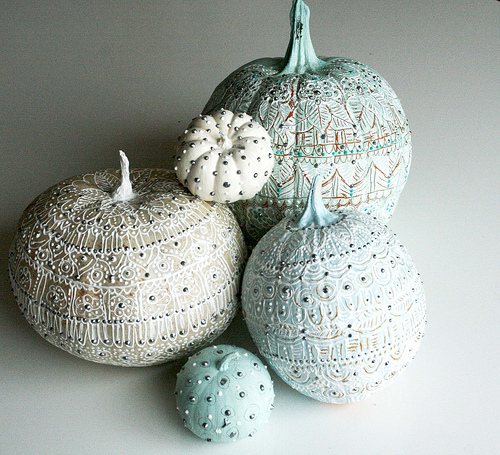 Aren't these just beautiful!  A little bit of puffy paint goes a long way!  I just love the lace-like look of these pumpkins!  You can find the tutorial by Alisa Burke here: Pretty Painted Pumpkins.
And finally, we have these beautiful decoupaged pumpkins.  They are decoupaged with fabric and paper and make an absolutely beautiful centerpiece!  You can find the tutorial at Confessions of a plate Addict.
See anything you want to try?  Then go visit these fabulous websites and check out the tutorials.  Be sure to look around while you are there.  Inspiration is everywhere!