I spent some time teaching a class using one of my premium patterns this past weekend.  One of the requests from that class was to supply simpler patterns for those that would like to work their way up to the more challenging ones.  So in answer to that request, I came up with a simpler version of my Partridge & Pear Pattern.
This one doesn't have all the bells and whistles of the fancier version, but it definitely has potential.
I decided to use this little pattern to revamp a thrift store wood framed mirror that I have been storing for a while.
For this project I used:
One wood framed thrift store mirror
Holiday Peacock Pattern
Martha Stewart Metallic Multi-Surface Acrylic Paint
Sharpie Pen
Charcoal Pencil
Elmer's White Glue
Wicker White Acrylic Paint
I started out with this old thrift store mirror that had seen better days.  The second photo above is my Holiday Partridge Pattern flipped over.  I scribbled over the back of the pattern with charcoal pencil in order to transfer the pattern onto the frame.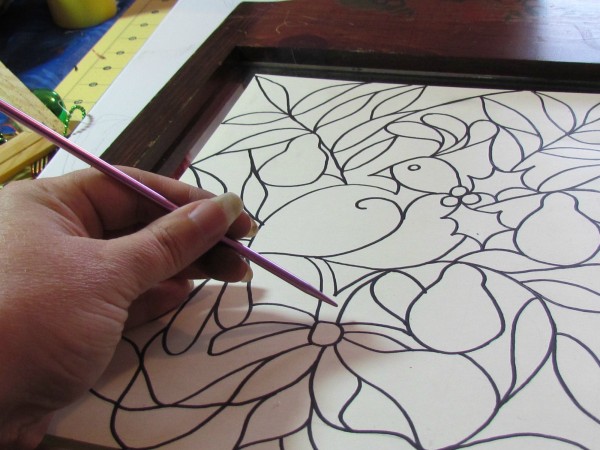 After flipping the pattern over, I then used my handy-dandy knitting needle to trace over the lines of the pattern, transferring a charcoal line onto the glass.
The photo on the left shows the faint charcoal lines on the mirror.  In order to get a better line to paint with, I then went over them with a sharpie pen.  The pattern has now been transferred to the mirror.
I then started adding color to the pattern.  You will notice the double line effect in the photo.  This is the reflection of the mirror.  All lines are single.  I promise.  It will take several coat of the metallic acrylic paint to cover the glass fully.
Here I have added all the color.
I used black metallic acrylic paint to outline the pattern.
I decided to lighten up the frame and give it a faux crackle paint effect.  I could have bought crackle paint for this, but I'm pretty cheap.  You can get the same effect by using Elmer's Glue and Acrylic paint.  Begin by painting the Elmer's glue onto the wood.  Allow it to dry a few minutes to tacky consistency.  You do not want it to totally dry or it will not crackle the paint.
Add a thick coating of acrylic paint, working in long strokes in one direction.
Pretty darn cool, right?  You can actually watch it crackling as it dries!
And there you have it.  One revamped thrift store mirror, ready for the holidays!
Like this pattern?  You can download a free version here:
If you decide to make something with this pattern, I'd love to see it!  You just might be featured on The Sitcom!
—
Want to try your hand at quilting?  My newest quilt Pattern- Batiks Gone Wild!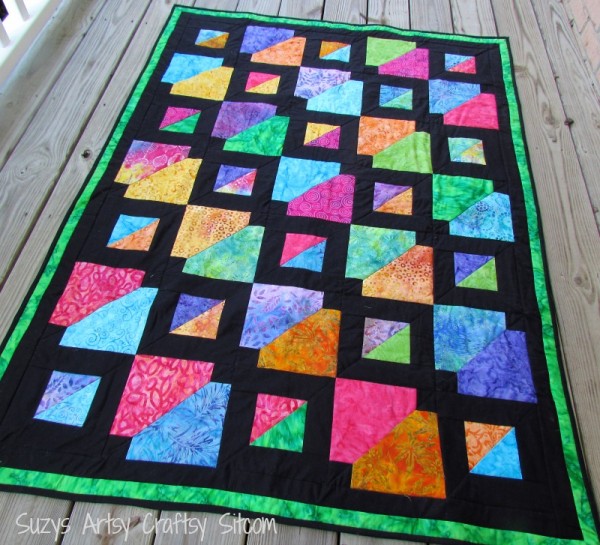 Are you new to the Sitcom?  Be sure to check out my Frequently Asked Questions Page!
You can keep up with the Sitcom on Facebook for daily updates!
For over 100 crafty tutorials for all ages, be sure to visit my Tutorial Page!