Create a cute Santa Ornament with paper mache, yarn and foam board!  This ornament is a perfect addition to your holiday tree.  Fun project that you can make for just pennies!  Want to know how?
A group of my friends and family have been exchanging Christmas ornaments with each other every year for the past 18 years.  We make an ornament for each member of the group and meet the first Saturday in December to exchange them.  Since there is usually about 15-20 members each year, that means from October on, I'm in mass production with some kind of ornament or other.  Multiply that by 18 years and that is at least 270 hand-made ornaments and Christmas decorations that I've produced and been given.
A lot of ornaments you say?  Heck, yeah.  I started out with one huge artificial tree.  As the ornaments grew plentiful, I would put the ones that were not my favorites in the back of the tree and my absolute favorites would get center stage in front.  Of course, my sister knew this and would always check my tree when she came over to be sure that none of her hand-made ornaments were in the back.  (I was always careful to move them to the front when I knew she was coming over…)
Just kidding!
I now have two Christmas trees.  One has the hand-made ornaments on it and the other has my glass ornament collection.
Needless to say, I have a large selection to go to when I want to put out a crafting tutorial. There is one ornament that always gets front and center of the tree.  It is an ornament that I received the first year of the club.  The lady that made it was only in the club the first year, and no-one really remembers her name or if this was an original craft or something she found in a book somewhere.  I love the primitive look of the Santa and the textures and colors.  It makes me smile every year when I pull it out of the box and put it on the tree.
So today, I've decided to try and re-create this awesome ornament.
For this project I used:
A sheet of foam board from the Dollar Store
Instant Paper Mache
Acrylic Paints in red, peach, black and white
Yarn scraps
Elmers Glue
Ribbon scraps
Matte Mod Podge
The first step is to draw a heart template, approximately 4″ wide by 3″ tall.  To get a perfect looking heart shape, it is sometimes easier to fold your template paper in half, draw half the heart with the fold in the center and cut it out.  Both sides of the heart will match perfectly.  Use your heart template to cut a heart out of the foam board.  I drew it on and cut the foam board with a craft knife.
Mix up your paper mache according to the directions on the box.  The paper mache that I use just requires the addition of water.  Instant paper mache can be on the pricey side at $7-8 dollars a box, but that box will last a while.  Look ahead for coupons so that you can get it a bit cheaper.  Michaels often runs coupons in the paper for 50% off of a non-discounted item.
Spread a 1/4″ coat of paper mache over the front of your heart, being sure to get it all the way to the edges.
Then roll a tube-shaped piece and place it on your heart to form the fur on his hat.  Roll a ball of paper mache and add it to the top of the hat.  Roll a small ball and push it into the heart to create a "flattened" nose.  Do the same with two smaller balls to create his cheeks.
Now it will need to dry.  I was a little worried about the time schedule on this as last time I worked with paper mache, it took over a week to dry.  But apparently, the weather conditions were better this time, the humidity is lower.  So it only took 24 hours to get a dry ornament.
Once the ornament has dried, paint the hat red.  Then using the peach colored paint, paint his face including the nose and cheeks.  You don't have to paint where the beard will go, but be sure to get past where the beard will start.
While the paint is still wet, dab a bit of red paint on your brush and add color to his cheeks.
Once the paint has dried, it is time to add the beard.  Now one of the things that makes the original ornament look so antique or primitive is the fact that she did not use white yarn for the beard.  As I recall, she said she didn't have white yarn, so she substituted brown and painted it white.  She was all apologetic about this, but frankly, I think that is what makes this ornament so fabulous.  It gives the beard a more dramatic look.  So in order to try to duplicate the look, I looked through my yarn scraps and found a skein of varigated brown yarn.
I wrapped the yarn around my fingers until I had quite a bit and cut the yarn above my fingers and below my fingers so that I had a bunch of roughly 2″ pieces.  They don't have to be exact.
I then coated a section of the face in Elmers glue and started glueing the yarn pieces on.  I like Elmers or white glue for this because you can push the yarn around to butt it up against each other.  Where the beard is, you don't want any paper mache showing.
Here he is after I put all the brown yarn on.  Kinda looks like Paul Bunyan doesn't he?  Well, we'll clean him up.
First, we need to trim him up.  After the glue has dried, use your scissors to trim the yarn, following the shape of the heart.  Better?  It's amazing what a good beard trim will do for a guy.
Now lets paint the yarn white. It took several coats of white to get the look I wanted, but the depth of color is what I was going for.  The finished beard looks primitive and warm.  This photo is after one coat.  I'm debating doing the rest like this one because I like the color variation in the beard.
Final touches include painting on the eyes and the mouth.  And then adding a folded ribbon to the back for a hanger.  I then added a coat of Matte Mod Podge to the entire project to seal and protect it.
The finished project is close to the original.  (The original ornament is on the right).  Fun to make and very in-expensive too!
If you enjoyed this tutorial, you might like my Bread Dough Bear Ornament Tutorial.  This is another child friendly, inexpensive craft that looks great on the tree.
Also, check out my Baby Food Jar Christmas Tree Tutorial.  Creating a sparkling tree out of baby food jars.  A quick and easy craft with amazing results.
Want to try your hand at quilting?  My newest quilt Pattern- Batiks Gone Wild! A perfect gift!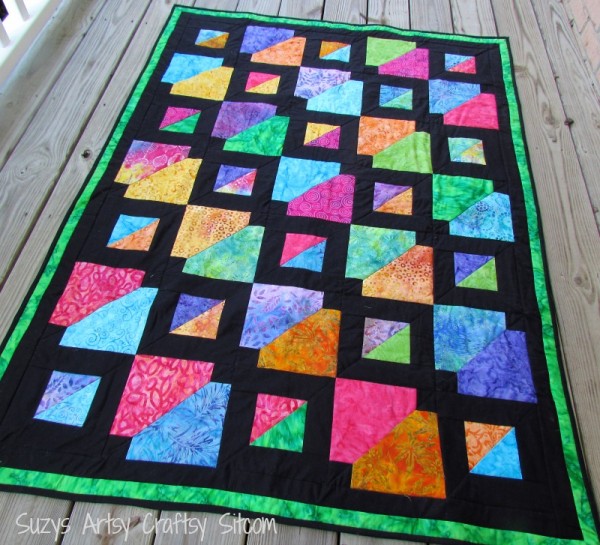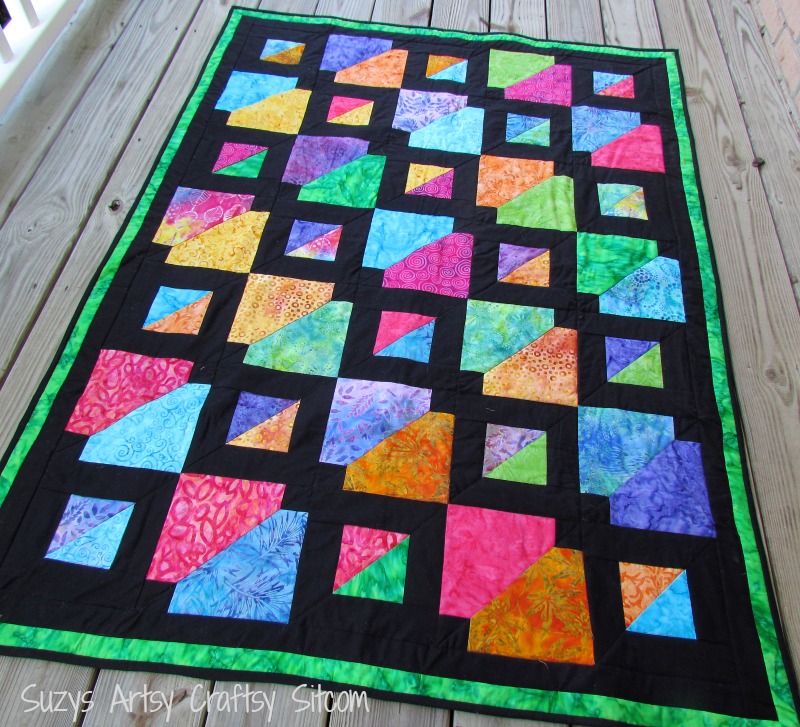 Are you new to the Sitcom?  Be sure to check out my Frequently Asked Questions Page!
You can keep up with the Sitcom on Facebook for daily updates!
For over 100 crafty tutorials for all ages, be sure to visit my Tutorial Page!