It's time for another look at the Learn to Sew Series by Amber from Crazy Little Projects.  I've been following the series for the past few weeks and already have several great projects completed.  In lesson #1, we learned how to sew a straight line and created some great Designer Dustcloths.  In lesson #2 , we learned the use of the zig-zag stitch and made up a cute Dinosaur Hooded Towel.

This past week, we learned Turning and Topstitching.  Amber gave us a choice of two different projects for homework.  One was a cute reversible messenger bag, and the other was an ear warmer headband.
I chose the messenger bag.  I love her unique design; the fact that it is reversible, and simple to put together.  And I had this great bunny fabric that just needed to be made into something!
I located a striped red fabric from my stash to go along with it.  The project itself takes less than 1/3 yard of fabric of each color.  You can find Amber's tutorial here: Reversible Messenger Bag.  Her tutorial includes printable patterns, and is a great project to practice your turning and topstitching!
This bag is going to be for me.  Because I have a tendency to carry way too much crap around with me, I have a personal rule that my handbag cannot be large.  Otherwise, I'd be hauling the thing around on a dolly.  Seriously.  So this little bag would be perfect.
Ralph seemed more than a little disappointed that he was not going to be chosen as a model this time.  Seems that he was getting a big kick out of all notoriety after his last modeling gig.
I don't want him to get a big head.  I have to live with him, you know.
I made one change to the original pattern.  I added a bow to the front.  My bunnies needed a little bit of fabulousness, don't you think?  I used the technique of turning, cutting a 12″ x 3″ strip; sewing like I did the strap, turning it and creating a bow.  I sewed it on with a few hand stitches, and there you go!  Dressed up bunnies!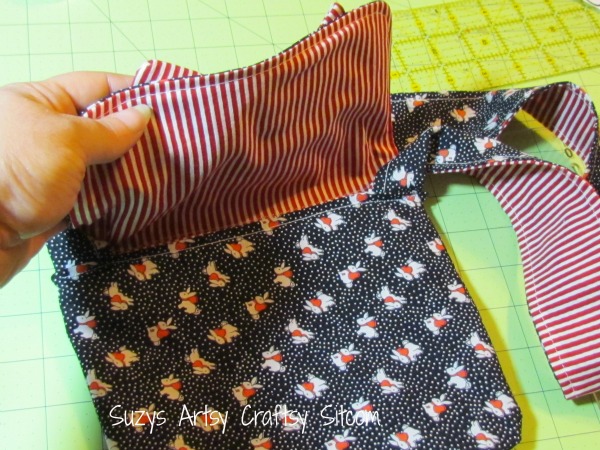 I love how the lining turned out, and it is the perfect size for me to just carry a few things; rather than the whole world.
Cute!
So now it's week 4 of the Learn to Sew Series and this week Amber is teaching us how to sew a casing for elastic and how to add elastic.  This technique is perfect for making things like pajamas and kids clothes. And it's not too hard. In fact, if you have completed weeks 1-3, you have learned the foundation skills for sewing. Everything from here on is just the fancy stuff. So congrats on completing that!
To practice our new found skills in casing an elastic, Amber is giving us this baby skirt  project or a pajama project for homework.  The pajama tutorial should be posted at Crazy Little Projects this week.
So, be sure to visit the Learn to Sew Series at Crazy Little Projects to learn lesson #4, casing and elastic.   I'll see you back here next week with my project!

Are you new to the Sitcom?  Be sure to check out my Frequently Asked Questions Page!
For over 200 crafty tutorials for all ages, visit my Tutorial Page!