Paper quilling is a simple craft with spectacular results.  I made a monogram out of quilled paper  for a wedding gift.  Want to know how?
I'm always on the look out for crafts that I haven't tried. While perusing the internet, I ran across a website called allthingspaper which absolutely inspired me. I was amazed at what you can make with a simple piece of paper. Not only did it make me happy to look at, but it appeased that inner cheapskate inside me. You can make something beautiful and not spend much more than pennies.
That's my kind of project.
My friend's daughter is getting married in July, and I thought a handmade quilled monogram would be a perfect gift for her.
Quilling has been around for ages. It was actually quite popular at one time according to my vintage craft magazines. I can find ads and instructions in many of my old magazines, right next to ads for macrame kits. Remember those?
While quilling seems to still be around on some handmade cards, you really don't see it much these days. So after doing a bit of research, and looking at some online tutorials, I decided to go to the store to get supplies. Unfortunately, the stores carried nothing for this craft. Tons and tons of scrapbooking stuff, and not a quilling tool to be found.
I asked several folks in the store about quilling supplies and got a blank look. What is quilling? So how do you explain? Umm… you wrap strips of paper around a needle and then glue them down on paper? Blank looks all around.
So…I bought some cardstock that was on sale and then some large darning needles to make my own quilling tool. Yes, I know they can be purchased on line, but my inner cheapskate really hates that. Shipping charges annoy me. So until I know for sure that I really like this new hobby, I will just make do with what I have. I took one of the larger tapestry needles and clipped off the tip of the eye. Instant quilling tool.
The technique is actually pretty simple. Cut your paper into strips. I cut mine in 1/4″ strips because I wanted my quilling to really pop. Yep, I know it would have been easier with a paper cutter and yes, I know they are located in the scrapbooking section for $20, but I'm telling you, the cheapskate is in control.
You then take your cut strip, put one end in the eye of the needle and wind it tightly around the needle. If you want a tight wind, hold the wound paper while you pull the needle out, then put a drop of white glue on the end and glue. If you want a looser wind, let go of the paper after winding, remove the needle and then glue. You can pinch one end for a petal effect, two ends for leaves or go crazy with so many other options.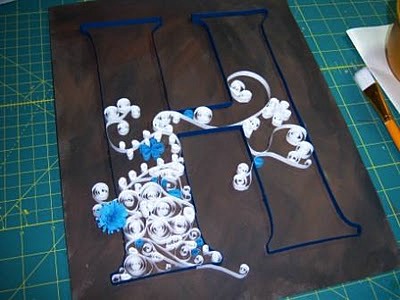 I had bought some larger cardstock in brown for the background, but wasn't pleased with the color. So I got out my acrylic paints and added more browns to it, blending to give it a leather look. I then used a ruler to draw the letter H. Using dark blue cardstock, I created the outline by folding the paper to fit and glueing it down. My plan then was to fill in the H with white scrollwork.
Naturally, I got carried away. The scrollwork looked like leaves to me, so we really needed some flowers. And then we needed some green leaves. And then we need butterflies!!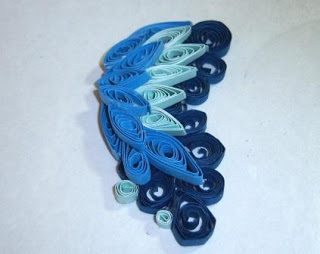 To create the butterfly wings, I drew a wing outline on a piece of waxpaper, then filled in the outline with my paper scrolls, gluing them together as I went. I then flipped the wax paper over and made the opposite wing so that they matched.
I then propped the butterfly up so that the wings would be freestanding after the glue dried.
I had paper pieces everywhere and had to stop several times to make Ralph cough up a piece or two. Not sure why the dog loves paper, but maybe he is just artsy-craftsy too. I finally had to make myself stop at one point. I didn't want to lose the definition of the H. And I do know how carried away I can get. I'm hoping she enjoys her wedding gift. It was incredibly fun to make.
Are you new to the Sitcom?  Be sure to check out my Frequently Asked Questions Page!
For over 100 more crafty tutorials for all ages, visit my Tutorial Page!
*This post is a revamp of a post and project that I created in 2010.  Since then, I have purchased a quilling tool and paper cutter.  If you would like to see subsequent quilling projects, check out the projects below:
Summer Blooms Quilled Frame
Quilled Paisley Monogram
Quilled Topiaries