Paper quilling is a simple craft with spectacular results.  I made a monogram out of quilled paper  for a wedding gift.
I'm always on the look out for crafts that I haven't tried. While perusing the internet, I ran across a website called allthingspaper which absolutely inspired me. I was amazed at what you can make with a simple piece of paper. Not only did it make me happy to look at, but it appeased that inner cheapskate inside me. You can make something beautiful and not spend much more than pennies.
That's my kind of project.
My friend's daughter is getting married in July, and I thought a handmade quilled monogram would be a perfect gift for her.
What is Paper Quilling?
Paper Quilling is the art of taking thin strips of paper of varying widths, and rolling, gluing and shaping them into different shapes.  While quilling seems to still be around on some handmade cards, you really don't see it much these days. So after doing a bit of research, and looking at some online tutorials, I decided to go to the store to get supplies.
If you are a beginner at this particular skill, I highly recommend this Beginners Quilling Kit.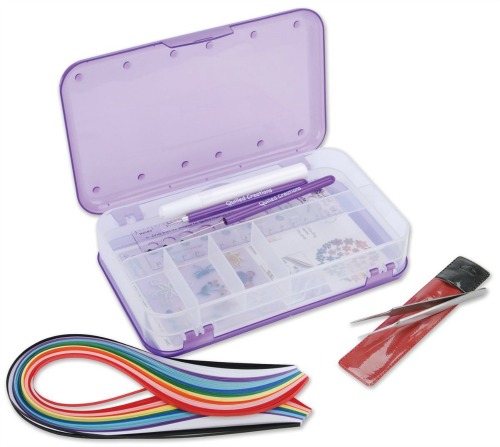 It includes quilling tools, basic instructions and even some paper strips to practice with!  When I created this monogram originally, I used just a clipped tapestry needle to quill with.  If I had this kit, it would have been so much easier!
The technique is actually pretty simple. Cut your paper into strips. I cut mine in 1/4″ strips because I wanted my quilling to really pop.
For larger quilling projects like this, I have found that my little paper cutter is invaluable!  It can cut tons of strips of paper in no time!