Using Neon Fabric Markers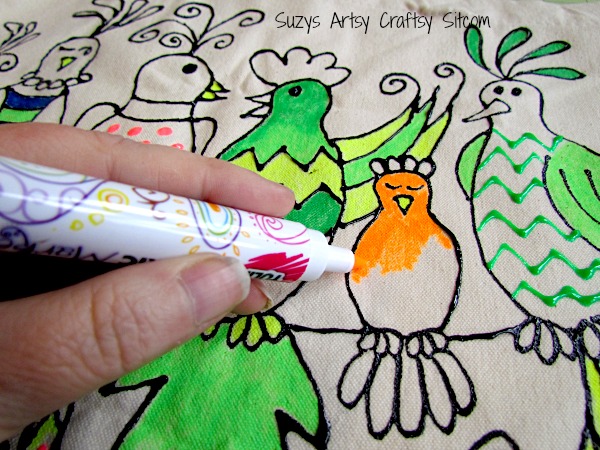 Color in you birds with the beautiful neon Tulip fabric paints!  It is just like coloring in a coloring book!  Only much brighter!  Make your gossiping birds beautiful!
The fabric paint has a short drying time.  During that time, you can actually blend colors if you'd like.  I played around and added some shadows, experimenting with the colors.
The final touch was to add a bit more of the neon dimensional paint.  What a colorful crew of gossipers!
Of course, we have to add some bling!  I added some pretty adhesive gemstones to give the birds some sparkle.
And there you have it!  A pretty neon bag.  Pretty enough to take to the beach.  Flip flops, a cool summer drink and a fun neon Gossiping Birds beach bag.
Want more free patterns exclusive to Sitcom Subscribers?
Free Love Birds Decorative Folk Art Patterns
This is How We Roll Free Cross Stitch Pattern
Camper Pot Holder Pattern
For over 200 crafty tutorials for all ages, visit my Tutorial Page!