Cut the white cardstock into 1/4″ strips. Create the paisley design using a quilling tool. I used basic quilling techniques on this project, consisting of loose spirals and loops.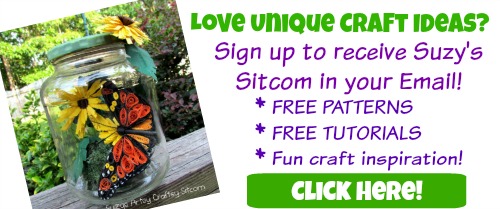 You can find my beginning quilling tutorial here. Using white glue, continue gluing down your quilled pattern, filling up the front of the monogram with a paisley design. This is a free-hand pattern and I made it up as I went.  Just go with what works for you.  Quilling is a beautiful paper art and can make anything look fabulous.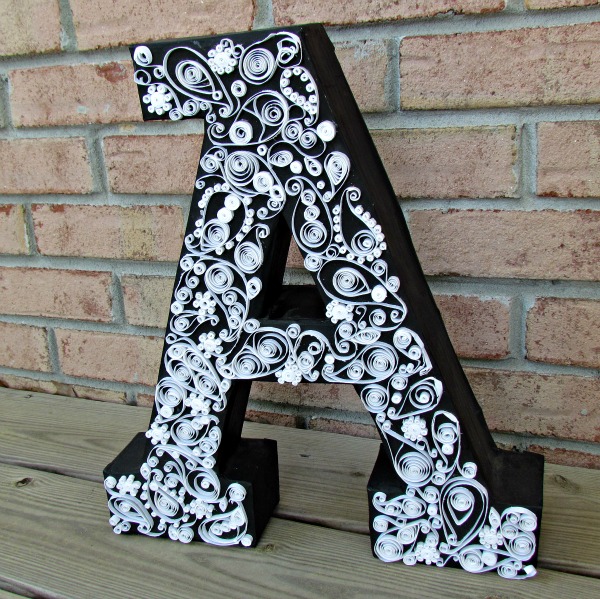 The finished piece looks almost lace-like and will make a wonderful piece of artwork for a mantel or table top. Total cost for this project was in the pennies as the box I used was 20 years old and total cardstock used was 2 1/2 sheets. Can't beat that!
Are you new to the Sitcom?  Be sure to check out my Frequently Asked Questions Page!
For More Paper Crafts, Click Here!
If you enjoyed this tutorial, you might like my Quilled Monogram Tutorial.  This monogram is a framed piece that is quilled with a flower and leaf motif.
Also, check out my Summer Blooms Quilled Frame.  This picture frame is quilled with wild flowers and berries and makes a wonderful inexpensive gift.
For over 200 crafty tutorials for all ages, visit my Tutorial Page!