With school time just around the corner, I came up with a school craft project that incorporates brightly colored paper.  After all, a long school day could certainly use some sunshine!  I created fun book covers using the technique called Iris Folding!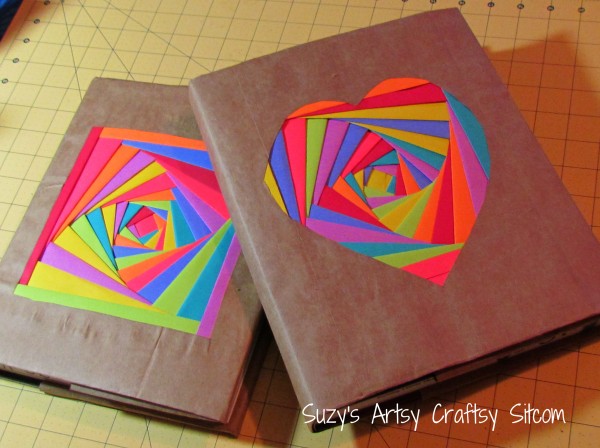 The plan was to revamp the old version of the book cover.  You know, the one that is made from a grocery bag?  I used to make them all the time for my kids when they were in school.  Anyway, I decided to use a technique called Iris Folding with the bright colored papers to make those boring bookcovers exciting.
For this project I used:
Several sheets of different colors of bright colored cardstock
A paper grocery bag
Glue Stick
Tacky Glue
Scissors

Begin by cutting your paper bag open as shown, and then cut off the bottom flap, so that you have one large sheet of paper.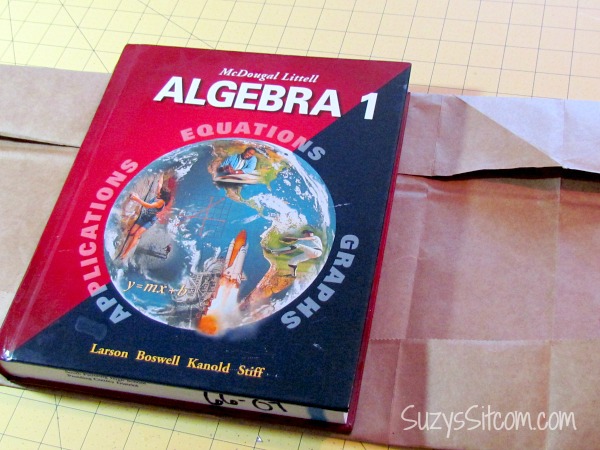 With printed side of the grocery bag up, place the book on top and fold down the top and bottom edges of the paper to match the top and bottom of the book.
Fold one end of the paper and slide the front cover of the book into the open end until the edge of the cover meets your fold.
Close the book and crease the other end of the paper where the edge of back cover meets it.  Slide the back cover into the open fold.  Your book cover is now complete.  Well, your boring bookcover is complete.  Now let's spice it up some with colorful paper!
Now lets create some beautiful Iris Paper Folds!