A few months ago, I ran across a stash of metal rake heads that just called my name.  Last week, I showed you my Santa Rake Head Door Greeter, and this week, I'm presenting my Turkey Rake Door Greeter.  A cute way to recycle, and a colorful addition to your front door just in time for the holidays!    Want to know how to make him?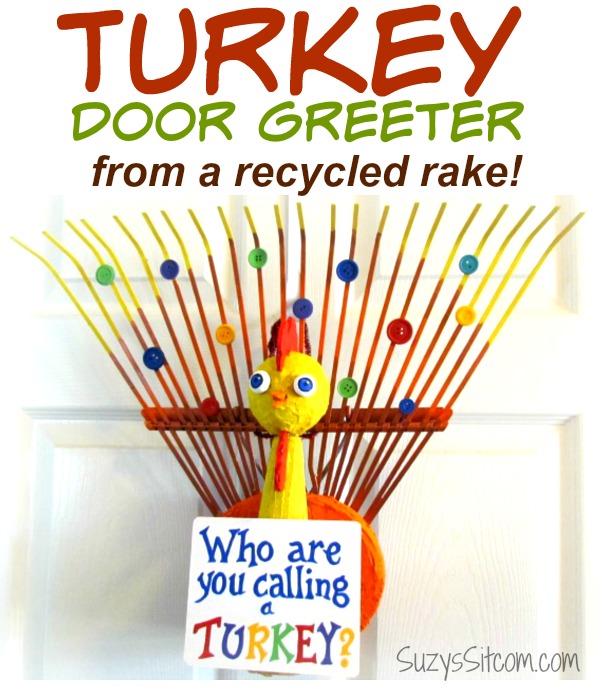 Affiliate links to Amazon below:
For this project I used:
(Note: I used items that I had in my craft bin.  Feel free to use whatever works well for you!)
One recycled metal rake head
Spray metal primer
Acrylic Paints
6″ styrofoam disc for his body
8″ styrofoam cone
3″ styrofoam ball (head)
FloraCraft® Smooth Finish
mini clothespin (beak)
Foam board scraps
E6000 Glue
Low Temp Hot Glue Gun
2 ea. 1″ wooden discs (eyes)
Buttons
Wooden piece (4″x 5″ or whatever size works for your sign)
Begin by spraying both sides of the rake head with at least one coating of metal primer.  Once dry, use acrylic paints to paint the colorful tail feathers.  I used brown, orange and yellow.  It will take several coats of paint to get good coverage.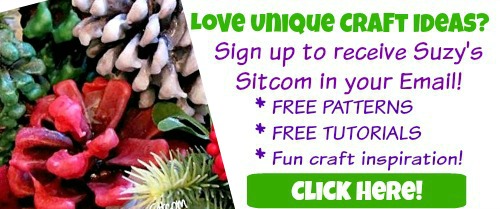 While you are waiting for paint to dry, coat each of your styrofoam pieces with FloraCraft® Smooth Finish.  This spread on finish makes your foam pieces paintable!
Once everything has dried, cut the styrofoam disc in half and glue each half down on each side of the rake bottom, gluing in place with E6000 glue.
Glue the cone in place as his neck and glue the styrofoam head in place.  (Use low temp hot glue to glue the styrofoam peices together).