Cut out strips of tissue paper about 2″ wide, and then use your scissors to fringe them.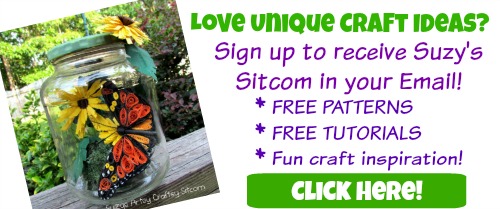 Starting at the bottom, add the first color of tissue paper fringe, attaching with tape.  I did two layers of fringe with each color on this project.
Cut out the next color of tissue paper and wrap it the same way, attaching with tape about 1/2″ above the first tissue paper fringe.
Repeat with other colors, moving up the burro as you go.  (Each layer of fringe is two separate layers of tissue paper).
Keep repeating the layers until you have covered the entire burro.  Then add a bit of longer fringe for the tail.  Each personal piñata is a perfect little gift for your guests!
Now all we have to do is make up the food!
Check out the fun display!
I barely was able to get the food out before guests were chowing away.  The hubby is famous for not waiting until I ring the dinner bell.
Are you new to the Sitcom?  Be sure to check out my Frequently Asked Questions Page!
For over 100 more tutorials and recipes for all ages, be sure to visit my Tutorial Page!