The folks in my house love cereal.  It is a favorite for morning, noon and even a Good night snack. With that said, I often have a large amount of cereal boxes in my recycle bin to choose from when it comes to crafting. And why let something cool and colorful go to waste?  So I made paper beads from cereal boxes!
I just love the colors on these beads.  And they were simple enough to make too!
Both the hubby and his dad enjoy a late night snack in front of the TV every evening.  Ralph has a thing for cereal too, apparently.
I tell you, the cereal boxes are piling up!
During my last trip to Walmart, as I put the week's cereal selection in the cart, I took note of how colorful those pretty boxes were.
Next thing you know, the guys were eating out of the bags!  Ha!  I don't even think they noticed…
Because those pretty boxes were confiscated and getting prepared for my next project!
For this project I used:
Cereal Boxes
Tacky Glue
14 gauge wire
Clear glossy Mod Podge
Elastic string
Begin by opening up the box along all the seams so it lays flat.  Then cut off the top and bottom tabs so that you have a rectangular piece of cardboard.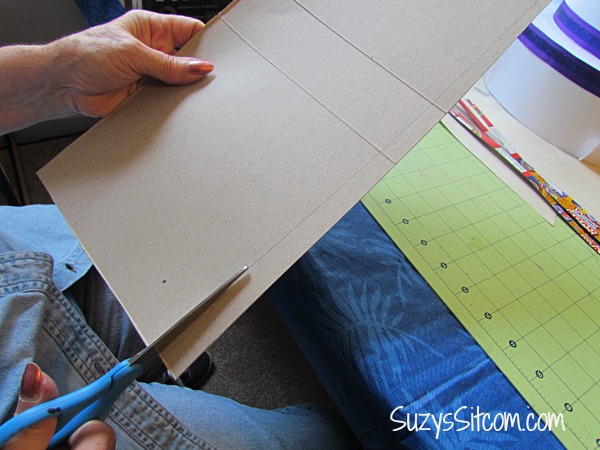 On the back side, use a ruler to draw a pencil line lengthwise along the box, starting at  3/4″ wide on one end and ending with 1/8″ wide on the other.  Cut along the line.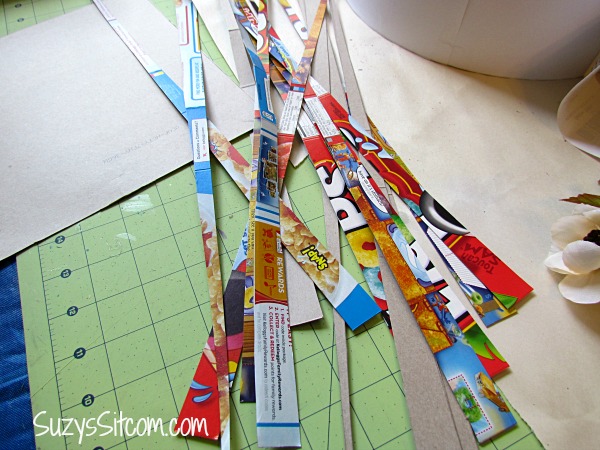 Cut out as many cardboard strips as you like.
I used a piece of 14 gauge wire to start the bead out.  Begin by wrapping the wide end of your strip around the wire, and then begin to coil up the cardboard around it.
About halfway through, you can remove the wire and keep on wrapping.  Once you reach the end of the narrow part of the strip, add several dots of tacky glue or white glue.  Hold tight for a few moments until it adheres.
Each bead looks different from the last.  I had a lot of fun with the colors on these boxes!
For the final touch, after the beads had dried, I lined them up on the piece of wire that I had used earlier which was stuck into a piece of styrofoam.  This makes it easy to add a coating or two of clear glossy sealant on all sides of my beads.  Once they are dry, simply separate them.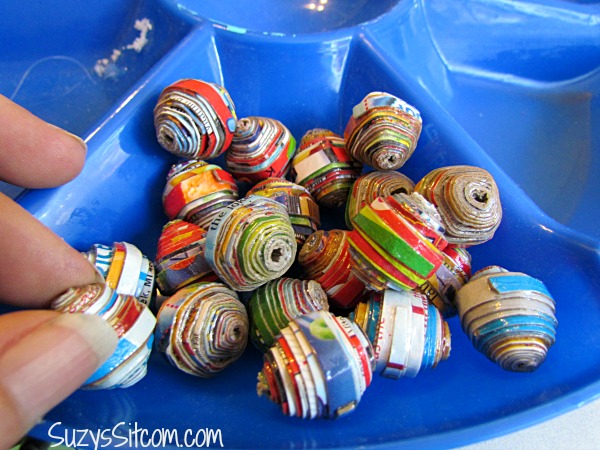 Oooh the possibilities!  Key chains, bracelets, necklaces….
I went with a pretty bracelet.  Simply stringing them onto some elastic string that I found in the jewelry section of the craft store.  Pretty.  Would you ever guess it started out with a cereal box?
Are you new to the Sitcom?  Be sure to check out my Frequently Asked Questions Page!
For over 150 crafty tutorials for all ages, visit my Tutorial Page!