I was challenged to come up with a non-Halloween project for Foam Heads.  What to make?  Well, I do love the old style look of the 20's and creating flapper style mannequin heads as hat holders seemed like the way to go.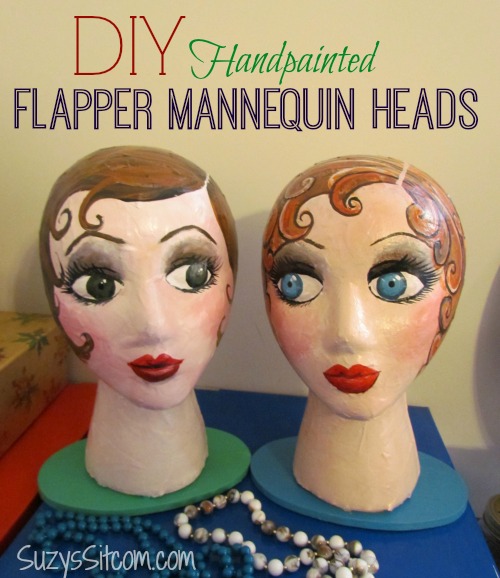 My mother always had several styrofoam heads in her room.  She kept her many wigs on them.  Mom loved to go from blonde to brunette and back again, and the heads were a great way to store the wigs and keep them neat.
To me, a head with no body is a bit disconcerting to say the least.  To come into a darkened room and see a head hanging out on the dresser is enough to give me bad dreams for days.  Dreams even worse than my "showing up for work naked" dream.  If you know what I mean.  So my plan was to make them as pretty as possible and maybe I would be able to overlook the fact that they are missing some important parts…
So, I created a couple friendly flappers whose new job is to hold my hats.  Want to know how?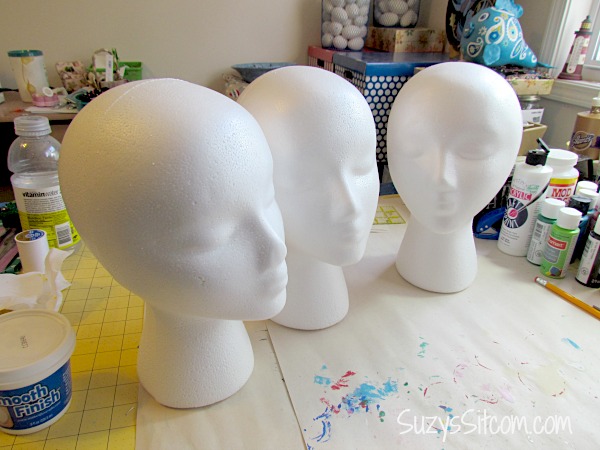 For this project I used:
2 FloraCraft® Foam Heads
Mod Podge (matte)
Newspapers
Acrylic paint
2 oval wooden plaques
Pretty scary, right?  The dogs thought so too.  I might have chased them around a bit with a head or two before I started this project.  Ralph is still under the sofa as we speak…
Begin by using Mod Podge and newspaper to do a bit of paper mache work over the styrofoam head.  Simply paint a section of the head with Mod Podge, tear small pieces of newspaper, place them onto the coated section and then paint Mod Podge over them.  Use much smaller pieces around the facial features to help avoid wrinkles.
Hot glue the head to an oval wooden plaque to create a stand.  Add another coat of Mod Podge to the entire head and allow it to dry.
Once the Mod Podge was dry, I painted the whole piece with peach colored acrylic paint.  I discovered a couple areas in the face that were not smooth enough, so I added a few more Mod Podged pieces of newspaper to cover them, and than repainted when dry.
Let's start with Gwendolyn.  Yes, they have names… The basics in painting her include a touch of red to the cheeks while the peach paint is still wet.  Blend with a dry brush.  Paint in the hair using a mix of dark brown and black.  Paint in the whites of the eyes.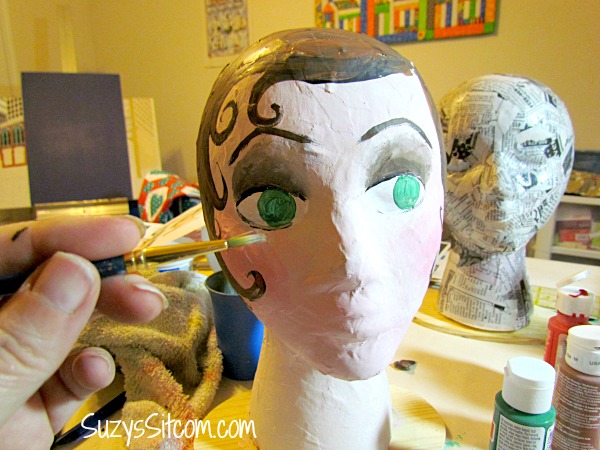 Makeup for the flappers of the 20's included lots of smokey browns.  Add dark brown to the eyelids and then blend with a bit of peach paint near the eyebrows.  Speaking of which, the eyebrows of the 20's were usually high on the forehead in a "surprised" fashion.  Pencil thin, with dark brown.
This young lady is going to have hazel eyes.  Start with green.  Since I was going for the less scary look, I made her look to the side.  That way she won't be staring at me when I come into the room.
I'm weird that way…
To complete the eyes, use black paint to paint in the outline of the eye, and the line of the upper lid.  Paint in long lashes with a  small brush.  The eyes received a second coat of green, and then a mix of light brown while the green was still wet.  Add a ring of dark brown around the edge of the iris, and a black dot for the pupil.
Bow-like red lips were in then.  Use bright red to add the lips.
Add dots of white to the eyes to give them some shine.  Use dark red, or red mixed with a bit of black to give the lips some definition.  Add a bit of pink to give them some shine. And Gwendolyn is finished!
Harriet is a red head with curls and blue eyes.  She was completed with the same basic techniques. For the hair, I painted in curls with dark brown and added highlights of copper, red and light brown.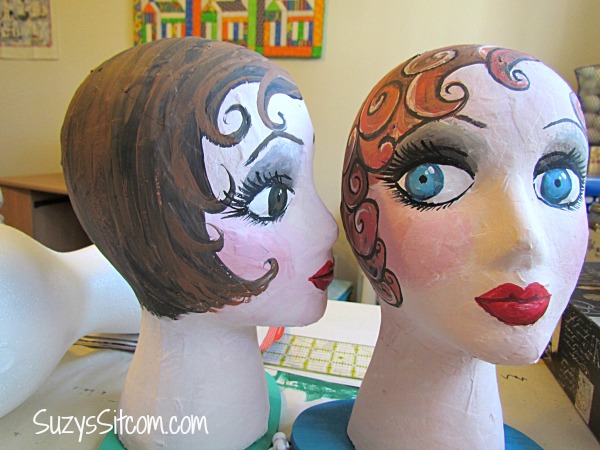 Both oval bases were painted to match their eyes.
Hmmm….if I didn't know better, I'd think they were talking about me…
The final touch is a coat of Matte Mod Podge to seal the paint and give them both a finished look.
And now my hats have a friendly place to live!  Harriet and Gwendolyn and seem to like each other.
For more fun foam projects, be sure to check out FloraCraft's website: Make It: Fun Crafts
Are you new to the Sitcom?  Be sure to check out my Frequently Asked Questions Page!
For over 200 crafty tutorials for all ages, visit my Tutorial Page!