This shop has been compensated by Collective Bias, Inc. and its advertiser. All opinions are mine alone. #ThankfullySweet #CollectiveBias
The folks at Mrs. Smith and Cool Whip have challenged me to come up with something unique and unusual for the holidays.  You know me.  I love a challenge.  Even if it has nothing to do with crafts!  I decided to combine one of Mrs. Smith's yummy cherry pies with a white cake, creating my dessert version of a Turducken.  A Christmas Cherry Pie-Cake!
The idea of this Franken-cake has been done before in the form of a "Cherpumple," which is a three-layer cake with an entire pie baked into each layer—a cherry pie baked inside a white cake, a pumpkin pie baked inside a yellow cake and an apple pie baked inside a spice cake. The layers are stacked and sealed with a coat of cream-cheese frosting. The Cherpumple ends up being a 15 pound cake that is nothing but amazing!
But you know me.  I don't do anything from scratch.  Can I create my own version of a pie-cake with ready made ingredients?  You bet ya!  Want to know how?
Christmas Cherry Pie-Cake
1 Mrs. Smith's Cherry Pie
1 large container Cool Whip
2 white cake mixes
6 egg whites
1/2 cup vegetable oil
2 cups water
red and green candied cherries
Need a coupon?
Save $1.00 on Mrs. Smith's Pie with the purchase of Cool Whip! (Coupon live from Nov 10- Dec 10, 2014)
Let's start with the pie.  You want to remove it from the box, cut four notches into the top of the crust and bake it according to the instructions on the box.
When the pie is completely baked, remove it from the oven and allow it to cool.  In fact, to be on the safe side, put it in the fridge overnight.  The next step involves removing it from the pan and you really need it to stay together.
This was a huge experiment for me so when I pulled the pie out of the refrigerator, I decided that I just might want to remove the crust around the edges.  While the crust is actually one of my favorite parts of  pie, it just seemed like too much crust for a pie-cake.
Don't worry.  The extra crust wasn't wasted.  It was delicious.  Ha!
Okay, now for the exciting part of combining the pie with a cake!  I purchased one box of white cake mix, and following the directions on the box, added 1 cup of water, 3 egg whites and 1/4 cup oil; mixing it well.
I found a 10″ cake pan that was big enough to hold the pie plus cake and greased and floured it.
I was ready!
I added about 1/3 of the batter to the bottom of the pan.
I then carefully flipped the pie out of the pie pan and set it into the batter in the cake pan.  You know, when I told my mother I was going to make a pie-cake, she asked if I was going to remove the pie pan.  Seriously? I might make another one for the family gathering and leave in the pie pan just to see the looks on their faces when they try to cut it. They will look at each other and nod and agree that next year maybe I should be assigned something a little easier like the napkins and sodas. Ha!
I was feeling pretty cocky when I realized that one batch of cake mix was not going to be enough.  And of course it was raining buckets outside.  Welcome to my life.
So I stopped everything, went back to the store and bought another box of white cake mix.  (The list of ingredients above was adjusted to show this little addition).  I then made another batch of cake mix…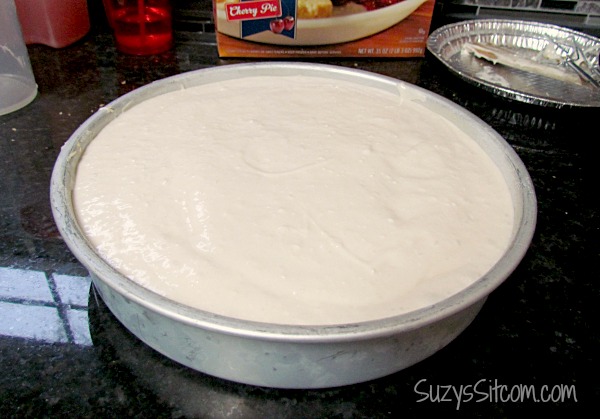 Cover the entire pie with the cake batter.  You will have a bit left over.  Just make cupcakes with it.  You see, the hubby had already stuck his nose in the air over this whole project.  He loves pie.  He loves cake.  He doesn't want pie-cake.  So he gets cupcakes.  The pie-cake will go to those that appreciate a little variety in their lives.
My father-in-law said he would be happy to take on this Franken-cake.
I baked the cake/pie according to the directions on the cake box.  You may need to bake it just a bit longer than the instructions.  I baked mine at 350 degrees for about 35 minutes.  The hardest part of the cake to get cooked all the way will be the top center.  The pie inside doesn't allow for proper heat distribution.  So my method was to check the center with the tip of a toothpick (not going into the pie).  If it comes out clean, the center is done.
Remove it from the oven and allow it to cool.  Place a plate over top, and flip it.  (This cake will be just a bit heavier than what you are used to).
Now frost it with your Cool Whip!  I love using Cool Whip as a frosting.  It is light and airy and perfect for something as rich as this dessert is going to be!
Use the candied cherries to decorate the top.  What a pretty cake for the next family gathering!  And won't they be surprised when the cut it!
Bet you want to know how it tastes.  I have to tell you that it is absolutely delicious.  And I'm totally not just telling you that.  The hubby really missed out on this one.
This recipe was made 100% less time consuming by using ready made products such as Mrs. Smith's pies, Cool Whip and cake mix.  And you know what?  It was awesome.
I think everyone should have pie-cake on their bucket list.
Check out the great pricing at Walmart for your Mrs. Smith pies and Cool Whip.  And if you need more inspiration, go to the Cooking Up Good website. They have recipes, sweepstakes, loyalty programs, coupons and more! What's not to love? If you're looking for a new dinner idea or a chance to win some awesome prizes, be sure to check it out!

Are you new to the Sitcom?  Be sure to check out my Frequently Asked Questions Page!
For over 200 crafty tutorials for all ages, visit my Tutorial Page!