Spring is coming!  At our latest stop in Statesville, VA, we enjoyed the scent of beautiful spring flowers.  I love the fresh smell of flowers, and really can't wait to leave winter behind.
Since I have flowers on the mind, I want to share with you my latest craft project, my Pretty Flower Power Suncatcher!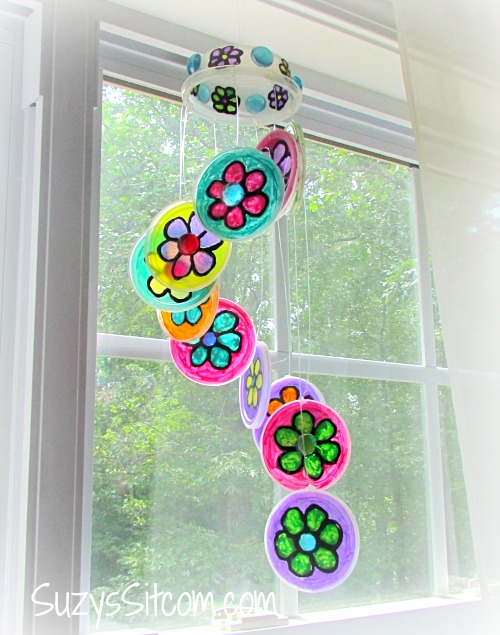 Need something fun for the kids to make on spring break?  This project not only is a fun project, but a great way to recycle plastic lids.  This pretty Flower Power Suncatcher adds a ton of color to a room and it is easy enough to keep little hands busy!  
For this project I used:
11 plastic lids (mine are from pringles containers)
1 small plastic disposable bowl
fishing line
Black puff paint
Sharpie permanent pens bright colors
Acrylic paint in bright colors (optional)
Colored glass cabochons
Hot glue
Dremel or pick for punching holes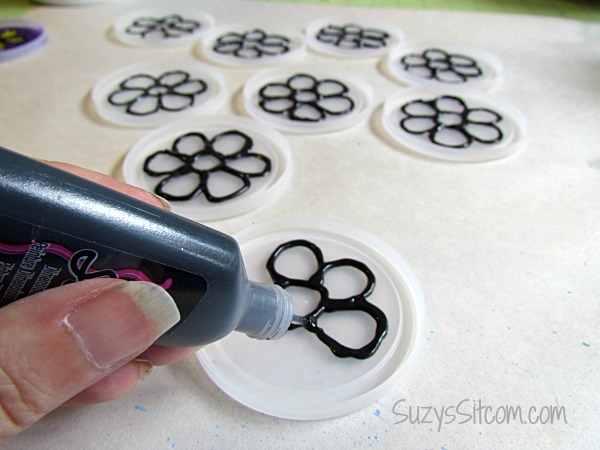 Use the black puff paint to draw in the flowers on each of the lids, and onto the sides of the plastic bowl.  Boys don't want flowers?  They can draw in bees, smiley faces, butterflies…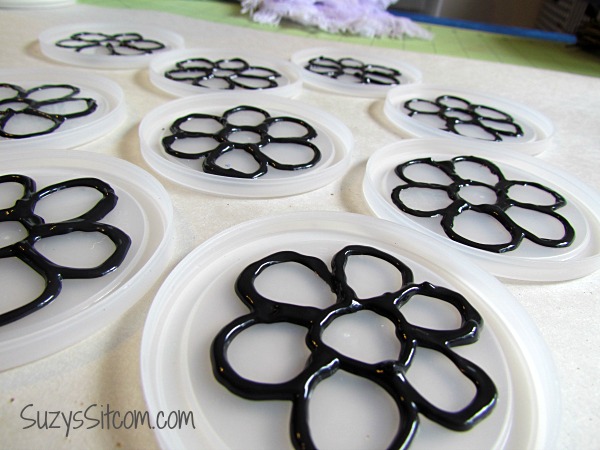 Allow the puff paint to dry.  It usually takes a few hours.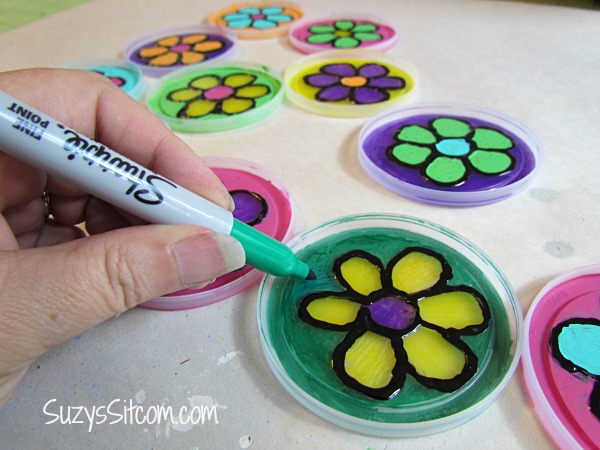 Color in the flowers with colored sharpies.  For more color selections, you can also use watered down acrylic paint (optional)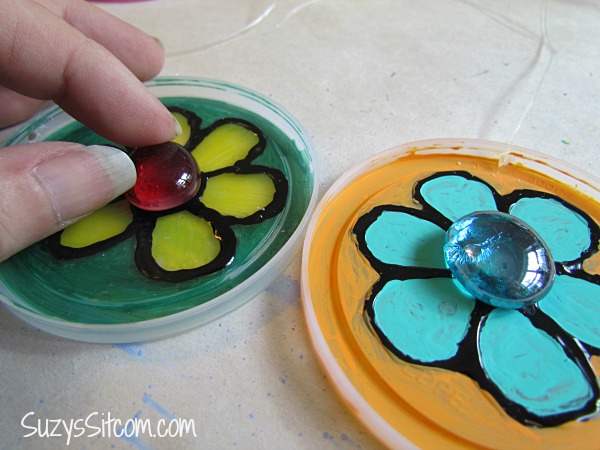 For additional weight, hot glue on glass cabochons.
Color in the plastic bowl flowers.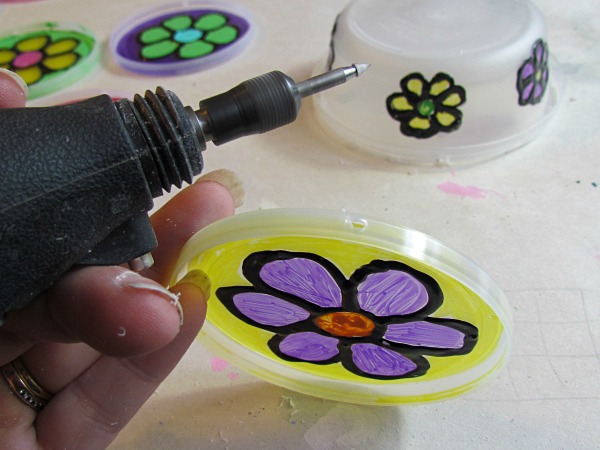 Use a dremel or punch to put holes in the side of each of the lids.
Also add 11 holes evenly spaced inside the rim of the plastic bowl.  Cut lengths of fishing line starting with the shortest and working your way around, adding about 1″ to the length with each one after that.  Knotting fishing line can be difficult, so I chose to hot glue each end into the holes that were drilled into the plastic.  Hot glue dries quickly.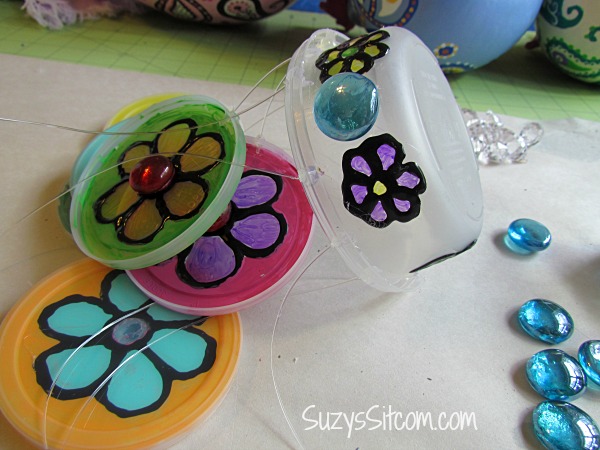 Work your way all around the plastic bowl, adding an extra inch to each piece of fishing line before gluing in the next flower lid.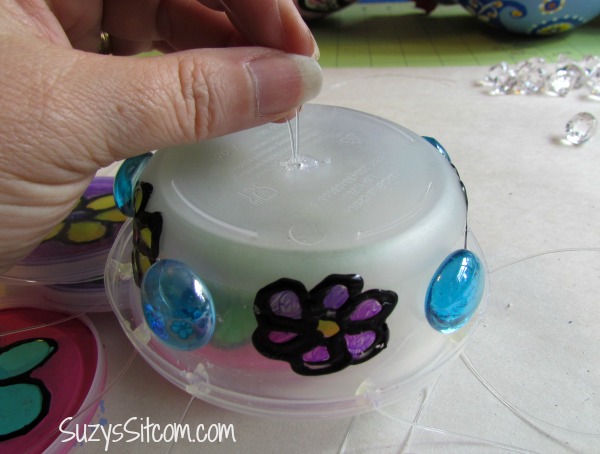 Drill a hole into the bottom of the bowl and attach a loop of fishing line for a hanger.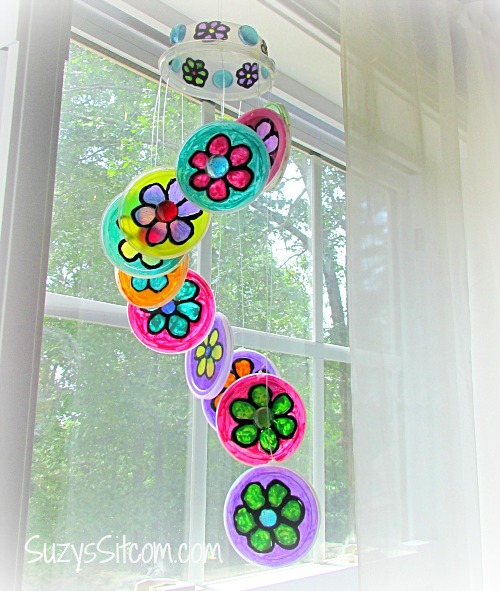 And there you have it!  A pretty Flower Power Suncatcher made from recycled lids!  The kids will love this project and you can teach them a bit about recycling at the same time!
For more recycled craft ideas, please check out my Recycled Crafts Page!
Are you new to the Sitcom?  Be sure to check out my Frequently Asked Questions Page!
For over 200 crafty tutorials for all ages, visit my Tutorial Page!