This post is sponsored by Tiny Prints and LooksiSquare. All opinions are entirely my own.
It's the middle of April already and believe it or not, Graduations are right around the corner!  Announcements will be coming out soon and if you have a graduate this year, you are probably looking for some nice ones to send out.  I recently discovered Tiny Prints and if you are wanting a classy looking announcement, you need to look no further.  For a unique graduation gift, I came up a with fun tutorial on folded money dresses on hangers!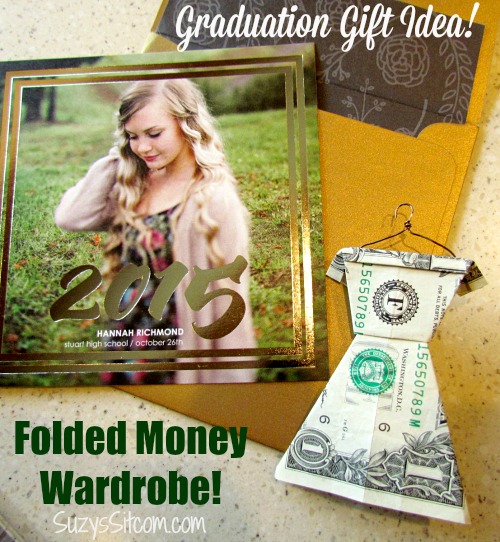 I have to tell you that every year when I start receiving announcements in the mail, I struggle with what would be a good gift besides money.  Money just seems so impersonal.  So this year I ran across a tutorial on how to fold money into dresses.  Perfect for the girl graduate who needs a bit of cash to build up her college wardrobe!
The trend in Graduation stationary designs has become rather stylish over the past few years.  Much fancier than they were when I was graduating, that is for sure!  Tiny Prints has a great line of announcements in just about any style you could like!
Tiny Print's letterpress with photo cards are a blend of old world technique and modern design. They use vintage presses which create crisp, beautiful indentations in combination with modern photo printing techniques.
You get to choose your design and send in your favorite photos to personalize!  They offer Foil-stamped designs, Letterpress designs, Matching envelope liners and envelope colors!  This particular one is a Foil Stamped Graduation Announcement with scallop trim!  Beautiful!
This one is also foil stamped.  You can even have a choice of five different colors for the foil! Foil-stamped cards are the perfect way to make your special occasion shine. Each card is hand-stamped with real foil!
So let's make a little money wardrobe for our graduate!
The folded origami money dress is not my original idea, but the little hanger that goes with it is.  I found a great tutorial for these easy to fold dresses at Homemade Gifts Made Easy.  It includes both a video tutorial and step by step photo tutorial to help you whip up these little dresses in no time!
Have a boy graduate?  Well, she also has a tutorial for a cute shirt with necktie folded out of money!  In my example above, I used dollar bills, but I'm thinking for a graduate needing a college wardrobe, you might want to go with at least twenties.
If you want to be the favorite Aunt/Uncle, that is…
Now lets make the wire hangers!  You just need about 6 inches of 22 gauge wire.  Wrap the top around a round object to create the hanger.  I used the end of my crochet hook.
Fold the rest of the wire as shown above.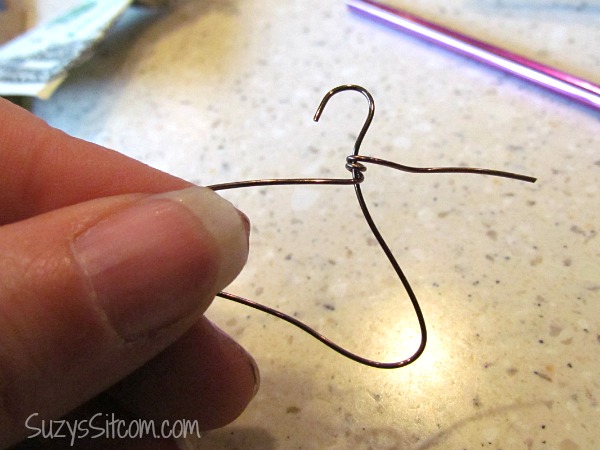 Wrap the end around the base of the hook a couple of times, and then clip it with a pair of scissors.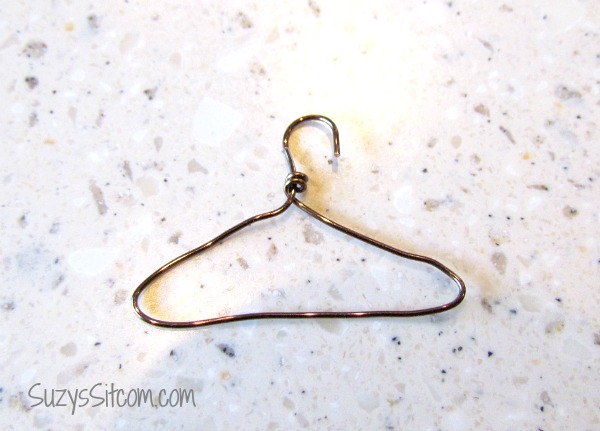 And there you have a tiny hanger!
Flip your folded dress over and use a small piece of tape to keep the hanger in place.
Cute!  Make a bunch of these (in larger denominations of course) and give them to your graduate.  You could create a cute little closet out of a shoe box and hang them all in a row!
Or you could just mail them once you receive the Graduation announcement.  It is a great way to personalize a gift of money.  And isn't that what they really need?
Take a few moments and check out all that Tiny Prints has to offer!  They have such a fabulous selection.  And let me know what your favorite announcement style is!
Are you new to the Sitcom?  Be sure to check out my Frequently Asked Questions Page!
For over 200 crafty tutorials for all ages, visit my Tutorial Page!