This is a sponsored post written by me on behalf of Johnson & Johnson Family of Consumer Companies. All opinions are 100% mine.
My daughter recently became a Medical Assistant.  It involved quite a bit of schooling and a whole lot of time and effort on her part.  I am very proud of her.  I know how tough it was for her to pay for schooling, work and study at the same time.  That is why I was particularly excited to hear that Johnson & Johnson is raising up to $100,000 in donations for the TOGETHER WE CARE™ Nurse Practitioner Scholarship Program!
You can contribute to the program by simply purchasing qualifying Johnson & Johnson Family of Consumer Companies' products!  See the bottom of this post for more details and a link to $40 in coupons!
I also wanted to share with you an on-going project that I hope to start working on regularly now that I have officially become a full time RV'er! It is my Appliqued State Flower Quilt!
This is officially a UFO.  (Unfinished Object).
I wanted to learn the art of applique, so I started to design a 50 state quilt top of the state flowers.  I've only completed 5 of them so far, and honestly have not worked on this project in about four years.  But when I get it out and look at it, I get all excited about it all over again.  I plan on completing it one day this decade.  Ha!
I started by sewing together four pastel squares of fabric for the background.  The squares were 3 1/2″ square and when sewn together with 1/4″ seams, create a 6 1/2″ unfinished square.
I then drew out a line drawing of what I wanted to create.  My method of applique is to work from the background to the foreground, so I numbered my drawing in the order that I wanted to piece the fabric.
I have a huge stash of fabric scraps, collected over many many years of quilting.  Several years ago, I sorted all my scraps and put them in plastic bins according to color.  This made it easy when it came to the applique designs to choose colors that are in the same colorway, but different shades.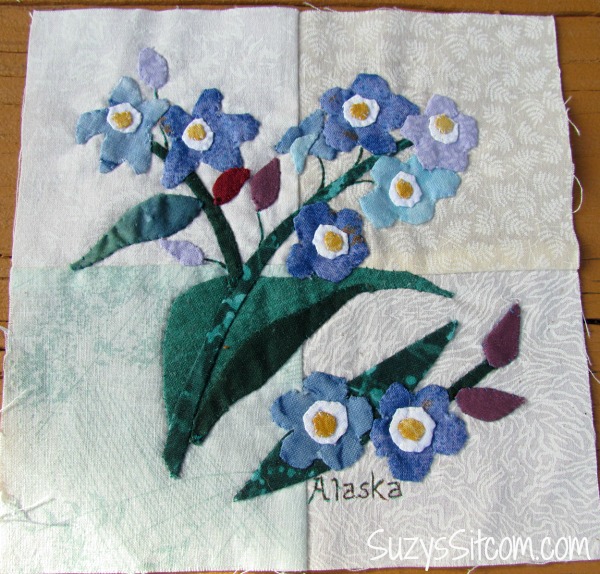 These are my original drawings.  I then trace the pattern onto freezer paper.  You see, the shiny side of freezer paper, when ironed onto fabric, stays stuck until you want to remove it.  And leaves no residue.  Each piece of fabric is cut about 1/8″ larger around than the pattern piece to allow for folding the edges under.
Since I did not take pictures of the applique process, please check out this tutorial on Needleturn Applique by Rose Rushbrooke.  It is very similar to the process that I used to create these squares.  And Rose does a great job of explaining it.
On areas such as the veins in the leaves, I used a method called Reverse Applique.  Where you baste down the "vein fabric" in the background first, and then applique the sides of the leaves over top of it.
As you can see, I have 45 more of the blocks to go.  That is unless the United States adds another state or two before I finally finish this project.
Want the free patterns?
Here are the pdf versions.  Some have more detail than others, but if you are wanting to take on this project, they should be of some help to you:
state flowers pattern, state flowers pattern2, state flowers pattern3, state flowers pattern4, state flowers pattern5
In the meantime, it is pretty fun to look at and imagine what it might be when it is complete.
Help Contribute to the TOGETHER WE CARE™ Nurse Practitioner Scholarship Program!
From March 29–April 4, 2015, Johnson & Johnson will donate 10 cents for every qualifying purchase, making it easy to give back while purchasing the healthy essentials you and your family need anyway.
Products such as…
Applications to this wonderful scholarship program will be accepted March 29- May 29,2015. Easily apply now if you are interested, and help spread the word that #TogetherWeCare !
Visit the Healthy Essentials page for up to $40.00 in coupon savings on various Johnson & Johnson products and other varied products!
Do you know someone that can benefit from this wonderful program?