Metal embossing is a great craft for the kids!  Varsha Praveen, an art teacher in an after school program for elementary aged children, contacted me regarding my tutorial for Faux Tin Tiles.  You see, Varsha wanted to teach the art of embossing to her class!
I received a wonderful letter from her along with some fabulous photos! Varsha said, "We finally finished the project in class. I teach there only once a week and only three weeks in a month so it took a while!  I want to thank you for the idea so much!
The kids loved making them and they learned the 'embossing' technique and a new word. There are a range of ages in the class from kindergartner to 6th grade. It was easy enough for the little ones and they loved making it colorful".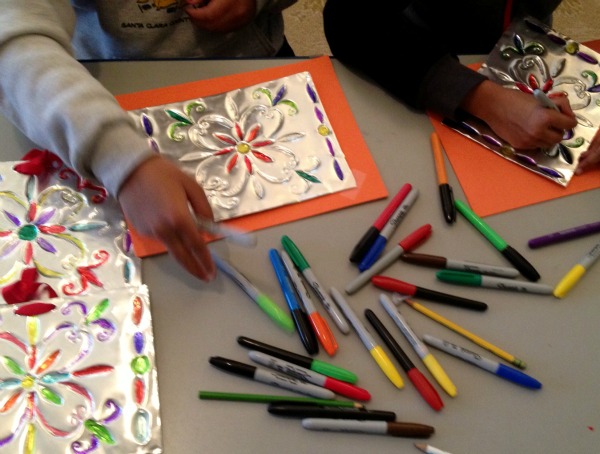 Rather than use messy paints, Varsha substituted permanent markers for color on the embossed metal.  As you can see by the photos, it was a great success!
Varsha teaches at Unique Stars Academy,  an after school and enrichment program that has been offering educational and enrichment programs, extra curricular activities, sports and field trips for children from Kinder to 6th grade for the past nine yrs.
She teaches arts and crafts, and has taught many different mediums including salt dough, yarn, paper mâché, plastic canvas, and shrinky dinks. They have also done tie dye, batik, cross stitch, and beadwork.
Varsha says, "My goal is to try and expose them to ideas and techniques that they do not learn in school".
It is letters like these that make all the work on this little 'ole blog very worth the time and effort.  Just look at the amazing work these students did!
Awesome job!
And thank you so much, Varsha, for sharing their work with us!
If you are interested in this embossing technique which uses disposable cookie sheets, be sure to check out my Faux Tin Tiles tutorial, it includes 12 free patterns!  Want to see a video on how it is done?  Mona from Craft Klatch created one showing how to make an embossed fish using this same technique.
For more fun kids crafts, please check out my Kids Crafts Page for a ton of crafty ideas!
Are you new to the Sitcom?  Be sure to check out my Frequently Asked Questions Page!
 For over 200 crafty tutorials for all ages, visit my Tutorial Page!