This is a sponsored post written by me on behalf of AllWhites Egg Whites. All opinions are 100% mine.
I'm always on the lookout for easy meals that I can make in no time.  Crafting is my thing, and cooking takes time away from my projects!  Oh, and there is the work thing too.  With the hubby and I working the night shift at the campground, we do not get in until late evening.  Peanut butter and jelly sandwiches are getting old.
Just saying.
So, I ran across a great recipe for Velveted Chicken and Vegetable Stir Fry the other day.  Not only is it quick and easy, but a healthy dinner option too!  Using AllWhites Egg Whites and lots of yummy veggies, this recipe was a hit.  And easy too!
So what the heck is velveted chicken?
Velveting chicken is a technique used in Chinese cooking to keep chicken breasts from overcooking. With water-velveting, you marinate the meat in egg whites, and corn starch, then blanch the meat in boiling water with a little bit of oil added to it. The end result is meat that's tender, silky, and smooth in texture.
Since I am particularly good at burning things, (the hubby regularly disconnects the smoke alarm when I start cooking), this little technique just might help me look a bit more like I know what I'm actually doing!
I love to find quick solutions to my cooking duties, so I used AllWhites® 100% liquid egg whites for this recipe.  AllWhites® are:
– 100% liquid egg whites with no yolk
– Located in the refrigerated dairy section
– A lean source of protein that's easily kept on hand
– 0 PointsPlus® value per serving on the Weight Watchers® program
They are a perfect solution for creating great velveted chicken!
Velveted Chicken and Vegetables Stir Fry
1 lb. boneless, skinless chicken breasts or tenders, cut into ½ inch pieces
1/4 cup AllWhites® egg whites
2 tbp. cornstarch
1 tbsp. toasted sesame oil
1/2 tsp. salt
3/4 lb. frozen stir fry vegetables
2 tbsp. oil
4 cloves garlic, finely chopped
1 tbsp. grated ginger root
1/3 cup favorite stir-fry sauce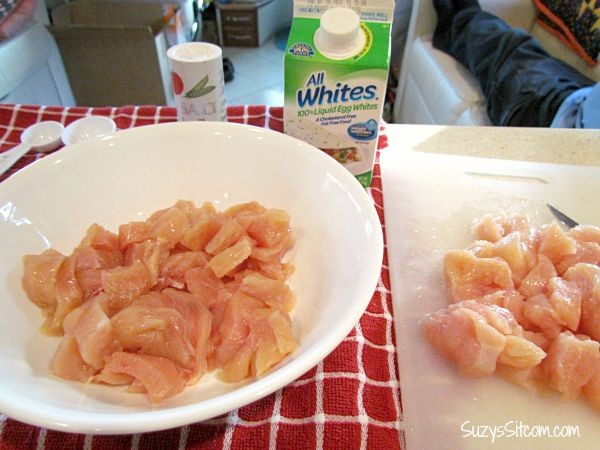 Mix chicken, AllWhites egg whites, cornstarch, sesame oil and salt in medium bowl until well blended.
Cover and refrigerate for 30 minutes.
Start a pot of rice as a side dish.  (Optional but yummy).  Meanwhile, bring a large pan of water to a boil. Add the frozen stir fry veggies; cook about 30 seconds or until peas are bright green. Remove with a slotted spoon to a bowl; reserve hot water.
Remove chicken from refrigerator. Bring water back to a simmer; stir in 1 tablespoon oil. Add chicken to the water, stirring to separate pieces.
Cook about 1 minute or until chicken is opaque. Drain chicken.  You now have velveted chicken!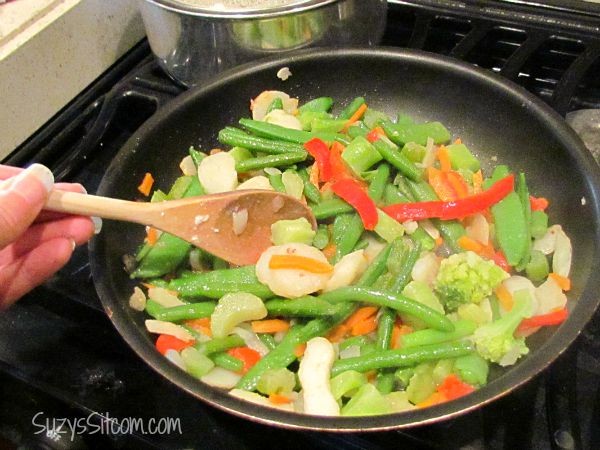 Heat remaining 1 tablespoon oil in large skillet over medium-high heat. Add garlic and ginger; cook and stir until fragrant. Add the vegetables and cook and stir for one minute. Stir in sauce, then scatter chicken on top. Cover and steam 1 to 2 minutes or until chicken is no longer pink in center.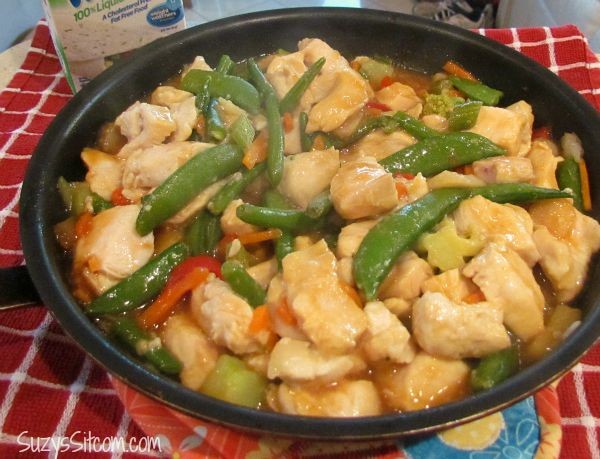 And fancy dinner is served!  This stir fry is great served over steamed rice, quinoa, or even cous-cous.  Total time?  Well, I had it on the table in less than 30 minutes!
Want more great recipes using AllWhites® 100% liquid egg whites?  Check this link! AllWhites Egg Whites Favorites.
Which one is your favorite?
AllWhites Egg Whites on Facebook  *  AllWhites Egg Whites on Pinterest