I just love working with quality craft supplies!  This week, I came up with some fun No-Sew Quilted Coasters that have the look of quilting, but are so simple to make!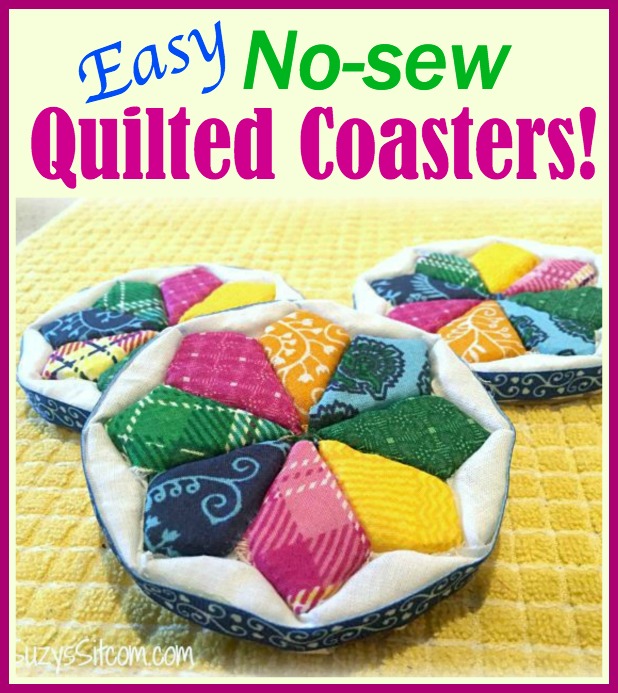 Colorful, fun, unique and so easy to make!
FloraCraft makes all sizes of Foam Discs- just check out the selection!  For this project, I will be using the 3-7/8″ wide discs, but stay tuned for many more fun projects using the larger ones!
The no-sew quilting technique has been shown before on the Sitcom in these projects:
Hooty Owls No Sew Wall Art with free pattern!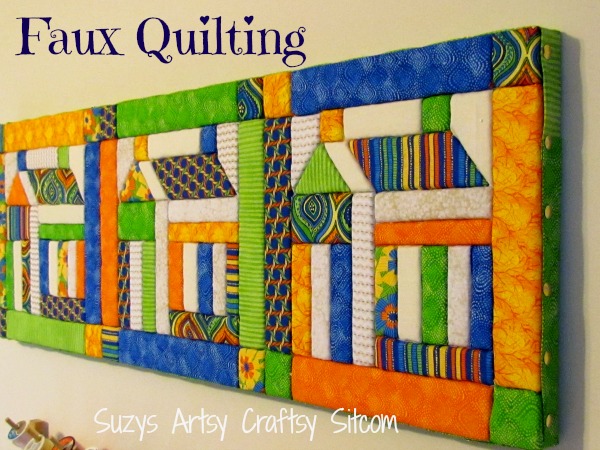 Faux Quilted Bulletin Board with free pattern!
This technique if fun and quick to do!  Want to know how?
Affiliate Links to Amazon below:
For this project I used:
2 ea. 3-7/8″ x 15/16″ FloraCraft® Make It: Fun® Foam Discs
FloraCraft Foam Cutter
Assorted Fabric Scraps
scrap cardboard
ribbon
ruler, sharpie, butter knife, low temp hot glue gun
Begin by using the FloraCraft Foam Cutter to cut the foam discs in half crosswise, ending up with 4 ea. approximately 1/2″ thick discs. Use the disc as a template to cut out four pieces of cardboard.  These will be used later for the bottom of the coasters.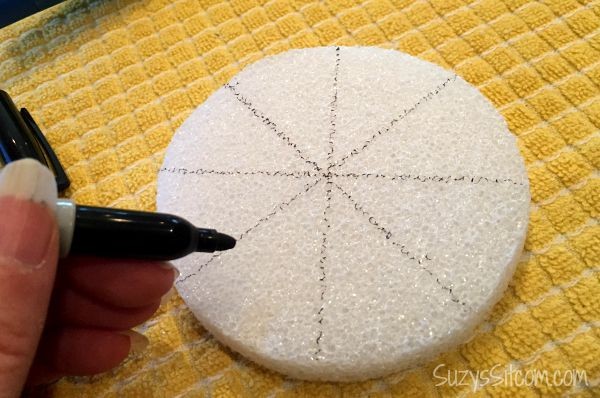 Use a sharpie pen to draw the design onto the foam.  For this pattern, I simply drew a lines across the disc, creating eight pie-shaped areas.
I then drew in the points of each of the eight sections as shown above. Once the pattern is complete, choose a variety of fabrics to use.  I chose bright, happy colors and white.  For this project, you should not need more than a 1/4 yard of each.
Use a craft knife to score along your lines, cutting about 1/4″ deep.  Be careful not to cut all the way through your foam, and be sure to have the entire piece supported on a table so that you do not accidently break it.
Choose a place to begin and cut a piece of fabric big enough to overlap all four sides of the area by about 1/2″. Use a butter knife or credit card to push the edges of the fabric down into the foam along the cut lines.
Here is the coaster with all the sections filled.
Now add the white border fabric.  Cut the white fabric so that there is plenty of overhang- like photo above.
Use a low temp hot glue gun to tack the white fabric in place on the bottom of the coaster.  Hot glue ribbon in place – tightly around the outside edge.  Trim any extra fabric from bottom and hot glue the cardboard circle to the bottom of the disc.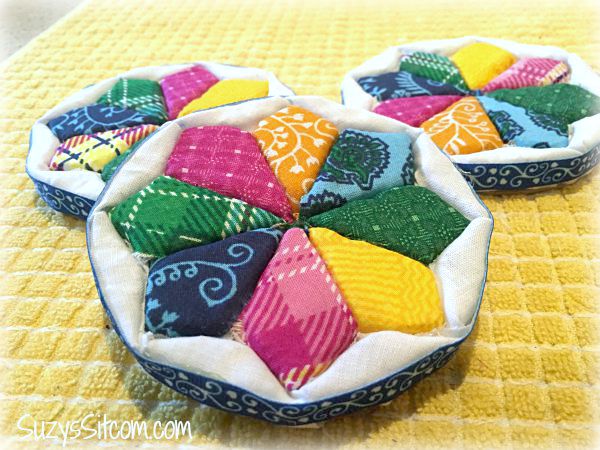 And there you have it!  Colorful quilted coasters and not a single stitch of sewing!
Not only are they fun to make, but they make great gifts!
Want more foam craft ideas?  Be sure to check out all my other craft ideas using FloraCraft® Make It: Fun® Foam.
DIY Flapper Mannequin Hat Stand
DIY Brick Window Chalkboard
All You Need is Love and Cupcakes Faux Pallet Art
Hooty Owls No Sew Wall Art
DIY Holiday Macaroni Sheep
DIY Mini Cupcake Holiday Tree
Which one is your favorite?
Are you new to the Sitcom?  Be sure to check out my Frequently Asked Questions Page!
For over 200 crafty tutorials for all ages, visit my Tutorial Page!