This shop has been compensated by Collective Bias, Inc. and its advertiser. All opinions are mine alone. #MangiaTonight #CollectiveBias
In my house, dinner has always been an event.  It is the one time of the day that the family gets together, sits down at the table and discusses their day.  I was brought up that way, and that is the way I raised my kids.  Now that the husband and I are on the road and the kids have grown and gone, I really see no reason to change that.
It is still an event in our house.  With that said, I have more time now to consider things that I didn't consider before.  Important things like what wine goes with that?  Because a good wine choice makes dinner even that much more special.
Over the holidays, our boss invited us over to his house to celebrate. Of course the issue of what to bring came up. What do you get for the boss who has everything?
We opted for a bottle of wine.
My husband and I generally only drink a few times a year and it is usually something safe like a White Zinfandel… because we don't really know what else we might like.
We spent at least an hour in the grocery store studying the wine collection trying to decide what we wanted to buy. With hundreds of bottles of all shapes, sizes and colors in front of us, as the unpracticed wine drinker wannabes that we were, we had many decisions to make. A merlot? Or how about that white wine in the cool looking bottle?
Oh, wait, look at that pretty one!
For the uneducated purchaser, it was rather a daunting task to make that final decision. You can honestly pay anything you want for a bottle of wine. And what little experience I do have tells me that the more expensive ones are not necessarily the better ones.
My friend recommended a Pinot Noir by a certain winery. Fortunately for me, I have friends with taste. It turned out to be a big hit.
Now that I have such vast experience with wine purchasing, let me pass on a few tips that I learned in the process!
How to pair wine the easy way…
1- The general rule is to match red wine with red meat and white wine with white meat. So in essence, it is best to be matchy-matchy.
2- If you have foods that are salty or particularly sour, they will make the wine taste sweeter. So bitter wines like Merlot, my buddy the White Zinfandel, and Cabernet go well with a salty food like shrimp, caviar and of course barbeque.
Hey, I live in the south, okay? Next time I go to the monster truck show, I'm going to order a plate of ribs, a side of turnip greens and a tall glass of Zinfandel to go along with it. Because I'm classy like that.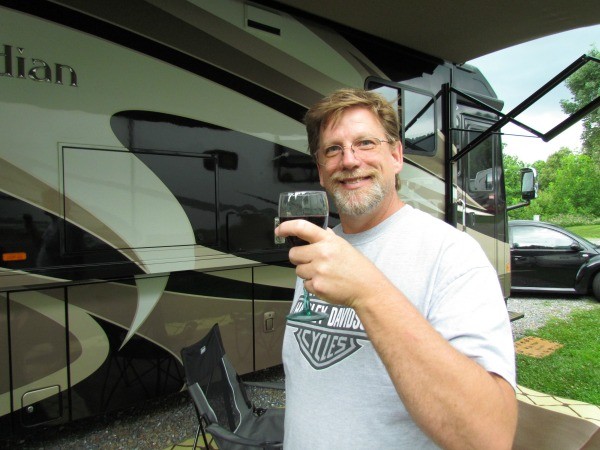 3- The fancier looking bottles don't necessarily contain the best wine. However, you certainly look good while you are drinking it.
4- If you finally decide on a bottle and do bring it home, it is best to already own a corkscrew. Getting into a bottle without one can be difficult. Teeth are not an option.
Ask me how I know.
5- The higher the alcohol content, the more full bodied the wine. Matching a full bodied wine with a richer meal, something that may be cream based, is a good idea. A lower alcohol content wine is better matched with lighter fare.
6- Never buy wine from Rastus at the local gas station, even if he says it's a secret family recipe.
7- Allowing your wine to "breathe" is often recommended to get the maximum "bang for your buck", so to speak. Pouring your glass of wine and letting it sit for a bit allows for proper aeration and flavor softening. Drinking it directly from a brown paper bag covered bottle is not considered proper etiquette. Even if that is the way Rastus sells it.
8- Finally, it is recommended that wine with a screw top rather than a cork might not be your best bet. Especially if you are trying to impress the boss. Even if you aren't sure if he owns a corkscrew or not.
Trust me on this.
Now that we are all experts on the subject, lets pair some wine with some yummy Bertolli dinners.
Now that we are full time campers, life is slower and we make an effort to take the time and enjoy every moment.  That doesn't stop at meal time.  "Mangia" means eat in Italian, but it is more than that.  It is an experience!
This week I chose Bertolli Chicken Florentine & Farfalle and Bertolli Stuffed Shells Bolognese for a delicious meal.
For a great side to the fabulous meal, I put together an easy pesto and olive oil dipping sauce.
Pesto and Olive Oil Dipping Sauce
1/2 cup olive oil
1 tbsp. prepared pesto
1 French bread baguette 
Place the pesto in the center of a small plate.  Drizzle it in olive oil.  Serve with a side of french bread.  The best way to eat it is to tear off a piece of bread and dip it in the pesto and then the olive oil.
This little side dish is not only easy to make, but incredibly delicious!
And talk about delicious.  Check out the Bertolli Chicken Florentine & Farfalle.  It is grilled chicken, spinach and pasta in a creamy white wine sauce.  What to pair with this dish?
A Chardonnay or a Pinot Grigio would work well.
The Bertolli Stuffed Shells Bolognese would work well with a Lambrusco or a Rose.
See.  I'm an expert already!
In either case, the wine, the delicious Bertolli meals and the yummy pesto dipping sauce make dinner a wonderful event.
Go shopping for some great wines and try them out with some of your favorite meals.  Make your dinners special!
Right now you can find Bertolli items at some of the lowest prices of the year in a Kroger or Kroger banner store near you! Kroger banners include Fred Meyer, Smiths, Frys, Dillions, King Soopers, City Market, and QFC.
And be sure to check out Bertolli's newest frozen dinners:
Bertolli Chicken Carbonara
Bertolli Chicken Florentine
Bertolli Italian Sausage
Bertolli Chicken Parm Bakes
Bertolli Lasagna
Which one is your favorite?
Are you new to the Sitcom?  Be sure to check out my Frequently Asked Questions Page!
For over 200 crafty tutorials for all ages, visit my Tutorial Page!