This shop has been compensated by Collective Bias, Inc. and its advertiser. All opinions are mine alone. #WildSideOfFlavor #CollectiveBias
We live full time in our RV.  Which means if I want an amazing meal without having to do the cooking myself, I just have to hand the hubby something fun to cook on the grill.  This week, while perusing the shelves at Walmart, I ran across Jack Link's Wild Side Sausages. A perfect excuse to make up some sausage, peppers and onions on the grill.
With a twist!
We have found that regular sausage has a tendency to be a bit flavorless.  I love unique, bold flavors.  It turns out the Jack Link's Wild Side Sausages are the perfect solution.  While this particular recipe is a favorite of ours, these spicy sausages make it even more fun.
I'd love to share with you my recipe for Sausage, Peppers and Onions from the Wild Side, along with some great grilling tips that we have learned along the way.  Just in time for outdoor grilling season!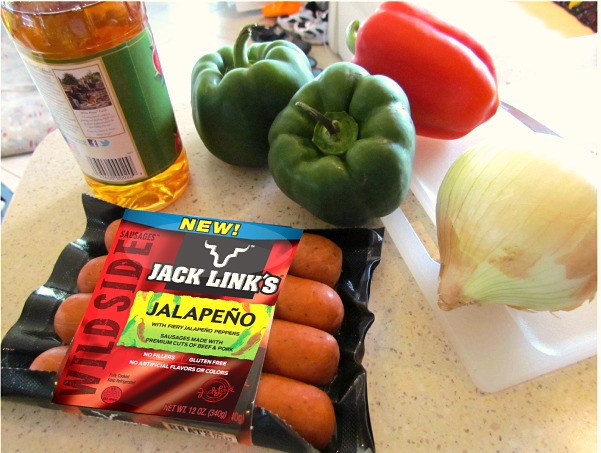 Sausage, Peppers and Onions from the Wild Side
Jack Link's Wild Side Jalapeño Sausages
2 green peppers
1 red pepper
1 onion
2 tbsp vegetable oil
3 tbsp. vinegar
2 tbsp. sugar
salt and pepper
hotdog rolls
Slice up the peppers and onions and add to a skillet.
Add in the oil, vinegar, sugar, salt and pepper. Cook over medium heat until veggies are tender and slightly browned.
Camping Tip #1: Let these veggies cool and freeze them.  Use them on your next camping trip to recreate this recipe without having to pull out the skillet!
Place your cooked peppers and onions in a disposable aluminum pan along with the Jack Link's sausages.  Place over hot coals and cover.
Camping Tip #2: While cooking on the grill or over a fire, cover your pot.  Food not only gets done more quickly, but you save on fuel and keep the insects out! 
About this time, the delicious smells will start to make their way across the campground, drawing in friendly work campers.
Camping is definitely a great way to make new friends!
Cook on the grill for about 15 to 20 minutes, until the sausages are tender and heated all the way through.  Jack Link's sausages are fully cooked, so heating them up is easy!
Camping Tip #3: For a quick meal, prepare soups, stews or chili ahead of time and freeze in individual servings.  Reheat and you have a great meal! 
For a final touch, place the sausages directly on the grill along with the rolls.  This adds grill marks and a touch of charcoal flavor.
Camping Tip #4: Add a pan of hot water to the grill while you are eating.  Perfect for clean up later! 
We just love the bold flavor of jalapeño in these sausages!  A perfect touch for a warm spring day on the road.
Jack Link's Wild Side Sausages contain no fillers, no added MSG, no artificial flavors or colors, are gluten free and high in protein!  And they come in three fun bold flavors:
Jack Link's is famous for their quality, tradition and their spirit of adventure! In addition to sausages, they also offer a wide variety of high-quality, great tasting, meat snacks that are sure to Feed Your Wild Side™ on the grill and in the kitchen!
You can find Jacks Link's Wild Side Sausage in the smoked meats section at your local Walmart.  And keep an eye out for Rollback pricing ($3.48) from now through Memorial Day!
What is your favorite recipe for the grill?
Are you new to the Sitcom?  Be sure to check out my Frequently Asked Questions Page!
For over 200 crafty tutorials for all ages, visit my Tutorial Page!