Thank you to the nice folks at eSalon and Mom It Forward for sponsoring this post!  All opinions are totally my own. #eSalon #homehaircolor
Living full time on the road means that money is not as plentiful as it used to be.  When we sold our house and nearly everything we owned, moved into our RV and set out to work camp across the country, it was a well thought out decision.  We knew we would have to get used to living on a much smaller budget and doing without some things that we were used to.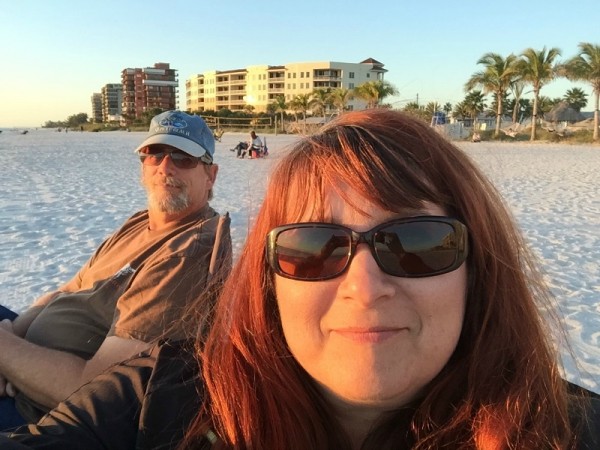 But that also means learning how to save money on some luxuries that I still would like to have.  One of them is hair color.  You see, I'm 53 years old.  That means I'm not a spring chicken any more.  But I certainly do not want to look it!
I was a natural dark brunette, but over the past few years I have moved to reds.  I love vibrant reds.  But any of you that dye your hair know that red is a difficult color to maintain.  It fades quickly and if you have the wrong undertones, it will fade to copper.
I really don't like copper much.
Affording to go to a hair dresser every 6 weeks or so is out of the question.  They take one look at the length of my hair and instantly access the cost in the $200 dollar range.
So that leaves us resorting to at-home hair color.  Fortunately, I recently discovered eSalon!  You can order your hair color on line, and have your own personal professional colorist create a color just for you.  And the cost?  Under $20!
Be sure to see the 50% off coupon offer at the bottom of this post!
I decided that it was certainly worth a try.
Did you know that eSalon is the first and only customized mass hair color service globally?  They currently serve the US, UK, CA and Europe.
My order consisted of:
Expert colorist consultation/guidance with every order – salon style service (My colorist actually called me to determine what color I was going for.
Individually blended color made to order taking into account my color history, percent of gray hair, hair texture, and more, just like in a salon so it was perfectly matched to me!
Professional grade hair color and accessories (stain guard, stain remover etc).
Personalized application instructions – no generic instructions
Fast & convenient delivery – shipped within 3 days
100% satisfaction guarantee – free reformulation or refund!
I just had to try it!  My order arrived in just a few days and came with everything that I could possibly need to create an awesome color change on my hair.
As you can see, I had let my hair go.  Not only had my red turned brassy and coppery, but my roots were really showing!
I decided with this batch of hair color to go back to my brunette days- but with highlights of violet.  Because we certainly can't be boring, can we?
Because of the length of my hair, they sent me two batches of hair color.  One made specifically to cover my roots, and the other to add color and depth to the rest of my hair.
Mixing the colors was simple, and my husband became my colorist for the day.  He applied the color to my roots first and let them sit for about 15 minutes, following the detailed instructions that came with my kit.
See the purple!  Yay!
He then applied the color to the rest of my hair.
Note that we are sitting smack in the middle of the campground.  It definitely drew a crowd…
The kit included some great stain remover to get any extra color off of my face, color locking shampoo and conditioner.
Really, everything that I could need!
My handsome colorist at work…
Here is my hair in the sunlight with my new colors!  I love the hint of violet and check out the shine in the sunlight!
The great thing about eSalon is not only the quality of color, but the ability to tweak or change your hair colors.  Just like a stylist in a salon, they keep client color history on file and use that info for future color applications!
Here is my color inside!  All the gray is gone and I have a whole new look!
Since launching 2010, eSalon has shipped over 1,000,000 unique hair color applications – and this number is growing fast.
Each custom color application is only US $19.95 (£14.00) and comes with a money-back guarantee!
For Suzy's Sitcom readers only!  You can order from eSalon for 50% OFF!  Your first order is only $10 for first time clients (50% savings) – be sure to click on this link!
eSalon on Facebook  *  eSalon on Twitter  *  eSalon on Instagram  *  eSalon on Pinterest
For over 200 craft projects and instructions, don't miss Suzy's Sitcom tutorial page!