With winter upon us, there is lots of time to take up needlework crafts.  I'm a huge fan of knitting, crochet and quilting and I love nothing better than to find cute free patterns!  Over the next few weeks, I am going to feature lots of free patterns in all three categories.
Let's start with crochet.  So with that in mind, I located 14 awesome free crochet patterns for you to try out!
There is a little of everything here and I chose patterns that are easy enough even for a beginner to try out.  Pick your favorite, go choose some colorful yarn and let's get started!
Rainbow Bobble Tablet Sleeve from HaakmaarRaak
The bobble structure of this sleeve makes it the perfect stitch to protect your tablet, laptop or phone!  Pattern is available in both English and Dutch.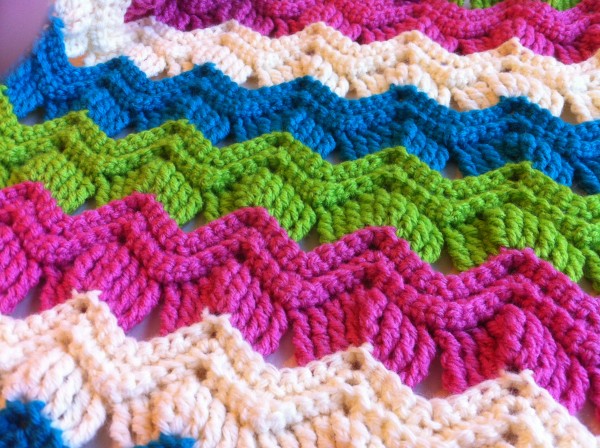 Vintage Ripple Fan Scarf Pattern from Suzy's Sitcom
The Vintage Ripple Fan Pattern comes from one of my old crochet magazines.  I updated the pattern just a bit and made a brightly colored scarf with it.  And while I was at it, I even dabbled a bit in the field of videos and created a video to demonstrate the Double Triple Crochet stitches that are used in the fans of this pattern.
Rainbow Crochet Unicorn from 1 Dog Woof
A large, bright and colorful crochet unicorn!   He is inspired by the IT'S SO FLUFFY unicorn from Despicable Me, but he is his own unique self.

Neverending Flower Pillow Pattern from Suzy's Sitcom
I'm always looking for ways to add a touch of color to my RV.  You see, it is basically white and wood.  Of course, there is nothing wrong with that; it makes the place look much bigger than it's 400 square feet.  But it could definitely use a pop of color or two.  So when I ran across a fun crochet pattern for the Neverending Flower, I decided to create some vibrant pillows to spice up the place.
Blackberry Salad Striped Afghan from Moogly
I love this pretty crocheted striped afghan.  You can alter the size to make a baby blanket too!  A great way to use up some of your yarn, or just pick a few colors and make something amazing!
Click here for more free crochet patterns!