The Sitcom specializes in unique, one-of-a-kind craft tutorials, and with hundreds of tutorials to choose from, sometimes it can be difficult to decide where to start.  Today, we are going to look at some unique paper crafts that you can only find on Suzy's Sitcom!
Each of these projects take just pennies to make.  They range from incredibly easy to make, to the more difficult.  So go grab some paper and get ready to be inspired!
After coming across a pack of mousetraps at the hardware store, I envisioned cute little magnetic mousetrap clips for the refrigerator.  Using clip art and the 3D method of paper tole, they soon came to life.  A simple tutorial that creates a colorful conversation piece.  Mousetraps.  Who knew?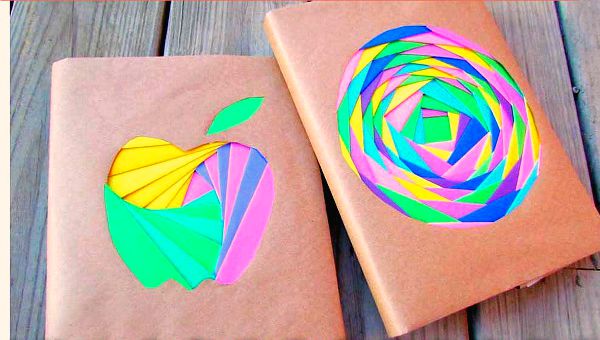 I used the paper folding technique of iris folding to create colorful bookcovers.  This tutorial includes several free patterns and step by step instructions.  It's a lot easier than it looks.  Promise.
I found another thing to do with eggs besides create Ukrainian eggs!  Here, I used the art of paper tole again, to create a 3D image with clip art inside the shell of a chicken egg.  Cute!  I have one hanging from my rear view mirror as we speak!
This one takes a bit of patience, but the end result is very unique.

This project involves recycled magazines.  Cut Paper Art is fun to put together and I just love all the colors!  The tutorial includes two different free patterns for you to use!
And finally, I took the art of quilling to a whole new level and recreated my version of Van Gogh's Starry Night.  This project took thousands of strips of colored cardstock.  And quite a few hours.  The post itself is my most popular post ever on the Sitcom, with the photo of the finished project featured on the website of the Associated Press!  If you have a bunch of patience, the tutorial on Quilled Starry Night walks you through the process.
See anything you want to make?  Well, go grab some paper and get started!
Are you new to the Sitcom?  Be sure to check out my Frequently Asked Questions Page!
Are you new to the Sitcom?  Be sure to check out my Frequently Asked Questions Page!
For over 200 crafty tutorials for all ages, visit my Tutorial Page!