I was given a PeppyCraft kit for use in this post.  All opinions are my own.
I was wandering around a crafting convention in Phoenix a few months ago and ran across some great folks representing the PeppyCrafts company out of Russia.  They offer many unique and colorful embroidery, sewing and applique kits that you simply cannot get just anywhere.  I do love kits and the fact that you can just sit down and have everything in front of you to work with!
So, this week I would love to show you one of the No-Sew Applique kits that they so kindly shared with me to try.  This is a great craft for preteens and those that just love to create something colorful and beautifully made with this amazingly simple technique!
If you are in Europe, you can find these kits here: PeppyCrafts.  If you live elsewhere, be sure to check the kit links at the bottom of this post for similar kits.  These make great gifts for those that love to craft!
This kit came with everything I needed to create this project.  Yes, that is Russian on the cover, but the instructions inside included translations in several languages, including English.
Inside were instructions, a uniquely pre-cut foam board, and plastic knife, numbered fabric pieces and a numbered chart.  This kit was made for ages 8 or older.  I'm a bit older than that and I have to tell you that it made for a fun afternoon project!
Simply choose an area in the center to start.  Peel off the pre-cut area, revealing a sticky area below.
Using the number chart and finding the matching piece of fabric, cut out the fabric and place it over the area.  The fabric is marked to have about an 1/8 inch overlap.  Use the plastic knife to push the fabric edges down into the foam board.  The sticky area will hold the fabric in place as you push it into the groove.
Here the first piece of fabric is in place!
Continue on, following the numbered charts, cutting the appropriate piece of fabric and pushing it into the foam board.
This was an incredibly fun way to spend an afternoon!
Once the entire piece is done, flip it over and tuck the edges into the back.  As you can see, this particular kit was ready made to become a picture frame.
It will make a great addition to my granddaughter's nursery!
Love this idea?
You can also find these type of kits on Amazon!  There is actually a huge selection available.  Here are just a small sample of what I found:
Want free patterns?
If you would rather come up with your own fabrics and supplies, I have actually done this type of thing before on the Sitcom.  I currently have two free patterns available: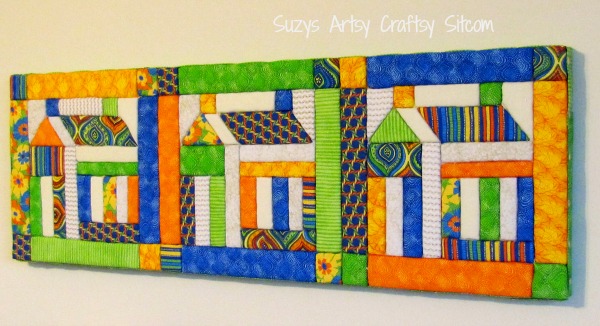 Faux Quilted Bulletin Board with Free Pattern!
Halloween Hooty Owls Quilted Wall Art with free pattern!
I want to thank the nice folks at PeppyCrafts for sharing their unique and high quality craft kit.  Keep these kits in mind for fun and unique holiday gift ideas for the young and old alike!
Are you new to the Sitcom?  Be sure to check out my Frequently Asked Questions Page!
For hundreds of crafty tutorials for all ages, visit my Tutorial Page!