How about some Halloween fun?  I created these cute Halloween Hooty Owls using some bright Halloween fabrics and Fun Foam.  It has a quilted look, but involves no sewing!  Perfect for brightening up your house for the holidays, these cute owls are my version of a non-scary Halloween.  Want to know how to make them?
I love the quilted look of this project, but it is amazingly easy and involves absolutely no sewing!  So, I pulled out the pencil and paper, and drew up my own Hooty Owl Pattern and created some non-scary Halloween decor!
For this project I used:
One sheet of Styrofoam cut to (30″ x 12″ x 1″)
Decorative Mesh (small amounts of purple, green and orange)
Assorted fun Halloween fabrics
Ruler
Craft Knife
Butter knife or credit card for pushing fabric into the foam
Hot Glue for tacking back and bowties
Black Buttons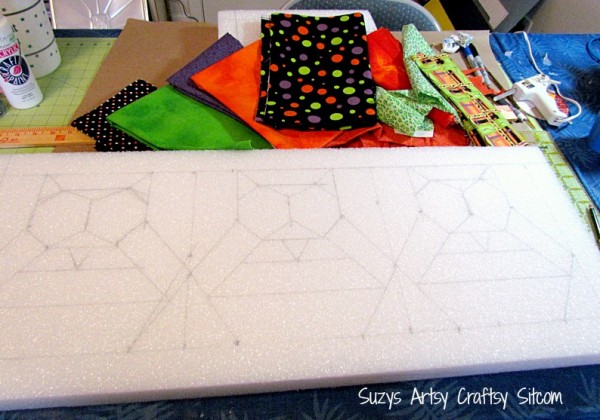 The original piece of foam was 36″ long, so using a craft knife, I cut it down to 30″ long to fit my pattern better.  My pattern is a 9″ square, so I was able to make three repeats of it across the width of the foam sheet, with a 1-1/2 border.
I used a pencil and ruler to mark it out.  Once the pattern is complete, choose a variety of fabrics to use.  My owl are in bright orange, green and purple, along with some coordinating prints for the background and a bit of white and yellow for details.
With the exception of the border fabric, you should not need more than a 1/4 yard of each.  For the border fabric, 1/2 yard would be plenty.
Use a craft knife to score along your lines, cutting about 1/2″ deep.  Be careful not to cut all the way through your foam, and be sure to have the entire piece supported on a table so that you do not accidently break it.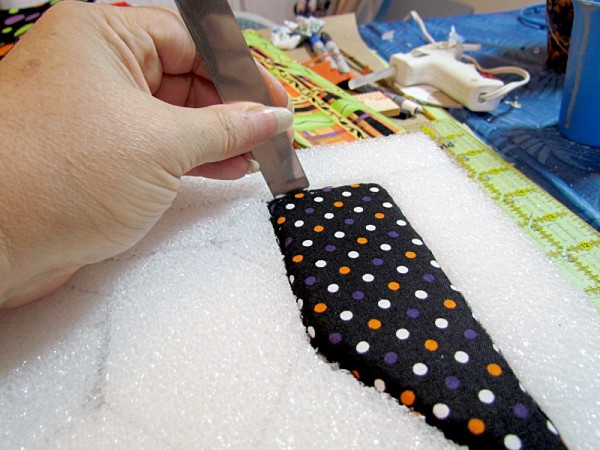 Choose a place to begin and cut a piece of fabric big enough to overlap all four sides of the area by about 1/2″.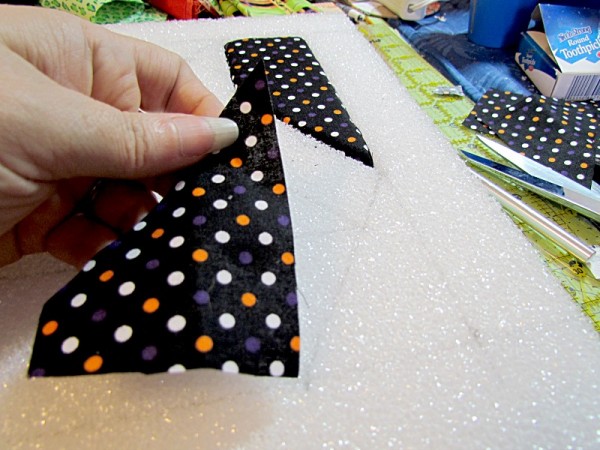 Use a butter knife or credit card to push the edges of the fabric down into the foam along the cut lines.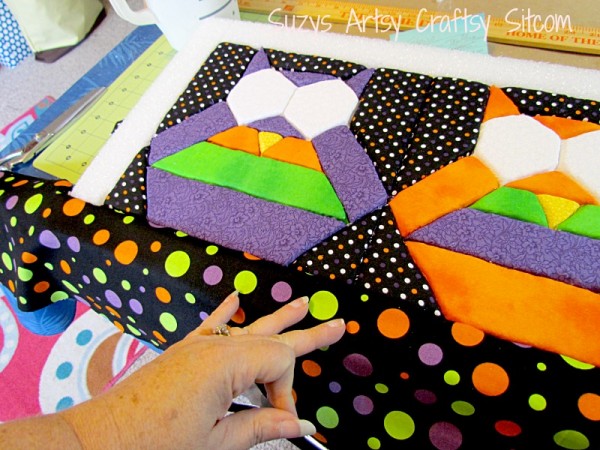 On the edges, simply overlap the fabric over the edge and push into the crevices made by your craft knife.  Pull the fabric tight, flip it over the back, and tack down with dots of hot glue.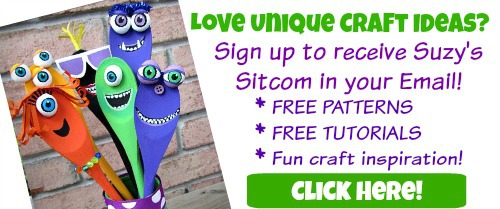 Their little bow ties are created with 4″ wide pieces of Decorative Mesh.
Roll the mesh up, and clip frays on the ends with scissors.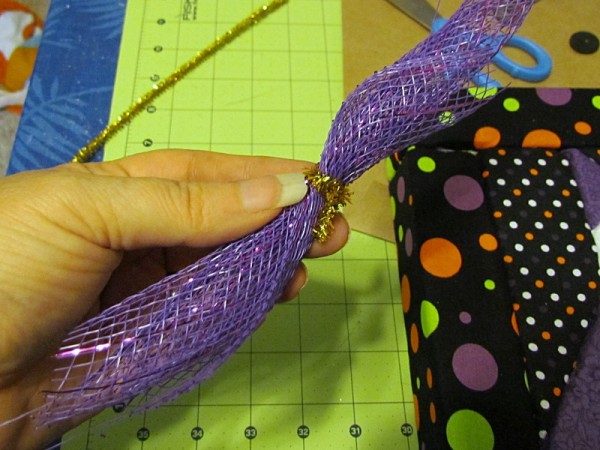 Wrap it tight in the middle with a small piece of pipe cleaner.
Use hot glue to tack down their bow ties and glue on their button eyes.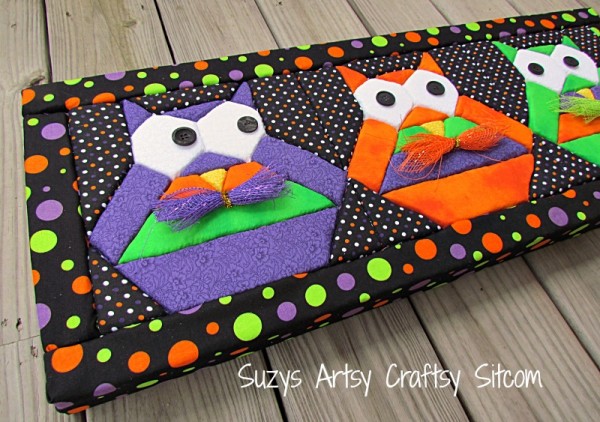 And you have one cute bunch of owls for Halloween!  You can fix this project to hang by hot gluing hangers onto the back, or you can do what I plan on doing, simply sitting it on my mantle!
Are you new to the Sitcom?  Be sure to check out my Frequently Asked Questions Page!
Want more Halloween Craft Ideas?
For hundreds of tutorials and recipes for all ages, be sure to visit my Tutorial Page!
Also, don't miss my other blog,  Daily Holiday Blog, where every day is a holiday!