It's time for another free pattern!  Each month in 2018, I will feature a new block of the month pattern using different quilting and sewing methods.  There is something here for every skill level!  This month, I am taking a traditional block, creating a 3D look with it and adding pretty applique!  My new Daisy Blue quilt pattern can be made into a table topper using just one block, or you can create more blocks to make two different variations of the Daisy Blue Quilt!  Available now FREE to Sitcom Readers until June 15, 2018.
Be sure to subscribe to Suzy's Sitcom to receive notifications of new free patterns and craft ideas in your email!
After the success of the Words to Live By Series last year, I wanted to come up with something just as fun this year.
You can see the current free pattern and previous Blocks of the Month patterns here!
Daisy Blue
We have been traveling across country this past month, starting in Atlanta and making our way to Montana.  As we crossed the country, we moved from early summer to early spring, enjoying all the beautiful flowers along the way.  Daisy Blue is a mix of bright greens and vibrant blues and represents a lot of what we saw along the way.
Daisy Blue Table Topper
Create the table topper and give yourself some practice on applique.  This month, I'm using a new technique utilizing washable glue stick.  It is surprisingly simple!  The finished Table Topper measures 12″ x 12″ and works well as a mug mat, placemat, trivet, wall hanging or small topper.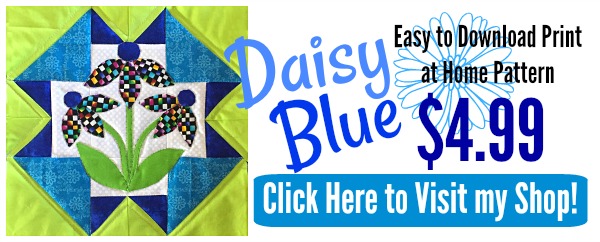 Daisy Blue Quilt Pattern with Sashing
There are two variations of this quilt.
The Daisy Blue Quilt with Sashing measures 45″ x 58″.  The individual block sizes are 12″ x 12″ and you make 12 blocks with two different color themes. Stay with this size, or take on a challenge and add more blocks to create a queen or king sized quilt!
I also worked up another variation, this is the Daisy Blue Quilt pattern without sashing and color variation.  This is 20 ea. 12″ x 12″ blocks worked up in the same color scheme.  Only 10 of them are appliqued.  This quilt measures 48″ x 60″.
You can see the current free pattern and previous Blocks of the Month patterns here!
Want updates in your email when the free patterns come out?  Be sure to sign up to Subscribe to Suzy's Sitcom!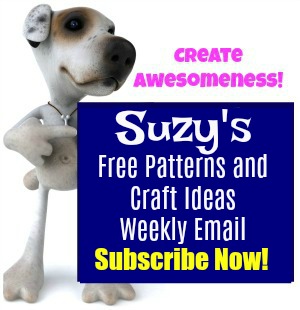 Create something amazing and be sure to share it with us!  I'd love to see what you come up with!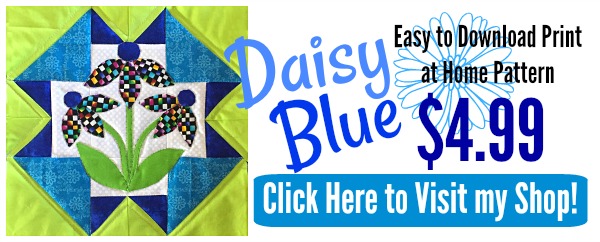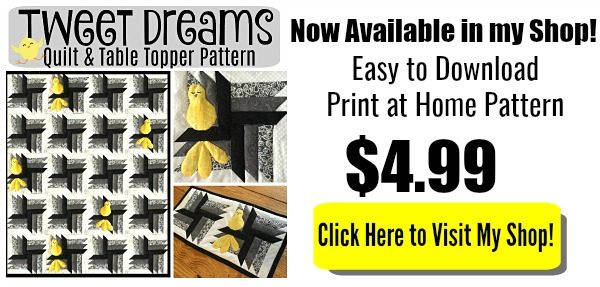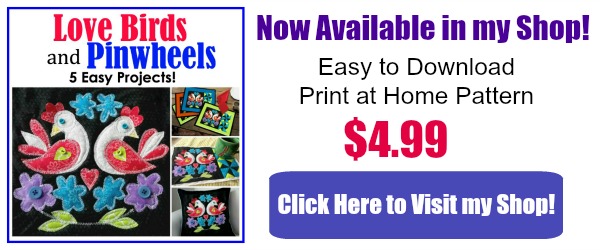 For over 200 crafty tutorials for all ages, visit my Tutorial Page!