Making soaps can be very simple if you use glycerin soap.  It's basically melt and pour.  And with all the molds that are available out there, you can make most any theme that you would like.  This week, I located my bees and butterfly molds and decided to make some pretty soap and a gift basket.  Want to know how?
Inspired by one of my favorite scenes from the movie where Winnie the Pooh does his darnedest to take a bunch of honey from some very protective bees, I created this little basket of bee soaps.  These would be a cute gift for a teacher, a baby shower, or child's birthday!  Included on the front of the basket is one of the many humorous, but matter-of-fact quotes that are all through the Winnie the Pooh books.  (Free Printable!)
Affiliate links to Amazon below:
For this project I used:
Glycerin Soap
A Silicone Mold featuring Bees
Soap Making dyes in yellow and pink
A small gift box
Scrapbooking Paper
Colored Cardstock
Scrapbooking embellishments (flowers)
Colorful Ribbon
Tissue Paper
Tacky Glue
Hot Glue
Matte Mod Podge
Free Winnie the Pooh Quote Printable
I've used this silicon mold before.  Last time, I made a cute Bug Tic-Tac-Toe game with plaster.  These molds are relatively inexpensive and can be found at most craft supply stores, or over the internet, and last forever!
Cut your glycerin soap into smaller pieces and place in a glass cup to melt.
Melt the soap in the microwave on high in 20 second intervals, stirring in between, until the majority of the soap has melted.  Once removed from the microwave, the heat from the soap will melt any remaining pieces.  Do not over cook or boil!
Stir in coloring.  At this point, you can also add scented oils if you like.
Pour into the soap mold.  I made two different colors for my soaps.  You will need to allow the soap to thoroughly dry before removing it from the mold.  About two hours.
I live in the south, and we are currently dealing with very high humidity.  One of the nice things about glycerin soap is that it draws moisture.  Therefore it is very good for the skin.  Unfortunately, in cases with high humidity, glycerin soap will "sweat".  In order to combat that, it is best to not store it on a counter in the bathroom.  Or in my case, anywhere.  Ha!
Actually, a great solution for storage is to throw in one of those little silicon gel packs that you get in your shoe boxes!
Next step is to make the basket.  I used a gift box from the Dollar Store and wrapped it with pretty scrapbooking paper.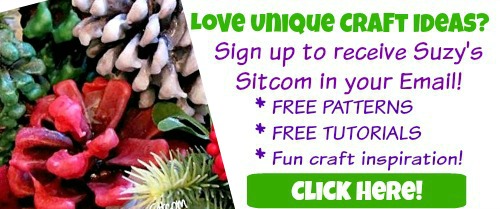 Trim it to the size of the box sides and use tacky glue to glue it down.
Fold a 3″ wide  x 12″ long strip of the same scrapbooking paper in half lengthwise and glue together with tacky glue.
With the folded edge towards the front of the basket, use hot glue to glue the handle inside the top edges of the box.
Fill the box with crumpled tissue paper and then wrap the top of the box with brightly colored ribbon.  Use hot glue to glue down the ribbon.
Make the bees by quilling colored cardstock.  For a beginners lesson in quilling, please check out my Quilled Butterfly Headband Tutorial.   For the yellow part of the bees body, I glued together two 1/4″ x 11 1/2″ strips of yellow and the coiled them with a quilling tool.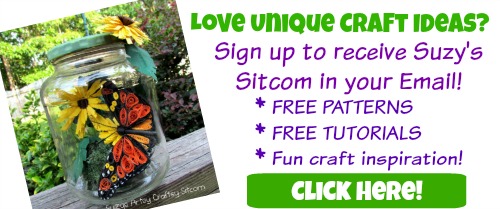 Let go of the coil, pinch one end and tack down with tacky glue.  Using single strips of 1/4″ x 11 1/2″ of white and black, create the wings and head of the bee.
The wings are pinched on each end, and with the head, the coil remains tight and is glued that way.  I then cut two strips of black for the body, glued them down and trimmed them to meet the edges of the body.
Pretty little bees!
Print out your free Winnie the Pooh Quote Printable and carefully cut it around the edges.  Use Mod Podge to glue it onto the front of the box, and then give all four sides of the box a coat of Mod Podge for protection.
The final step is to decorate with your bees and some scrapbooking flowers.  I found these cute ones with gemstones at my local craft store
This is a great gift idea, or even a fun decoration for your guest bath!  Create something amazing!
Are you new to the Sitcom?  Be sure to check out my Frequently Asked Questions Page!
You can keep up with the Sitcom on Facebook for daily updates!
For over 100 more crafty tutorials for all ages, be sure to visit my Tutorial Page!