Handmade gifts are such a nice option when giving and I love to share my ideas with those of you that would like to create your own.  This week, I put together 8 of my favorite unique handmade gift ideas, all exclusively from SuzysSitcom!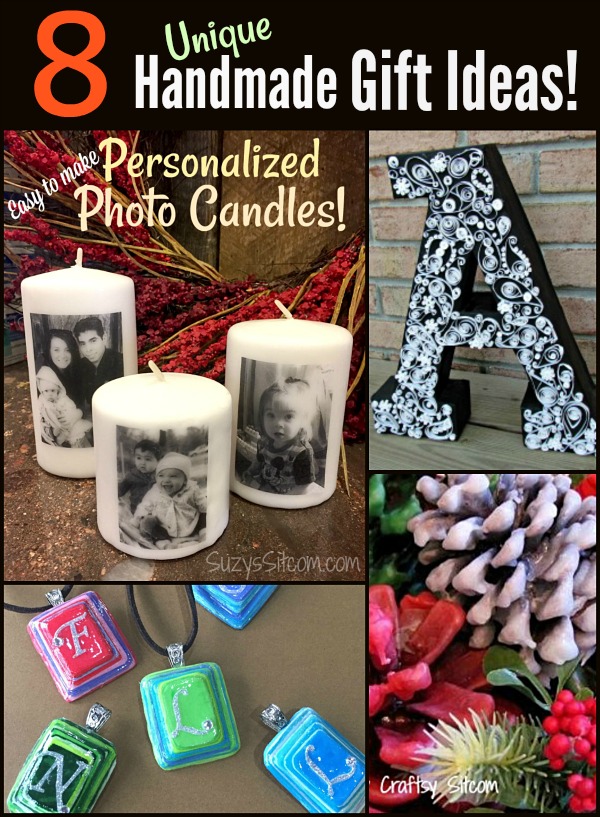 In a last minute rush trying to get everything ready for the holidays?  Do you need to put together a couple quick gifts for those co-workers, or friends that had slipped your mind?  Time flies when you are having fun, doesn't it? Some of these ideas just might be the perfect fit for someone special!
Polymer clay is super forgiving. It doesn't harden until you are ready for it to harden. The color combinations are limited only by your imagination. Go grab a bunch of pens and make something beautiful!  These make wonderful handmade gifts.  Go here for the tutorial.
Paper Quilled Paisley Monogram
I'm working on Christmas presents already and I'm working with a strict budget. So coming up with things that look expensive out of things that just plain aren't is kind of a hobby of mine. I love monograms and they make great gifts. So with that in mind, I decided to create a monogram out of cardboard and add a quilled twist to it. Go HERE for the tutorial!
Easy to make Paper Jewelry Gemstones
Make something special for your friends and relatives!  It is that special time of year for those of us that love to create.  I would love to show you how to make unique Layered Paper Jewelry Pendant!  It is not only fun to make, but you can personalize it too. Go HERE for the tutorial!
Mug Warmer Gift Set (Free Pattern!)
Yep, the year is flying by already! We have started traveling, so it pays to be ahead of the game here.  I came up with a free pattern to share with you for a Quilted Mug Warmer Gift set. This easy pattern uses fabric scraps and is actually a great starter project if you have never quilted before.Click HERE for the instructions and free pattern!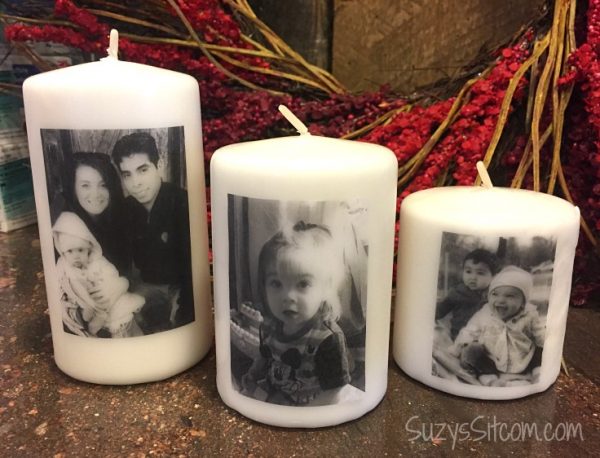 Easy to Make Personalized Photo Candles
This project is surprisingly easy, takes very few supplies, and results in some amazing gifts!  Personalized Photo Candles are a unique idea and sure to be a hit. Click HERE for the instructions!
Make a Beautiful Wax Covered Pinecone Gift Basket
Create beautiful wax covered pine cone gift baskets for just pennies!  They make great decorations for the home, and are even useful as fireplace fire starters in the winter!  You can make them in a multitude of colors to match any decor. Click HERE for the tutorial!
Create Beautiful Cutting Boards with Resin
After studying a bit about creating with resin, I decided to try my hand at pouring resin and adding color to create a beautiful marbled effect on cutting boards. This craft is perfect for holiday giving! Click HERE for the instructions!
Easy ZigZag Hand Towel (Free Crochet Pattern)
Handmade gifts are such a nice option when giving and I love to share my ideas with those of you that would like to create your own.I created an easy crochet pattern for ZigZag stitch hand towels using cotton yarn. The stitch looks complicated, but you will be surprised how easy it is to create.  This is a great project for a beginner in crochet who has mastered the double crochet. Click HERE for the free pattern and instructions!
What projects are you making this year for holiday gifts?
Are you new to the Sitcom?  Be sure to check out my Frequently Asked Questions Page!
For over 200 crafty tutorials for all ages, visit my Tutorial Page!