This easy faux rust technique takes just a few minutes and uses surprisingly few supplies. The simple ingredient is cinnamon! Create beautiful wall art with this fun technique.
I'm always on the lookout for new and interesting craft techniques, and recently I ran across this simple way to create the look of rust. This easy faux rust technique takes just minutes and adds a great touch to your home decor.
This post also includes more unique Faux techniques that you can only find on the Sitcom!  So be sure to keep reading for lots of inspiration!
I'm SO excited to be guest posting over at Kenarry: Ideas for the Home today sharing all of the instructions for this project!  You can find the full details, and lots of HOW-TO photos of this Easy Faux Rust Technique for Home Decor HERE!
Want more Unique Faux Technique Ideas?
How to make Faux Stained Glass (with free pattern!)
Create the look of stained glass with just paint and glue!  This project is surprisingly simple and the results are just beautiful.  Free peacock pattern also!  You can find the full instructions here!
Make Faux Tin Tiles from Disposable Cookie Sheets!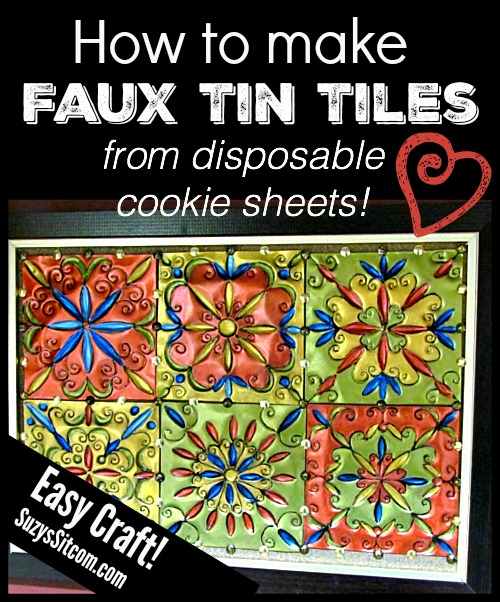 I'm always on the look out for interesting things to make out of the unexpected.  Disposable aluminum cookie sheets can be found at your local party supply store. This simple embossing and paint technique turns a disposable pan into a work of art.
AND… this project comes with 12 free downloadable patterns! Click HERE for the full tutorial!
For over 200 crafty tutorials for all ages, visit my Tutorial Page!