Winter in New York can be pretty tough. The squirrels are very aware of that. By this time of year, all that is left of the Fall acorns are just the caps. What a great opportunity to create from nature! I had a bit of wool roving available and decided to use this opportunity to add a bit of color to my home with Wool Felted Acorns!
I found an oak tree and then just checked out the ground. Seems that squirrels munch out, then just toss the cap aside. They apparently are not crafters.  Of course, if you cannot find them locally, you can always purchase the caps from your local craft store!
This post also includes more unique Nature Craft Ideas that you can only find on the Sitcom!  So be sure to keep reading for lots of inspiration!
I'm SO excited to be guest posting over at Kenarry: Ideas for the Home today sharing all of the instructions for this project!  You can find the full details, and lots of HOW-TO photos of these Beautiful Felted Acorns HERE!
Want more Nature Craft Ideas?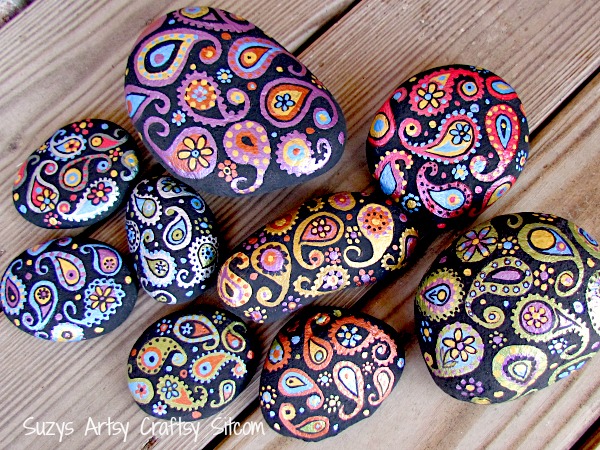 I love the look of paisley and I love to paint, so it was just natural to decide to paint a bunch of rocks with a paisley pattern!  This easy project took a bit of time, but the results are colorful and very paisley-like!  Painted Paisley stones make beautiful decorations in your garden or potted plants, or even on your desk as a paper weight!  Want to know how?
Create beautiful wax covered pine cone gift baskets for just pennies!  They make great decorations for the home, and are even useful as fireplace fire starters in the winter!  You can make them in a multitude of colors to match any decor.  Want to know how?
Create a beautiful memory that can last a lifetime! Transfer photos to stone! This tutorial will show you how to easily transfer photos onto stone. Transfer photos, quotes, illustrations, or anything that you can print on a simple printer!  Go HERE for the tutorial!
[activecampaign form=1055]
For over 200 crafty tutorials for all ages, visit my Tutorial Page!