I've been concentrating lately on feeding the dogs a bit healthier. But we certainly can be accused of spoiling them. I decided that I'd try my hand at making them some homemade treats. No chemicals, no preservatives, just something they might enjoy as a treat that isn't table food. I found a great recipe for Peanut Butter and Pumpkin Dog Treats that I decided to try.
And then I totally went off on my own tangent.  Because I never seem to just be able to just follow directions.  I have to make it my own.  So what better treat for the doggies than Conversation Hearts?  After all, Valentines Day is just around the corner.  We certainly can't leave them out, right?
For this project I used:
2 1/2 cups whole wheat flour
2 eggs
1/2 cup canned pumpkin
2 tablespoons peanut butter
1/2 tsp. salt
1/2 tsp. cinnamon
microwaveable candy wafers (in four colors)
gel food coloring
In large bowl, mix together the flour, eggs, canned pumpkin, peanut butter, salt and cinnamon.
Knead the dough and then roll out.  You don't need to add flour to your tabletop.  The oils from the peanut butter keep it from sticking.  I rolled it about 1/4″ thick.  I then used a heart shaped cookie cutter to cut out the treats.
Place them on an ungreased cookie sheet and put them in the oven at 350 degrees for approximately 40 minutes or until the treats are hard.
It was at this point that I noticed I had an audience.  Seriously, how did they know?
Melt a small amount of your candy wafers in the microwave.  Setting it for a minute at a time, stirring and putting it back in until it gets to spreadable consistency.
Spread a thin layer of color on each heart and allow it to dry.  Then using a small paint brush and gel food coloring, paint on your "conversations".
Cute, right?  Now I have to tell you that the doggies loved these.  But because of the candy coating, they are not necessarily the healthiest things.  A little sugar won't hurt them, but it can make them fat.  So be sure to limit them to maybe one a day.  But they sure are cute.  If you do this without the candy coating, then they are definitely a healthier choice for snacks.

Want to try your hand at quilting?  My newest quilt Pattern- Batiks Gone Wild!  A great gift!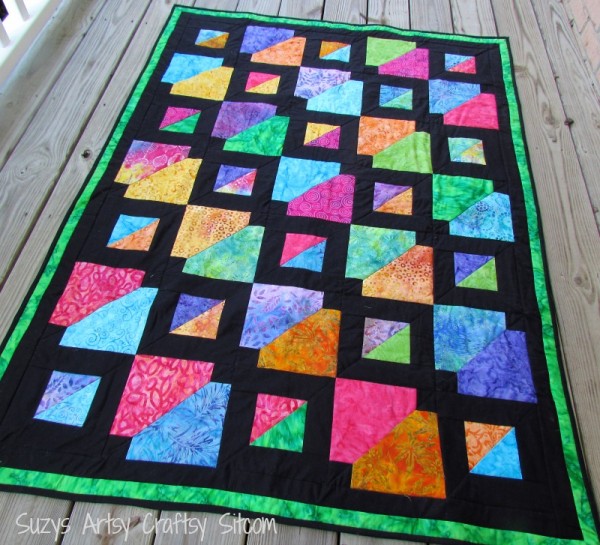 Are you new to the Sitcom?  Be sure to check out my Frequently Asked Questions Page!
For over 150 crafty tutorials for all ages, visit my Tutorial Page!