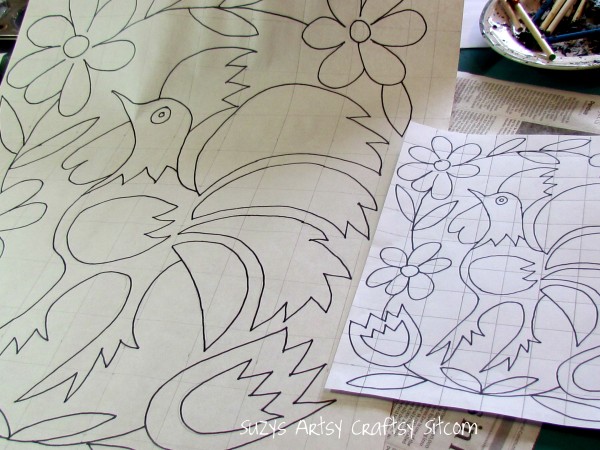 After posting my Faux Punched Tin project last week, I received numerous requests for the pattern.  So, I'm happy to offer a free link to it at the end of this post.  Since the finished project is a bit bigger than the 8 1/2″ x 11″ pdf pattern, I thought it might be helpful if I write a tutorial on how to enlarge or decrease the size of a pattern.
For this project I used:
Pattern
Sheet of paper large enough for the enlarged pattern
Yardstick
Oftentimes the pattern that you have is not the correct size for what you would like to make with it.  When this happens, it is easy enough to enlarge or decrease the size of your pattern using a grid system.
Begin by taking your pattern and marking it off with a grid system.  In this case, I used a yardstick to mark it off in 1 inch squares.
Now you have to decide what size you would like it to become.  You will need to mark up a second grid on a blank sheet of paper with the grid squares at the size that you would like the finished pattern to be.  For instance:
[table id=2 /]
 In this case, I want to double the size of my pattern, so I marked of 2″ squares on my blank sheet of paper.
Start in one corner of your blank paper and fill in what you see in that matching square from the original pattern.  Go from square to square, repeating the design, concentrating on each square as you go.  Soon you will see the pattern start to appear.
Continue from square to square, duplicating what you see in the coordinating square on the original pattern.
And there you have it.  The finished pattern is ready for whatever project you have in mind!
If you would like a free copy of this original pattern, just click here:
This is a pdf version of my Rooster pattern from my Faux Punched Tin Tutorial.  Hope you enjoy!
__________________________________________________________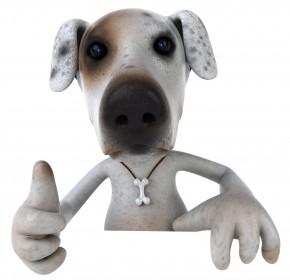 Enjoyed this tutorial?  Be sure to check out my tutorial page for many more!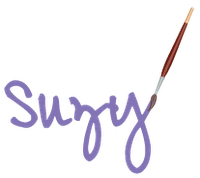 Don't miss an episode!  You can subscribe to The Sitcom by Email!