This post was sponsored by Bondera.  All opinions are 100% my own.
Creating Mosaics using glass pieces can be difficult.  Fortunately, the nice folks at Bondera sent me their latest product to try out.  It is a revolutionary tile adhesive called the Bondera TileMatSet.  Using their adhesive and broken dollar store plates, I was able to revive a boring lazy susan! Want to know how?
Bondera uses an advanced pressure-sensitive technology that is ideal for tile installation.  It is basically similar to double stick tape.  You peel off the back layer, press it down, and then peel off the top layer to add your tiles, effectively eliminating the need for tile glue.  No more waiting for glue to dry!  You can tile and grout in the same day!
So I decided to create a mosaic project to try out this new product.
For this project I used:
A wooden Lazy Susan from the thrift store
A bunch of colorful plates from the Dollar Store
Bondera TileMatSet
Sandless Grout
 I went to the Dollar Store and bought some colorful plates.  I'm frankly too cheap to buy mosaic tiles, so this is my thrifty solution.  It was simple enough to wrap them in a towel and hammer them to death, creating great little pieces of colorful tile.  Just be sure to wear protective eye wear and keep curious pets and children away.  In the end, I have enough tile for several other projects.
The Bondera comes in a nice roll.  It is easy enough to unroll a bit and cut it to size to fit the top of my Lazy Susan.  I used scissors for this, but be sure to use scissors that you aren't real fond of.  The glue in the Bondera is very strong.
I peeled off the back layer of the Bondera and glued it down on top of the Lazy Susan.  I then used a sharpie pen to draw my design onto the top layer of the Bondera.  I decided to go with one of my favorite quilt block patterns.
I used a craft knife to cut away the top layer of the section that I was working on, and then peeled that section up to reveal the adhesive underneath.  Then choosing my tiles, I just pressed them into the adhesive where I wanted them.  The adhesive creates a good strong bond.
I just went from section to section, peeling off the top layer of the Bondera as I went.  What is great about this process is that I could take my time and didn't have to worry about getting everything on there before glue dried.
As soon as you have completed tiling, you can move to the next step of grouting.  You don't have to wait for the glue to cure.  I used sandless grout that I purchased at the hardware store, mixing up several cups of the powdered grout with enough water to make it a thick consistency.  I then added it by spoonful on top of my project, pushing it into the cracks with my fingers.
I used a sponge to wipe off the excess grout, rinsing it repeatedly in a bucket of water.  The grout takes about 2 hours to dry and then use a washcloth or a bit of cheese cloth to buff each of the tiles in order to remove any haze left from the grout.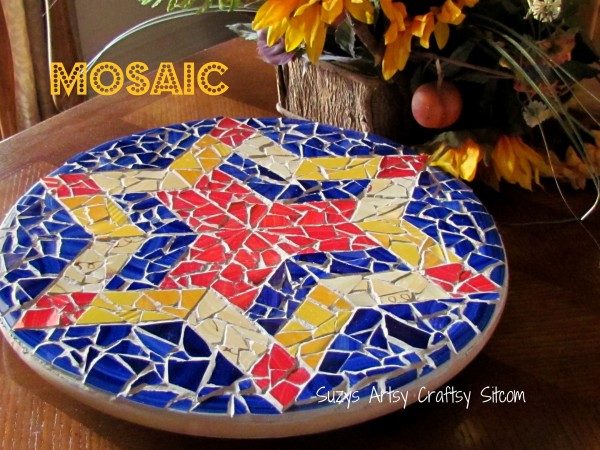 I love how my Lazy Susan turned out.  It matches my kitchen perfectly!
If you are interested in trying out this mosaic technique, Bondera TileMatSet is available at Lowe's stores nationwide and on www.Lowes.com.  For more information on Bondera, visit www.BonderaTileMatSet.com.
Are you new to the Sitcom?  Be sure to check out my Frequently Asked Questions Page!
__________________________________________________________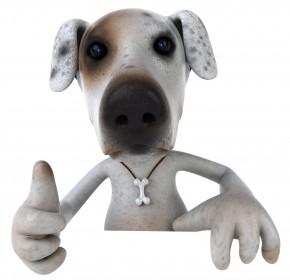 Enjoyed this tutorial?  Be sure to visit my tutorial page for many more!