Plaid Crochet Hand Towel Pattern from Suzy's Sitcom
This fun crochet pattern is easy to create, can be made in an afternoon, and makes a wonderful gift!  Love the look of plaid?  Me too!
Crochet Lady Bug Backpack from Red Heart Yarn
How cute is this?  And it is a simple pattern too!  Crocheted with machine wash and dry yarn, it's easy to keep it looking great no matter where it travels.
Easy Zig Zag Hand Towel Pattern from Suzy's Sitcom
I created an easy crochet pattern for ZigZag stitch hand towels using cotton yarn. The stitch looks complicated, but you will be surprised how easy it is to create.  This is a great project for a beginner in crochet who has mastered the double crochet.
Zip Line Scarf from PosiTori
This crochet pattern includes lots of detail photos and is a great pattern for beginners and experts alike!  Be sure to check out some of the other color choices on the site for this pattern!  Beautiful!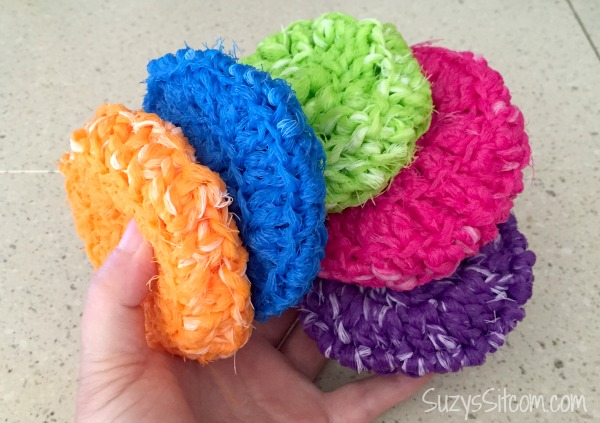 Crocheted Pot Scrubbies from Suzy's Sitcom
Create colorful pot scrubbers using strips of nylon netting!  These are fabulous for the kitchen and not only work up quickly, but make great little gifts!
Click here for more free crochet patterns!