Today is the last day of Watermelon Week, and I have three more great projects to show you!  I had challenged 14 other creative bloggers to come up with watermelon themed recipes or craft projects.  And they didn't disappoint!
 Summer (whose name is very appropriate for this challenge), came up with this very cute watermelon trio!  Perfect for a summer mantle!  You can find the full tutorial at Summer Scraps.
 Now this is just amazing!  Watermelon wrapping paper by Brenda Bird.  Very sweet printable for all your summer occasions!
And finally, we have a Watermelon Inspired Outfit!  A cute watermelon t-shirt with matching headband.  Adorable!  You can find the full tutorial at Craft Quickies.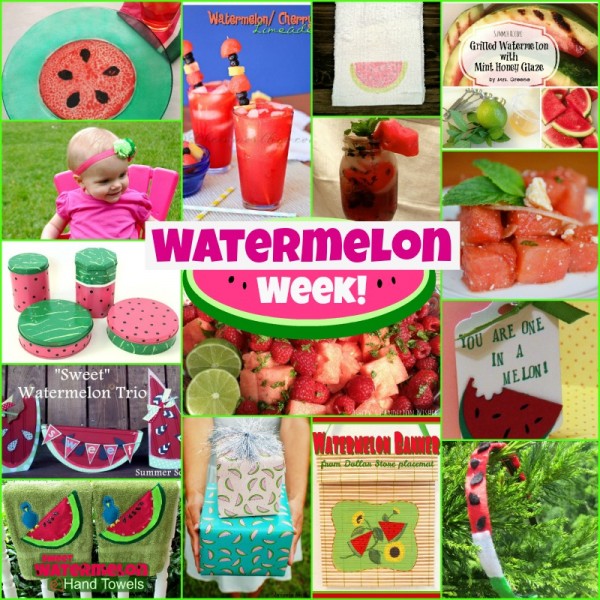 Be sure to go back and check out the great watermelon projects and recipes from earlier this week:
Day One: Summery Watermelon Salad, Watermelon Canisters, and Watermelon Plates
Day Two: Watermelon Treat Bag, Watermelon Dish Towels, and Watermelon Feta Salad
Day Three: Watermelon Cherry Limeade, Watermelon Mojito, and Summer Watermelon Dish Towels
Day Four: Grilled Watermelon with Mint Honey Glaze, Watermelon Banner, Watermelon Headband
I just want to thank all these amazing creative bloggers.  Everyone of the projects was amazing.  Be sure to take a few moments and check out their sites.
Mrs. Greene
Just Paint It
Sweet Pea
Kleinworth & Co.
Redhead Baby Mama
The Crafty Blog Stalker
Dreamsicle Sisters
One Little Project
Ashley's Dandelion Wishes
Mom's Crafty Space
30 Minute Crafts
Summer Scraps
Brenda Bird
Craft Quickies