Create a floral frame that looks like Porcelain with dollar store flowers and plaster!  This unique and beautiful faux Porcelain frame makes a wonderful gift.  Want to know how to make it?
If you have been reading my blog for any extended length of time, I'm sure you have figured out that I love anything faux.  I love to take normal everyday objects and make them look special.  And I like doing it without much money involved.
Today, I'm going to show you my version of a Faux Porcelain Frame.  Since I don't work with porcelain, and I'm kinda cheap, I am going to use plaster.
For this project I used:
Plaster of Paris
Silk flowers from the Dollar Store
A thrift store frame
Hot glue
Krylon White Gloss Spray Paint
I chose smaller flowers from the Dollar Store, ones with good definition.  I clipped them into individual stems and small groups, keeping just a few of the leaves.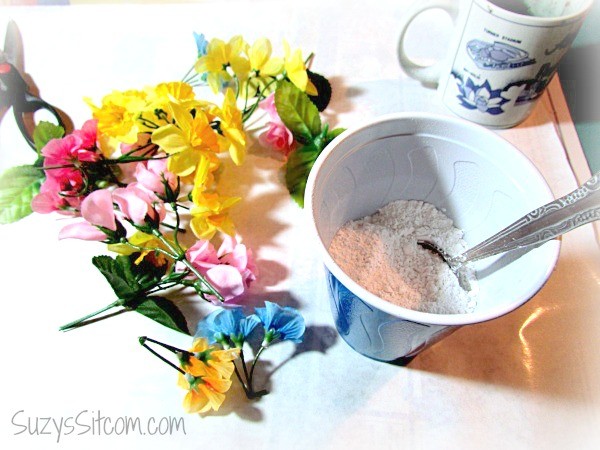 Take a disposable cup and fill it at least half full with powdered plaster.  Add water gradually, stirring until you get a watered down consistency similar to thin yogurt.
One by one, dip your flowers fully into the plaster.  Carefully shake of any excess plaster so that you don't lose the definition of the flowers.  I found that it helped to use my fingers to squeeze off extra plaster.  This is pretty messy, so don't stop to answer the phone or anything.  The plaster will dry and your phone will never be the same.  Not that I'd know anything about that…
Place your flowers on a sheet of wax paper to dry.
Faith is my craft apprentice wanna-be.  Unfortunately, the lack of opposable thumbs slows her down.  It's kind of a shame.
Anyway, once the flowers have totally dried (a couple of hours), it is time to start gluing them onto your frame.  I found this awesome frame at a thrift store, but any frame will work.
Arrange the flowers in a pleasing way.  Don't worry if you didn't totally cover up the colors with the plaster.  The next step will solve that problem.  Glue them down the way you like with hot glue.
Using the Krylon White Gloss Paint, I then sprayed down the entire frame and flower combination.  Be sure to attack it from all angles in order to get all the nooks and crannies in the flowers.
Once it is dry, add your favorite photo, and there you go.  The white gloss paint gives the entire piece a porcelain look.  If anyone asks, just tell them that you spent hours carving that frame from porcelain that you mined yourself in the wilds of Patagonia.  I'm sure they will be impressed.
Are you new to the Sitcom?  Be sure to check out my Frequently Asked Questions Page!
For over 200 crafty tutorials for all ages, visit my Tutorial Page!