Yep, Halloween is sneaking up on us again!  The nice folks at Kids Crafts 1-2-3 Magazine asked me to come up with a great Halloween project for their Fall issue.  I created votives and refrigerator magnets starring Witchy-Poo!  Created with soda cans and pickle jars, this project is the ultimate in recycled crafts!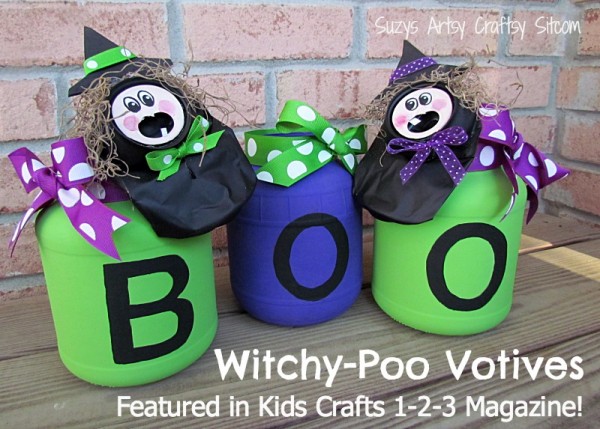 Witchy-Poo made her original appearance on Suzy's Sitcom a couple of years ago as a Halloween Wreath.  I transformed her and modernized her a bit and came up with a colorful alternative for her.  She can now live on your mantle or your refrigerator!
You can find my fully illustrated tutorial in Kids Crafts 1-2-3 Magazine which is on the shelves now!  Kids Crafts 1-2-3 is a bi-monthly magazine that can be found at most Walmart, Michaels, Barnes and Nobles and other major craft stores.
Created  with kids in mind, each magazine is chock full of projects from creative ideas for tweens to simpler crafts for smaller hands.  And the great thing?  Tons of great colorful projects in each issue for a tiny price!
—
Are you new to the Sitcom? Be sure to check out my Frequently Asked Questions Page!
And don't forget to "like" the Sitcom facebook page for daily updates!
For more great crafty tutorials, be sure to visit my Tutorial page!