I was inspired by the beautiful artwork of the Pennsylvania Dutch, and decided to create my own version of this unique folk art.  Using a set of cork trivets, I created three different love birds decorative folk art refrigerator magnets.  And I've included the free patterns for you to make them too!
Shopping at the thrift store usually results in some great finds, and this time was no exception.  I found three cork trivets that needed a helping hand.  I created three patterns to fit these 7″ trivets, but you can always enlarge or decrease the size with your printer to fit whatever you are working on.  Of course I went with birds!  Seems I make everything into birds: Faux Stained Glass, Holiday Partridge, Two Turtle Doves, and Gossip Birds on a Wire.  I'm obsessed!  Want to know how to make them?
For this project I used:
Three 7″ cork trivets
Peacock Love Birds Pattern- download here: peacock love birds pattern
Chicken Love Birds Pattern- download here: chicken love birds pattern
Heron Love Birds Pattern- download here: heron love birds pattern
Charcoal (for pattern transfer)
Acrylic Paints: Bright Blue, Light Blue, Lime Green, Teal,Red, Purple, White, Golden Yellow, Wicker (or off-white), and Black
Adhesive Gem Stones
Disc Magnets
Hot Glue
 Begin by using the Wicker or Off-white paint to paint the front of each cork trivet.  It might take a couple of coats.  Allow to dry thoroughly before going to the next step.
Print out your pattern to size (they should print out for a 7″ sized trivet).  Rub charcoal onto the back of the pattern.  Then place it over the trivet with the charcoal side down.  Trace the pattern onto the trivet.  You may find that there are some areas of charcoal where you don't want them to be, but you can easily paint over those areas.  I used a pencil to darken my lines a bit to make it easier to follow the pattern.
Now begin to paint!  For this set of three, I used the same set of colors for each one.  That way even though the design is not the same, each set of love birds matches the other.  You may find that two coats of paint are necessary.
Once everything is colored to your satisfaction, add a thin black outline with a tiny brush.
Touch up any areas of wicker white that may have charcoal on them to make everything look clean.
Repeat the process with the other two designs.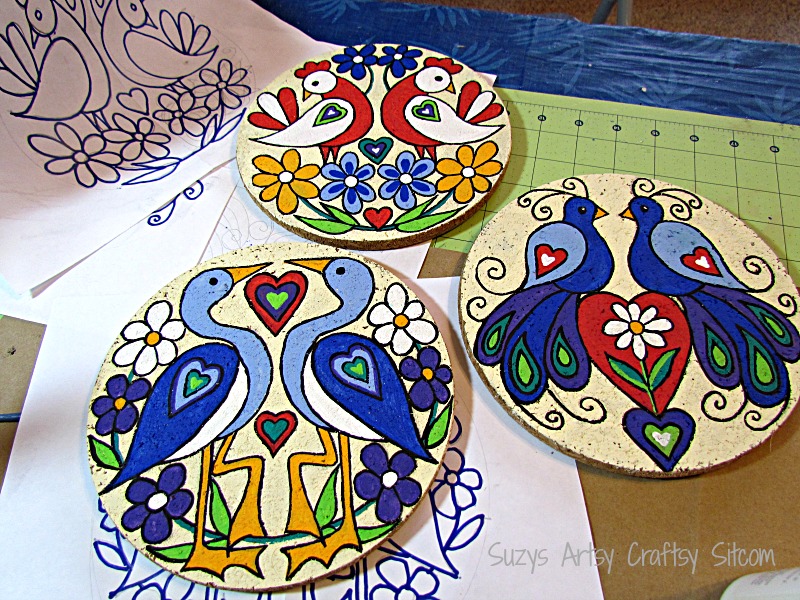 Here they are completed and ready for the next step!
Gemstones!  Of course!  Lately I seem to be adding them to everything!  These love birds don't need much, just a few here and there to make them sparkle  I used self-adhesive gems, but you can always use white glue to glue them down.
Use hot glue to glue disc magnets to the back.  For good measure, I used three of them on each one, spaced evenly apart.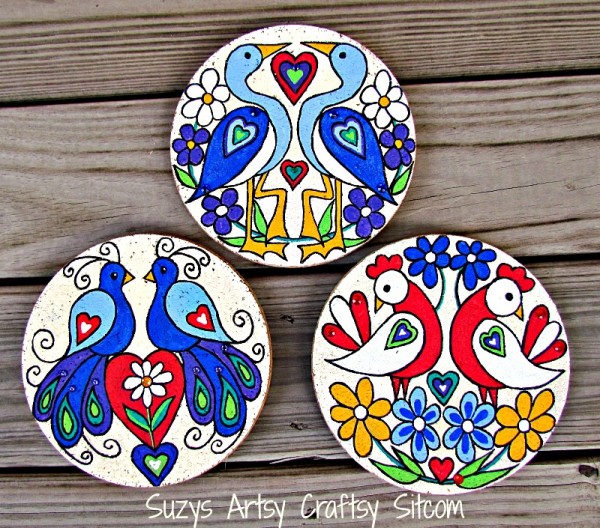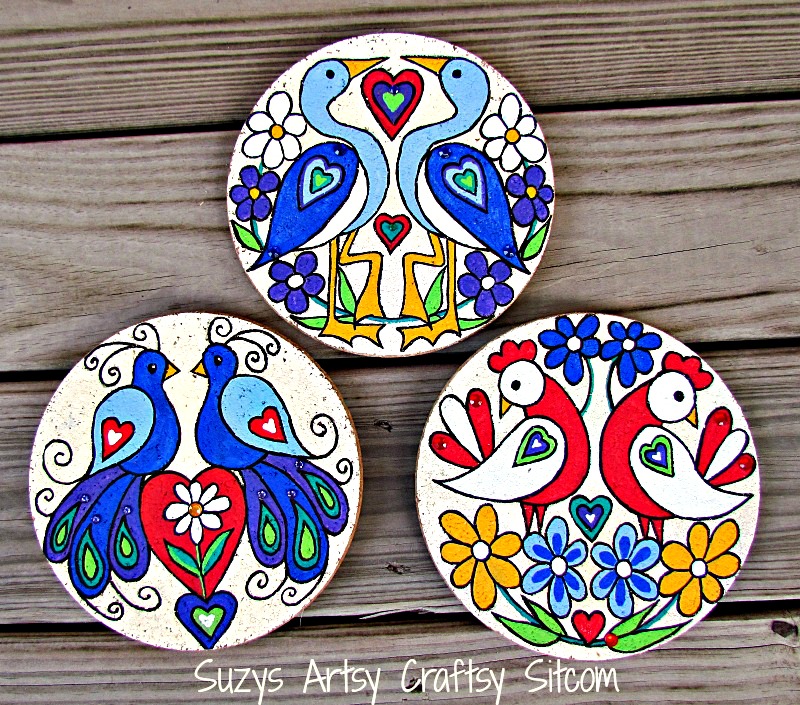 And there you have it!  Decorative Folk Art Love Birds for the Fridge!  Or anywhere else for that matter.  This pattern idea is also good for plates or even painted on furniture!  If you decide to get even more creative, I would love to see what you come with!  Nothing makes me happier than when my designs inspire!
Want some more birdy fun?  Crafts by Amanda has a great tutorial for a Decoupage Light Bulb Bird! 
Want to try your hand at quilting?  My newest quilt Pattern- Sleepy Puppies!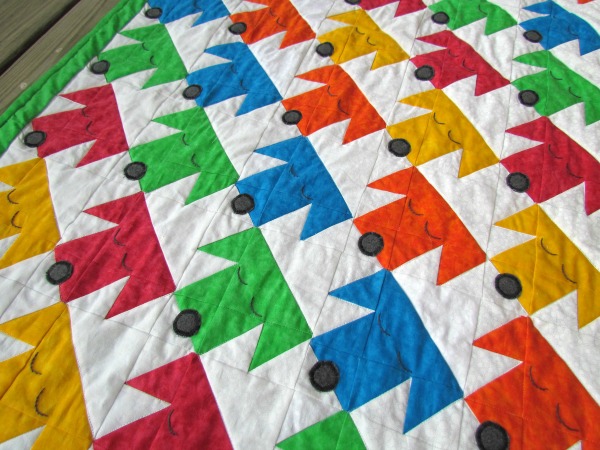 Are you new to the Sitcom?  Be sure to check out my Frequently Asked Questions Page!
You can keep up with the Sitcom on Facebook for daily updates!
For over 100 crafty tutorials for all ages, be sure to visit my Tutorial Page!