This post brought to you by Walmart. All opinions are 100% mine.
With Easter coming up, the family get togethers are being planned.  And everyone is being assigned food to bring.  My sister-in-law was asked to bring her yummy broccoli casserole.  My mom is in charge of making her famous ham.  My sister has the desserts because she is so fabulous at making them.  Me?  Well, they assigned me napkins and rolls.
Oh, and they specified that I bring the rolls that are already baked and just need to be heated up.
Seriously?  I'm afraid that my reputation precedes me.  You see, I can burn water.  Cooking is not my forte.  Luckily, Ore-Ida® Hash Browns and Walmart have my back with some amazing online recipes that even I can make!
I have such difficulty standing in the kitchen long enough to make anything that isn't microwave safe.  Something in the craft room will call me and I'll wander off and embed myself in crafty goodness, only looking up when I smell something burning.  Hmmm… what could that be?  And then I suddenly remember that I am supposed to be cooking and apparently I have charred something else beyond recognition.  Again.
I discovered that you can create tons of great online recipes using Ore-Ida® products:
• Ore-Ida® Shredded Hash Brown Potatoes
• Ore-Ida® Potatoes O'Brien
• Ore-Ida® Diced Hash Brown Potatoes
Sure, I'll bring napkins and rolls, but how about Potato Salad too!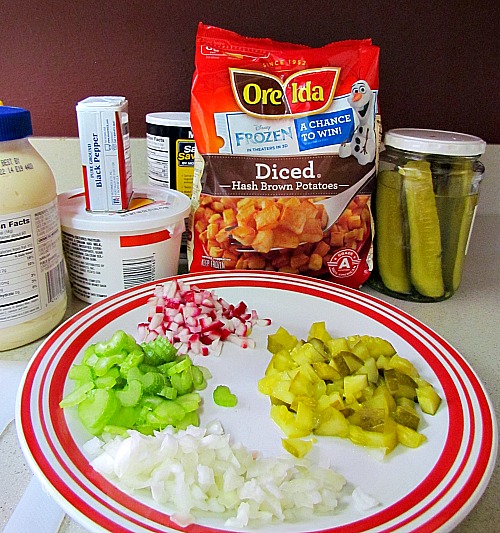 Old Fashioned Potato Salad
2 tbsp. onion- chopped
4 cups Ore-Ida® Diced Hashbrown Potatoes
1/4 cup mayonnaise
1/4 cup sour cream
1 tbsp. Heinz® dill pickles juice
1/2 tbsp. Heinz® yellow mustard
1 tsp. salt
1/8 tsp. ground black pepper
1/4 cup celery- diced
3 tbsp. Heinz® dill pickles, chopped
1/4 cup radishes, chopped
2 hard cooked eggs, chopped
This recipe is simple enough that I don't have to stand around the kitchen too long and wait.  In fact, the most time you will spend making it is chopping up the veggies!  Which is kinda therapeutic.  Chop, chop, chop.  Even I can do that!  So, I grabbed the knife and chopped away.  Chopping up radishes, celery, pickles and onions.  Then I wiped away all my onion tears, and grabbed the bag of Ore-Ida® Diced Hash Brown Potatoes.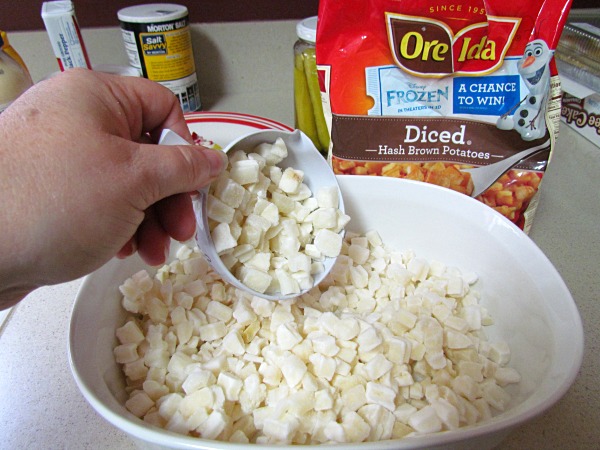 I put four cups of the frozen hash browns in a shallow dish, added 2 tablespoons of water and put it in the microwave, set on high for 4 minutes.  Microwave cooking?  Totally up my alley!  After 4 minutes, I stirred them and put them in for another 4 minutes.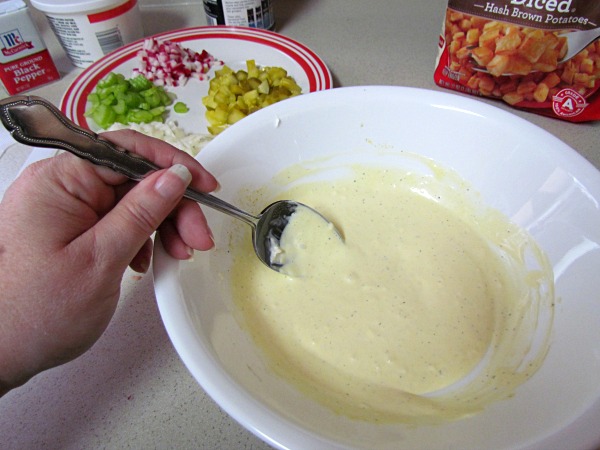 While my hash browns were cooking, I mixed together the mayonnaise, sour cream, dill pickles juice, yellow mustard, salt, and pepper.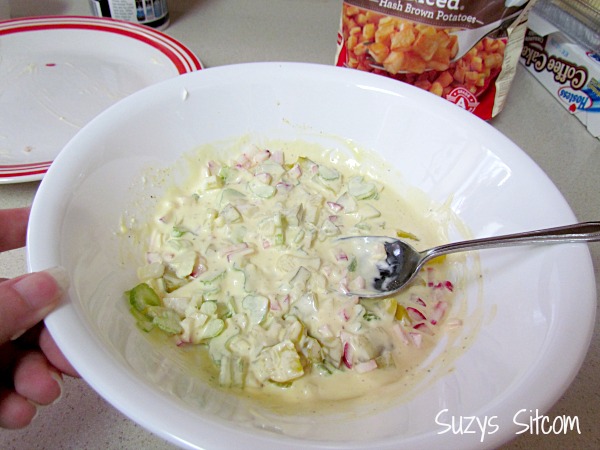 I then dumped in all my pretty chopped veggies.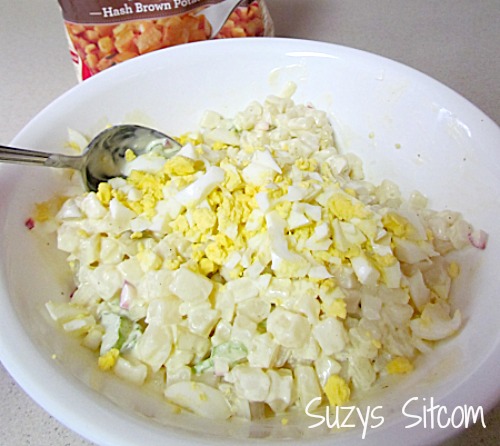 Once the hash browns were cooked, I allowed them to cool for just a few moments and then folded them into the mixture.  The final touch was to fold in the chopped hard boiled eggs.  Yumm!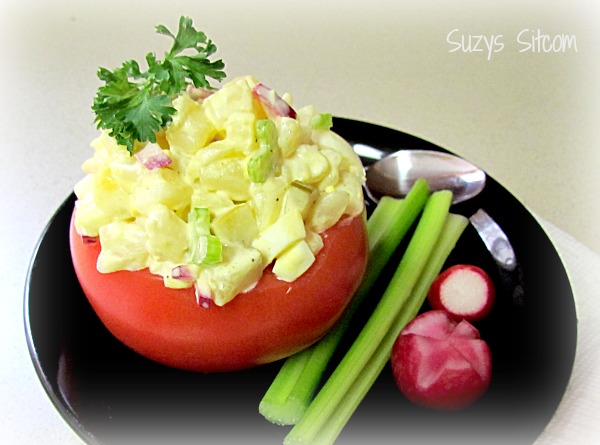 Looks like someone that knew what they were doing was in the kitchen, doesn't it?  LOVE this!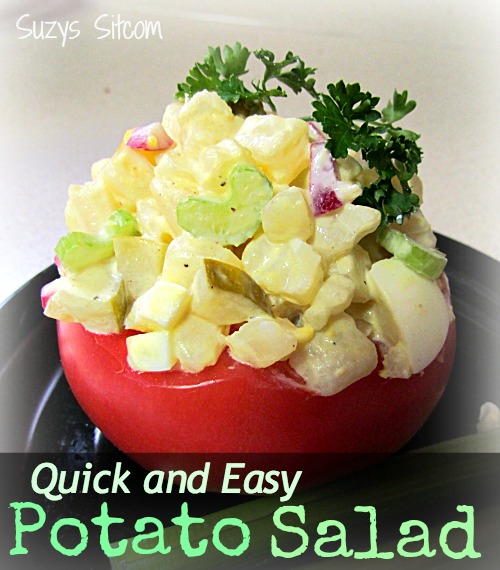 Heinz® Ore-Ida® Hash Browns are available at Walmart!  Want more great recipes?  Check out this yummy Cheesy Potato Casserole, and tons of other recipes and even get valuable coupons at Walmart.com!

Are you new to the Sitcom?  Be sure to check out my Frequently Asked Questions Page!
For over 150 crafty tutorials for all ages, visit my Tutorial Page!