This shop is part of a social shopper marketing insight campaign with Pollinate Media Group® and Slimfast, but all my opinions are my own. #pmedia #14daystoslim  http://my-disclosur.es/OBsstV
I have been actively trying to lose weight since last year and recently have decided to try out the Slimfast 14-Day Slimdown.  It is an easy plan that fits well with my manically busy schedule and seems to be working for me.  I'm already down six pounds!  The plan includes Slimfast products along with a healthy, balanced meal each day.
Variety is key, so I wanted to share with you one of my favorite recipes for Grilled Salmon with Rosemary, and a bit about the plan that is working for me right now!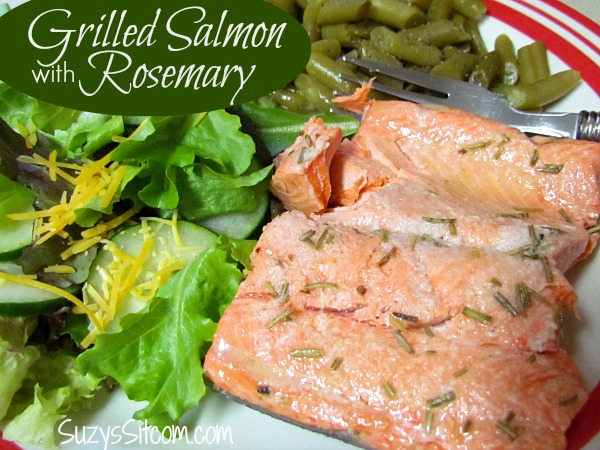 I struggle with the concept of "eating to live" versus "living to eat". As I watch quite a few of my friends who are currently in maintenance deal with that subject, I know that eventually when I lose all the weight I want to lose, that issue will surface. Losing weight, in my opinion, is 80% mental and 20% physical. By mental, I mean that we have to retrain our way of thinking in order to be truly successful.
I was brought up in a family of German and Pennsylvania Dutch decent. We socialize with food, we celebrate with food, and we enjoy everything there is to create with food. When we have a gathering, the first thing that is asked is "What will you be bringing?" The joy of eating is something that I have lived with all my life and something that is so ingrained in me that I doubt I will ever be at the point where I eat to live.
So, I was looking for a simple plan that would help me to lose weight, yet still fulfill my "live to eat" mentality.  That's where the Slimfast 14-day Slimdown comes in.  Not only is it an easy plan to follow, but I have found a new favorite treat! The new Slimfast® gimme some GREEK YOGURT & HONEY, honey™ Snack Bars are a great snack option at only 110 calories per bar.  Something to look forward to each day!  
But I'm getting ahead of myself.  Let me tell you what is working for me.
The Slimfast 14-Day Slimdown is easy to follow:
3 (100 calorie) snacks a day consisting of either fruits, veggies or Slimfast® snack bars
2 meals daily consisting of a Slimfast® protein shake or meal bar
1 healthy, balanced meal that is 500 calories or less
The goal is not to exceed 1200 calories a day and to include some light and medium exercise each day along with plenty of water.  
The Slimfast 14-Day Slimdown is a convenient way to lose up to 6 pounds in the first two weeks!
I love the fresh fruit in my new diet, and this time of year there is so much to choose from!  Remember, variety is one of the keys to sticking to a healthy diet.
One of the things I love the most about this plan is the fact that I can just toss a bar in my purse and go on with my day.  No cooking up complication combinations.  No stressing about what to make for the day.  Just grab it and go!
So what to do about that 500 calorie meal?
The hubby and I love salmon, and with a side of veggies, it fits quite well with this plan.
Grilled Salmon with Rosemary
1 fresh salmon filet
1/2 cup lemon juice
3 tbsp. olive oil
2 tbsp. vinegar
1 tsp. garlic powder
1 tsp. rosemary
1/2 tsp. salt
Add all the ingredients to a large bowl and then place the salmon filets into the mixture.  Refrigerate for about an hour before going to the next step.
Place the marinated salmon onto a sheet of aluminum foil and pour some of the marinate on top.  Carefully wrap the fish with the foil.
Place the foil wrapped salmon on a hot grill and cook for about 15 minutes.  I love cooking on the grill because the hubby considers that his territory.  Which is awesome because I don't have to actually do the cooking!
Salmon is done when it flakes easily.  Yumm!
Serve the salmon with a side of salad and green beans.  One thing that I try to do is to divide the plate into fourths.  One fourth is protein, and 3/4 of the plate is veggies.
Learning to eat healthy is not always easy.  That's why Slimfast makes it easy to sign up for Slim Coaching.  They offer great support including tips from the experts, fun daily motivation and even hilarious videos to help you along with your goals.
Be sure to check out the Slimfast 14-Day Slimdown!  
Slimfast website   *   Slimfast on Facebook   *   Slimfast on Pinterest

Are you new to the Sitcom?  Be sure to check out my Frequently Asked Questions Page!
For over 150 crafty tutorials for all ages, visit my Tutorial Page!