This shop has been compensated by Collective Bias, Inc. and its advertiser. All opinions are mine alone. #SeasonedGreetings #CollectiveBias
I absolutely love the flavor of Tabasco Sauce, and for the holidays it truly fits right in!  Especially when I am invited to multiple holiday gatherings and need something fun and different to bring as a covered dish.  Every one in my family is a fabulous cook, so it seems that we are always competing a bit when it comes to holiday party recipes.  So I came up with a new recipe I call Cheesy Bacon Stuffed Mushrooms.
Impressive, right?  I sure hope so.  My sister and sister in law are fabulous cooks and I usually come in a dismal third. This year, I decided to veer from my usual course of baked beans and deviled eggs and create something fun and different.  These Cheesy Bacon Stuffed Mushrooms have the additional tang of Tabasco for a great blend of flavors.
Fun Tabasco Facts:
Did you know that Tabasco comes in a large variety of flavors?  You can find Tabasco Original Red, Green Jalapeño Pepper, and Chipotle flavored sauces along with many other varieties.
Tabasco is made at the McIlhenny Company in Avery Island, Louisiana, and has been made there for over 140 years.
The average bottle of Tabasco takes over three years to make!  The fresh peppers are mashed, mixed with a small amount of Avery Island salt extracted from the salt mines that lie beneath the Island, and placed in oak barrels. The wooden barrel tops are covered with more salt to form a natural protective barrier, and the pepper mash is allowed to age for up to three years in the McIlhenny warehouse.
Tabasco is made only in Avery Island and is then shipped world-wide to over 180 countries.
The smoky and savory sauces of Tabasco enhances the flavor of foods.  That is why it was a perfect addition to my stuffed mushroom dish!  And maybe will be the key factor to making my dish a hit at the next gathering!  Want to know how to make it?
Cheesy Bacon Stuffed Mushrooms
About 20 small portobello mushrooms
8-10 slices of bacon
8 oz. cream cheese (softened)
1 tbs. Worcestershire sauce
1/2 tsp. Tabasco Original Red
1/4 tsp. garlic powder
1/4 tsp. pepper
Begin by washing the mushrooms thoroughly and removing their stems.
Cook the bacon in a frying pan over high heat, stirring constantly.  You want to cook it until it is crispy.  In order to get the small bits shown above, I waited until the bacon had cooled and then put it in a zip lock bag and hit it with a wooden spoon until I had a nice bag of fresh bacon bits.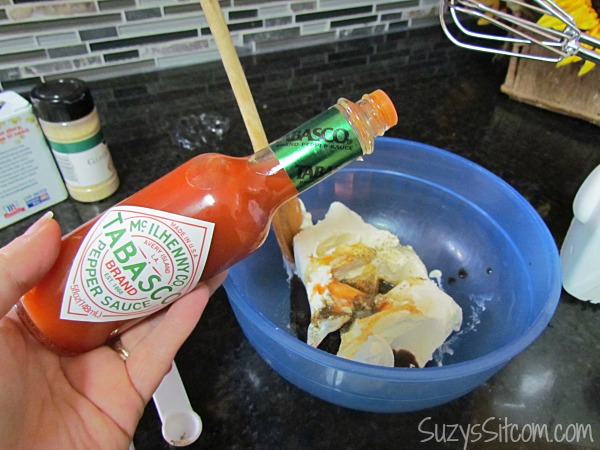 In a medium bowl, add the cream cheese, Worcestershire sauce, pepper, garlic powder and Tabasco and bacon bits.
Blend the ingredients together with a mixer.
Now stuff all your mushrooms!  You can store them in the fridge at this point, so that they will be ready for your party when you want them.  They are best hot fresh out of the oven, so finish baking them right before the party starts!  Place them in a 350 degree oven for about 20 minutes.
And there you have it!  I have to tell you that these Cheesy Bacon Stuffed Mushrooms were fabulous.  The slight tang of Tabasco was the winning ticket.  And if you want to pair a good wine with this dish, I can recommend and dark red wine, Zinfandel, or Cabernet Sauvignon. 
Awesomeness.
You can find all varieties of Tabasco at your local grocery store- usually in the condiment aisle.  My local Publix had them all!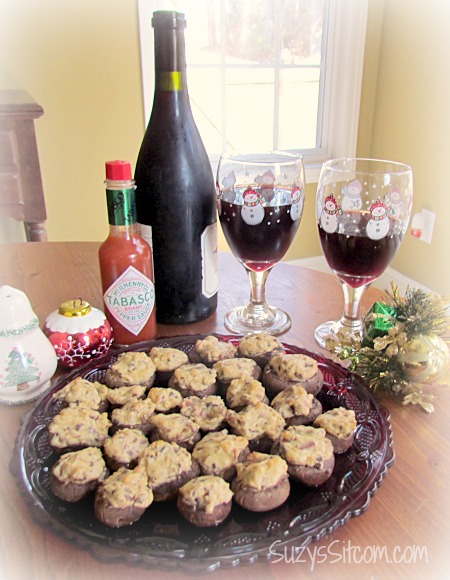 I have lots of gatherings to attend this year, and plan on making some more original dishes just for fun.  Fortunately, Tabasco has tons of great ideas on their website!  Be sure to check out Tabasco holiday party recipes for lots more great ideas!

Are you new to the Sitcom?  Be sure to check out my Frequently Asked Questions Page!
For over 200 crafty tutorials for all ages, visit my Tutorial Page!