This is a sponsored post written by me on behalf of Kibbles 'n Bits® and Dollar General. All opinions are 100% mine.
Oh hi!  This is Suzy's number one favoritist dog, Ralph.  Mom said I could guest post again today since she is busy working at the campgrounds.  We live in a house on wheels that she calls a RV.  We have been going to lots of fun places!
Living in a RV is fun!  My sister, Faith and I never know what exciting thing we might find when Mom opens that door…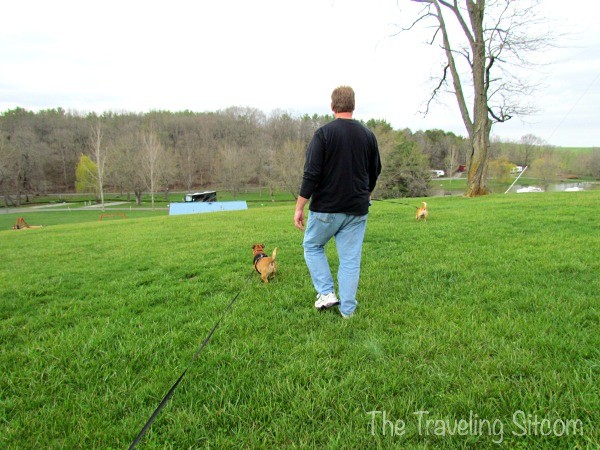 Lots of fun things to see and do!  There are squirrels, bunnies and other fun things to chase.  We just have to get dad to run a little faster.  He can be kind of slow.
Lots of new smells!  Sometimes there are funny flowers to smell.  The campground is full of lots of great things.  I even found a chicken bone once!  Mom made me put it back.  She says that chicken bones are bad for me, but I don't see how.  They smell pretty darn awesome!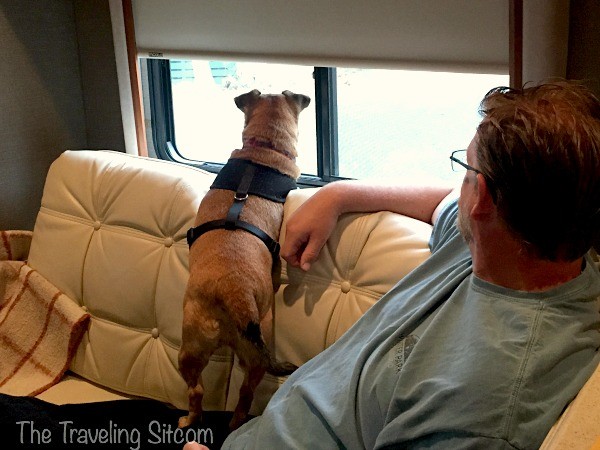 I still guard the house.  I take my job very seriously.  You never know when a squirrel is gonna get too big for his britches.  I make sure they all know whose RV this is.  Someone has to take good care of mom and dad.  Mom says we are good guard dogs.
Oh, Faith says "hi".  She wanted me to tell you that we have both been getting in the exercise lately.  Between me and you, Faith is actually getting her figure back.  But don't tell her I said so.  Ever since mom put her in charge of guarding the Sitcom, she's had a pretty big head.  Seriously.  You think I'm kidding?  Check out her Facebook profile…
Those bathroom selfies are so passe!
I'm still working on my Facebook profile photo.  I'm leaning towards this one.  My Aunt made me this cool sweater to wear while we are in Maine.  Do you think it gives off a cool "single, but living the big life" vibe?
Me too!
So, mom wanted me to tell you about that tasty Kibbles 'n Bits® dog food. She says Dog owners know that it is 100% complete and balanced nutrition, packed with antioxidants and 23 essential vitamins and minerals, and comes in lots of yummy flavors. She calls it healthy and nutritious.
Faith and I just think it tastes pretty good.  Well, not as good as bacon, or socks, or the table leg, or those cool looking brushes that mom paints with.  But it does taste pretty good.
Mom says it is not always easy to find pet food that is great tasting and nutritional at a good price.
She said to tell you that right now, when you buy Kibbles 'n Bits® at Dollar General, you can save up to $3! Dollar General is offering two digital coupons, $1 off when you buy any bag 3 lbs or larger, and $2 off when you buy any bag 13 lbs or larger at DollarGeneral.com!
I like anything that makes my mom happy.  So head to your local Dollar General and get your favorite dog some yummy food!
Great talking with you!  Now Faith and I have to go back on patrol.  I heard through the grapevine that the local squirrels were planning a family get together, featuring an all you can eat buffet.  You should keep your friends close, and your enemies closer, right?
We are trying to get an invite.