This shop has been compensated by Collective Bias, Inc. and its advertiser. All opinions are mine alone. #CampbellSavings #CollectiveBias
We have been working on a campground in Maine since April and are currently smack in the middle of the busiest time of the year here.  What does that mean for us?  Well it means long hours.  This week, I pulled out the crock pot and using a great coupon for Swanson's chicken broth, I created a super easy recipe for Crockpot Jambalaya!  The crock pot is apparently my new go-to kitchen utensil.
It is time to come up with quick and easy meals, and with our new budget, saving money is important too!  The folks at Campbell's are currently offering big savings and easy meals with seven great products. Coupons!  Be sure to check the bottom of this post for more details!
Our current hours are noon until 8:00 PM.  So it would be great if I could get just a bit more organized so that we don't end up eating peanut butter and jelly sandwiches every evening.
Not that the dogs mind that…
So here is a quick recipe that took just minutes to put together.  Yummy Crock Pot Jambalaya!
Crock Pot Jambalaya
2 Boneless Chicken Breasts (cut in bite sized pieces)
1 lb. Smoked Sausage (cut in bite sized pieces)
1/2 onion (chopped)
1/2 green pepper (chopped)
2 stalks celery (chopped)
2 cups tomato sauce
1-1/2 cup Swanson Chicken Broth
1 tbsp. Cajun Spice
1 tsp. oregano
1 tsp. garlic powder
1/2 tsp. salt
1/2 lb. shrimp (precooked with tails off)
Boil in bag rice
Chop up all the veggies.
Cut up the chicken breasts into bite sized pieces.
Do the same with the sausage.  Place the chicken and sausage into the bottom of the crock pot.  Add the vegetables on top.
Add in the tomato sauce and the Swansons Chicken Broth.
Add in the Cajun Spice, oregano, salt, and garlic powder.  (The shrimp will be added later).
Now place the crock pot on Low Setting and go to work!  (Cook on low for at least five hours).
Ralph volunteered to keep an eye on it for me.
When we finally got home, the RV smelled wonderful!  Now for the finishing touches!  You can turn off the crock pot at this point and add in the pre-cooked shrimp.  The shrimp will heat up while you cook up some rice to go along with it.
I used boil in the bag brown rice which only takes about 10 minutes to make.  And dinner is served!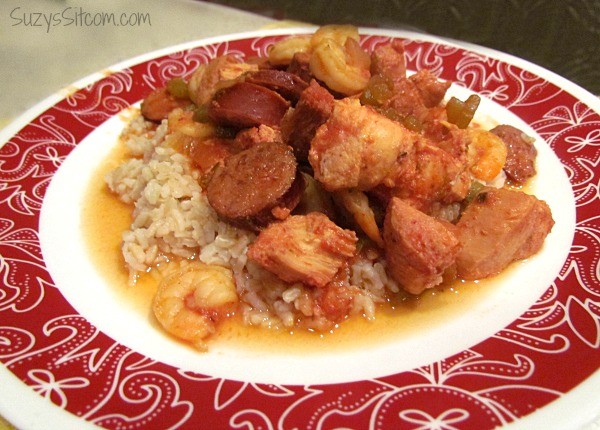 Delicious!  Cooking all day in a crock pot helps the spices to infuse into the meat and vegetables.  A tasty meal with a touch of spice!  So much better than a peanut butter and jelly sandwich!  Now if I could only be this organized every day!
Looking for that Swanson's Chicken Broth?  Well I found it on the soup aisle in our local Walmart!
Right now, Walmart is offering some great deals on some of their popular products! Click here for lots of great coupons!
Pace® Picante Sauce – Save $1 on any Two (2) jars of Pace® Picante Sauce or Salsa.
Swanson® Chicken Broth – Save $0.50 on any TWO (2) cartons of Swanson® broth (26oz. or larger).
Prego® Italian Sauces – Save $1 on any TWO (2) Prego® Italian sauces.
SpaghettiOs® – Save $0.40 on any THREE (3) Campbell's® SpaghettiOs® pastas.
Be sure to save on these brands and more for easy back-to-school recipes.  I'd love to hear your favorite!
Prego on Facebook, Pace Picante Salsa on Facebook, Swanson on Facebook, SpaghettiOs on Facebook
Are you new to the Sitcom?  Be sure to check out my Frequently Asked Questions Page!
For over 200 crafty tutorials for all ages, visit my Tutorial Page!