This week, I received an email from Rebecca and Elizabeth, of Lee & Pearl.  They had seen my tutorial on how to make Faux Tin Tiles from disposable aluminum pans.  As artists who create miniature patterns and accessories for 18″ dolls, they used this technique to create miniature "antique" Chanukah Menorahs!
These beautiful little replicas have all the details of the original antiques, and are made of disposable aluminum pans!  And those little candles are real too!  Amazing.
I love it when a plan comes together!
Lee & Pearl is a fascinating website, offering tons of patterns for 18″ dolls and lots of great homemade accessory items with fun and detailed video tutorials.
Be sure to check out their current Lee & Pearl Newsletter for their latest ideas, including their miniature antique Chanukah Menorahs and lots of fun patterns for 18″ dolls.
Want to know the details on that Menorah?  Here is the video!
My original project resulted in metal embossed wall art– Faux Tin Tile Tutorial, where I took disposable aluminum cookie sheets and turned them into faux tin tiles.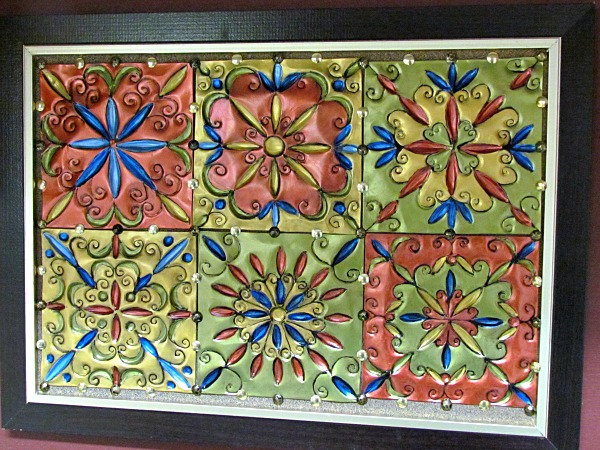 Many readers have taken on this project and made not only miniature Menorahs, but back splashes, headboards, kick-plates on stairs and even ceilings!
For more ideas and some fun free patterns, check out my other projects using this technique:
The Enchanted Fish, Sleeping Mermaid, and most recently, The Winter Fairy.
Have you made something using this technique?  I would love to see it!
Are you new to the Sitcom?  Be sure to check out my Frequently Asked Questions Page!
For over 200 crafty tutorials for all ages, visit my Tutorial Page!