This shop has been compensated by Collective Bias, Inc. and its advertiser. All opinions are mine alone. #StreakFreeShine #CollectiveBias
Winter is still coming to a slow end.  It is this time of year that I start yearning for the bright colors and smells of spring.  With that said, I am also in the midst of spring cleaning.  We may live in a RV, but in my home we Don't Stand For Dirty™!  Especially when it comes to glass.  Half the joy of traveling is looking out your shiny glass windows to a beautiful view.
To help bring a little color to your winter world, I put together a list of 10 Easy Spring Cleaning Tips, along with a fun tutorial on how to make Butterfly Window Clings!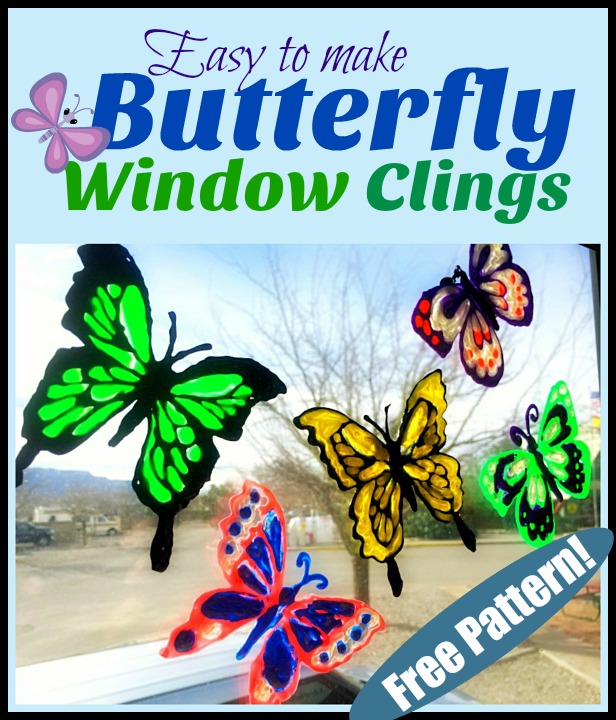 These pretty window clings are so easy to make!  All you need is puffy fabric paint and my free butterfly pattern.  They cling easily to your shiny clean window without leaving any residue and add a bunch of bright color to an otherwise dreary day.
Want to know how to make them?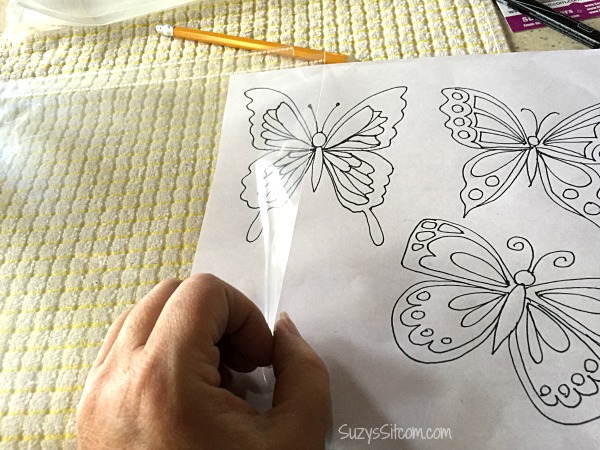 For this project I used:
Assorted colors of Fabric Puffy Paints
Clear Sheet protectors
Free Butterfly Pattern: Click Here!
Begin by placing a clear sheet protector over top of the butterfly patterns.
Using the fabric paint, draw out your outlines.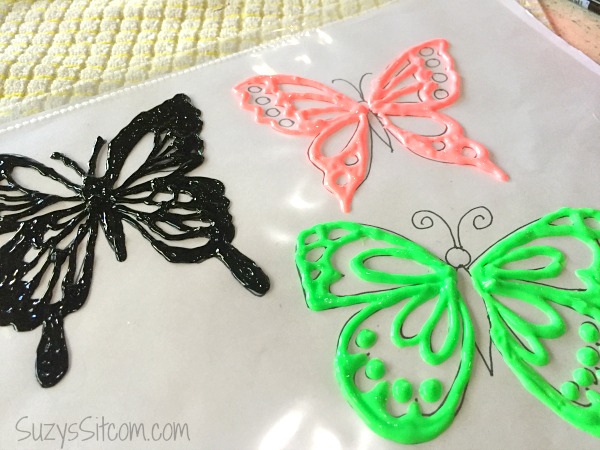 Keep working while everything is still wet.  (Fabric paint takes a long time to dry, so you have plenty of time).  A thick layer works best.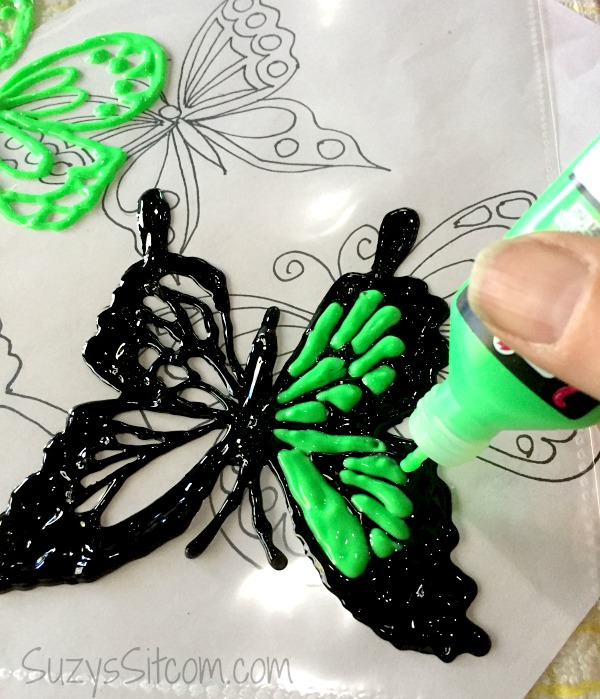 Fill in your empty areas with more color.
Allow your butterflies to dry overnight.  (Don't try to rush them as it is much easier to get them off the plastic when totally dry).
Once they are totally dried, peel them off of the plastic.
Then add bright colors to your windows!  Simply push them onto your window and they will stick to the glass.   Move them around by peeling them off and re-sticking them.
It is a great way to add a touch of spring to your windows!  Now let's take a look at how I made them so clean!
My favorite go-to cleaners for a sparkling clean house are Windex® Original Glass Cleaner and Windex® Vinegar Multi-Surface Cleaner.
Windex® Vinegar Multi-Surface Cleaner is gentle on surfaces and versatile enough to use throughout my home.  There is no harsh vinegar smell, just a fresh clean scent.  But the addition of vinegar works wonders in keeping my bathroom, kitchen, tiles, and even my stainless steel shiny and bright!
10 Easy Spring Cleaning Tips
Start by putting together a cleaning kit of your favorite cleaning supplies.  Of course, mine would include Windex® Vinegar Multi-Surface Cleaner along with sponges, towels, brushes and plastic gloves.  Put them in a bucket and you are ready to go!
Do one room at a time to avoid unfinished jobs. The satisfaction of seeing one room sparkle will make the hard work feel like it's worth the effort.  I usually begin at the back of the RV and work my way forward.
Clean each room starting at the top and work your way down to the floor.  Begin with light fixtures, dusting for cob webs and work down.  That way all the dirt ends up on the floor- your last thing to clean!
If the weather is cooperating, open your windows to air out the house.  Being shut up all winter, your home is probably stale.  Let the fresh air in!
Invest in good rubber gloves to protect your skin and hands.
Dust before vacuuming.  You will be surprised at how much dust ends up on the floor!
Use mops with a squeeze mechanism (so much easier on your back).
Wash all blankets and throws.  You will be surprised at how much fresher the air seems.  Fabric has a tendency to absorb stale smells.
Here is an easy way to freshen your microwave! Place half a lemon in a microwave safe bowl with water and cook on high for 3 minutes.  The steam will soften food stuck on the interior and the lemon scent will freshen both your microwave and the kitchen!
10. Windex® Vinegar Multi-Surface Cleaner is perfect for appliances like microwaves, stovetops, toasters, kitchen fixtures, stainless steel ceramics, tile, plastic, vinyl and more.
You can find Windex® Original Glass Cleaner and Windex® Vinegar Multi-Surface Cleaner at your local Kroger store in the cleaning supplies section.
Make your spring beautiful inside and out!   What is your favorite tip for spring cleaning?
For more info, visit the Windex social channels:
Windex on Facebook    *   Windex on Twitter